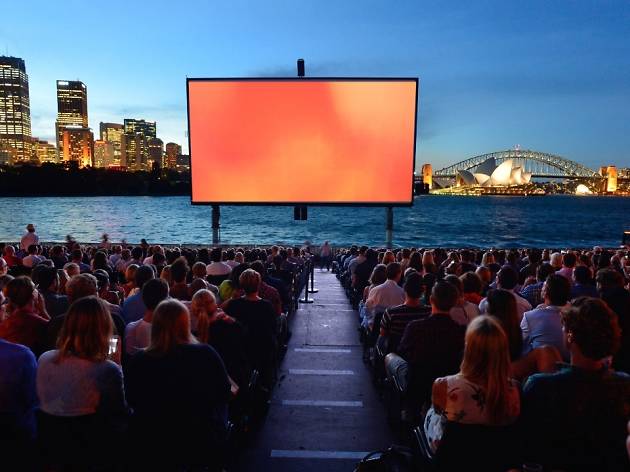 Time Out says
Movies return to the stunning surrounds of Sydney Harbour
Westpac OpenAir returns to Mrs Macquaries Point for the summer with the Opera House and Sydney Harbour Bridge as its staggering backdrop. Pull up a folding chair, grab a snack (or an entire bottle of Champagne, ice bucket and all) and settle down to a film projected on a huge screen which starts running as night begins to fall over the harbour.
If you really want a run-up for the view, take a stroll through the Botanic Gardens to the cinema. It's so good that you'll always have something to awe at, even if the film you've chosen doesn't turn out to be to your taste – though that's unlikely, given your plethora of options. One of our top picks? Hotly-anticipated Australian flick The Dry, adapted from the mega best-selling crime thriller novel by Jane harper, the film stars Bana as financial investigator Aaron Falk, who gets embroiled a shocking murder when he returns to his rural hometown.
Elsewhere on the program, you can catch Naomi Watts in emotional biopic Penguin Bloom, lush queer historical drama Ammonite, Irish romance flick Wild Mountain Thyme, a Western with an Aussie riff called High Ground, and classics like Love Actually, Almost Famous, Thelma and Louise, The Devil Wears Prada and Pulp Fiction.
Looking to be fed and watered? The selection here is a step up from your average cinema candy bar. Kitchen by Mike is doing movie night boxes of miso eggplant, chicken, lamb shanks and his signature fresh salads in the Croser Garden, where you can also get glasses or bottles of Croser Sparkling to class up your date night. Dinner is $39 per person. If you're after something lighter, grab one of Mike's picnic boxes (from $21, made to share), or go all out with a full, multi-course dinner at the Lounge where a set menu (featuring a scrumptious peach melba for dessert) will keep you satiated for $69 per person.
The perfect kick-off to a summer season of popcorn-ready films by the water. You can sign up for Westpac OpenAir's newsletter here and get tickets online.
Love seeing movies outdoors? Check out our round-up of choctop hotspots here.
Details