The best nail artists in Sydney
Time Out gets its nails did and talks nail-art, pastel colours, burlesque and bows with Miss Lauren LaRouge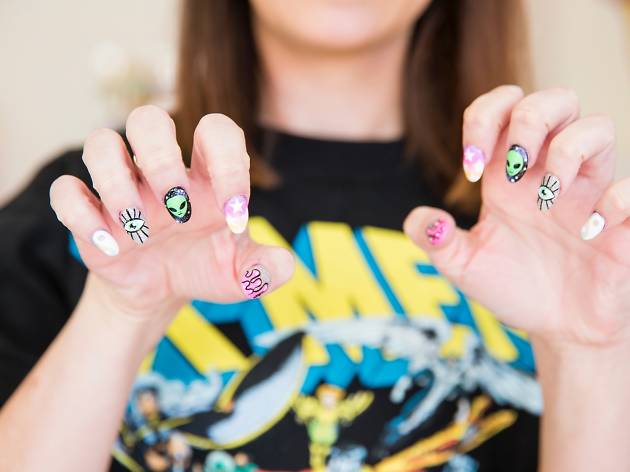 Nail art has flourished from a DIY underground affair right into mainstream salons. Miss Lauren LaRouge is one of Sydney's most in-demand nail artists, dazzling the digits of Sydneysiders who are looking to turn their nail beds into miniature canvases. "People think it's this crazy over-the-top thing, but once people try it – even starting with a feature nail – they usually get hooked," says Miss LaRouge, while painting pastel pink polka dots and leopard spots on Time Out's claws.

A trip to Japan originally piqued Miss LaRouge's interest in nail artistry, and on her return home she started using herself has a mani mannequin. "I did a course in Sydney, which was great for hygiene, acrylics, but nail art is just one small component, so I taught myself a lot and practiced on myself." Lauren's background in burlesque dancing – she's an MC and ukulele-player over at Oxford Street's Slide – dovetailed neatly with her newfound passion. "I used to add things to my costumes, bling them up and embellish them. I then took this to my nails." This soon enough spread to the hands of friends and family, before she made the big jump and quit her office job to pursue her passion full time.

Rather than the production-line set-up that many salons employ, Lauren ensures her little corner at Indulge Studios is one filled with sass, colour and solid client banter. "A beautician once told me that I shouldn't bother getting into nail art and that the industry was dead, but I want to put the love back into nails and I believe there are people that still want that. It brings me great joy, and it also makes other people happy – I love that." Nailed by La Rouge at Indulge Studios, 48 Darlinghurst Rd, Potts Point 2011. 0400 758 525. Tue-Sun 9am-5pm.@nailedbylarouge.