The best spas in Sydney
Scrub up and bliss 
out with our rundown of the best places to pamper yourself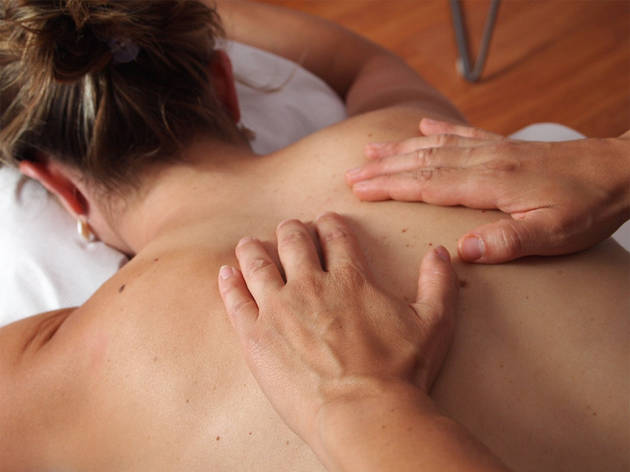 Whether you want hardcore results, or just a bit of chill time, Sydney's palaces of self-rejuvenation have you covered. So book it, bring a magazine and prepare to bliss out.
1
Balmain Bath House has to be the best bang for buck when it comes to sweating it out and scrubbing up. The staff are welcoming, knowledgeable and kind and they have all the perks of a pricier spa: fluffy robes, secure lockers, hair dryers, slippers and herbal tea on tap. Using the Bath House alone costs $24 per person for 30 minutes. On Time Out's visit, one of the most popular treatments was the Turkish Body Scrub (15 minutes, $32). The full-body exfoliation uses a seasonal body wash – zesty in spring and nourishing in autumn – and leaves you with skin as soft as a baby's.
Read more
2
This is the place to go if you want to play kings and queens for a day. Not just for hotel guests, the spa and fitness facilities can be used by anyone who fancies indulging in a casual afternoon swim, steam and sauna at $45 per person. The wow-factor here is the 20-metre indoor pool. It has a dark, twinkling night sky overhead. The Day Spa's signature treatment is the Babor Facial (60 minutes, $190). The Spa also offers an extensive range of relaxation massages; our favourite is the Perfect Gold Massage ($175-$200), which leaves every inch of your body covered in cream containing 24c-gold particles.
Read more
3
Style is paramount at SpaQ. You only have to peek into the Sweeney Todd-like barbershop to understand that the look of this establishment is part of its charm. Gentlemen can book in for a hot-towel treatment from a hipster hair groomer (dressed by MJ Bale, no less) and leave feeling as clean and invigorated as Patrick Bateman after his infamous morning routine. One of the most popular experiences for gents is the Mr Bond treatment (40-minutes, $80), which includes a wet shave, eyebrow and beard taming, and a massage from your very own Bond Girl.
Read more
5
Things don't come cheap here, but if you've got the beans make 'em count and treat yourself to a Hot Stone Massage (60 minutes, $190). The spa uses Australian-produced granite, which retains the heat for longer. Dip into the spa's hammam, too.
Book now
Read more
6
This new spa has set up shop in the site of the former OneTeaspoon store on the corner of Crown and Devonshire Streets, and it has a range of beauty services using Aveda products. 
Our pick is the Aqua Salt Glow body scrub (45 minutes, $99).
Read more
7
TV presenter Natalie Gruzlewski is a fan of this Moroccan-inspired bathhouse in Woollahra. The spa offers an Oriental Hammam Ritual (50 minutes, $195), which includes a traditional black soap scrub and a soothing clay wrap sourced from Morocco.
Read more
8
Situated behind the Art Deco facade of an old bank, the Gillian Adams Salon has been primping ladies on the upper north shore for over 20 years. Head in for the Vichy shower treatment (50 minutes, $180) and the in-house chef will whip you up a free lunch.
Read more
9
Hands down, this spa has the best views in town. Finish up an afternoon on the rooftop – there's a pool and whirlpool overlooking the harbour, and you can get an Australian clay and hot oil massage (90 minutes, $230) to release muscle tension.
Book now
Read more
10
Sheraton on the Park's day spa – including the health club, steam room, sauna and Jacuzzi – overlooks Hyde Park, with a pool located on the rooftop. Non hotel guests can use the facilities 
for $60 per day and the spa has a number of relaxation massages.
Read more
Treat yourself to a chop
Get a cheap chop at one of these salons offering bargain haircuts and treatments at special times during the week.
Read more