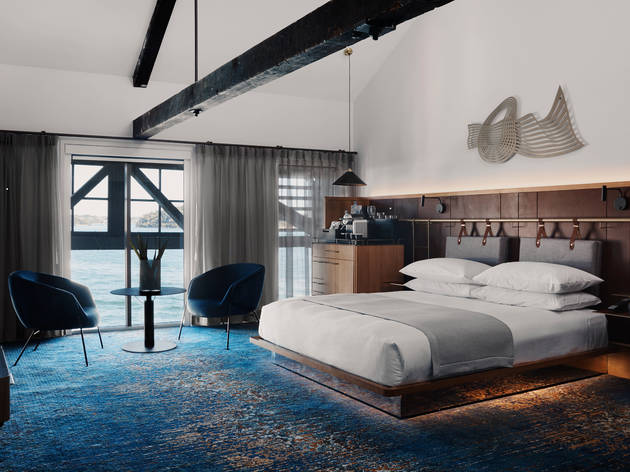 1/3
Photograph: Supplied/Pier One Sydney Harbour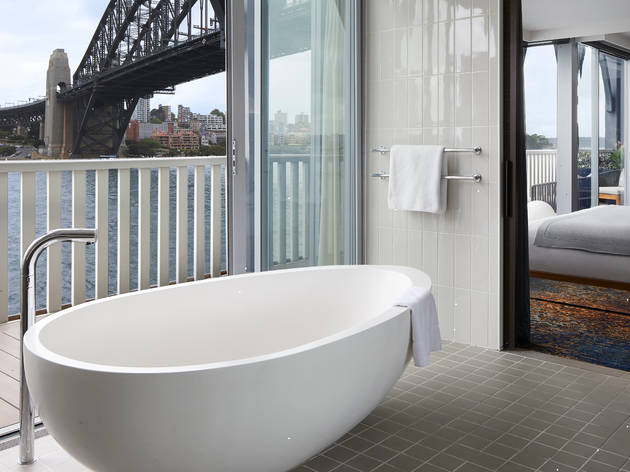 2/3
Photograph: Supplied/Pier One Sydney Harbour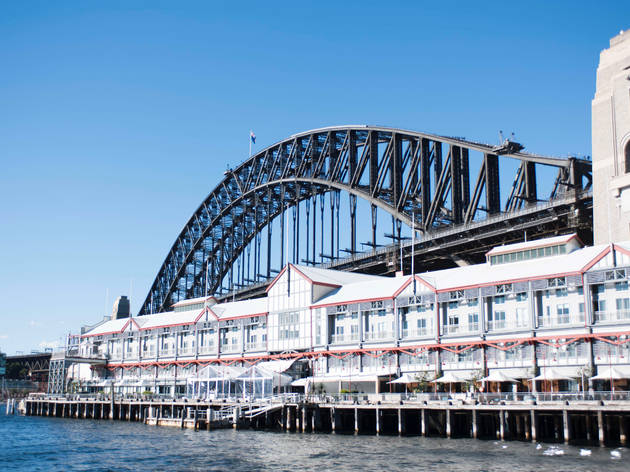 3/3
Photograph: Supplied/Pier One Sydney Harbour
Time Out says
Discovery waterfront luxury in the shadow of the Harbour Bridge at this big hotel with a boutique spirit
Strictly speaking, this enviably positioned waterfront hotel, located in the shadow of the Harbour Bridge overlooking Walsh Bay, is part of the Marriott Hotel group's Autograph Collection. However, there's nothing remotely chain-ish or mass-produced about this boutique-vibe establishment, which treads its own distinctive path through Sydney's luxury accommodation offering. From the disarming intimacy of its lobby to the local-first approach of its top-shelf amenities and the finessed, carefully considered details of its decor, every aspect of Pier One has been crafted to champion the venue's location and heritage, while creating a bespoke experience quite unlike anything else available so close to the city's greatest tourist draws.
The building itself has stood on this pier since 1912, when it was originally constructed as a cargo store and passenger terminal for the growing Sydney Harbour precinct. The site has gone through several incarnations since then, including a period as one of the city's top seafood restaurants and a stint as an amusement and entertainment arcade. The wharfside warehouse began its life as a hotel in the late '90s, but it wouldn't be until it was acquired by Marriott in 2014 that it would undergo the stunning top-to-bottom refurbishment it sports today.
As you enter the timbre-clad lobby, Pier One's distinctive mingling of wrought maritime history and luxe finesse is writ large. Rough-hewn wood, hand-stitched leather, burnished copper and the exposed steel girders that soar above the central atrium are a nod to the building's heritage and history, while marble floors, floating light sculptures, and the hotel's magnificent bar offer a more opulent counterpoint. While other five-star hotel lobbies aim to dazzle with sheer scale and flash, Pier One takes a more restrained tack, with its charming seating areas creating intimate enclaves where guests can enjoy a coffee or a cocktail in comfort and privacy.
The room decor features a similar interplay between seafaring and luxury aesthetics. Due to the building's heritage status, every room in the hotel is a slightly different layout, although each is finished to the same polished standards. Drawing on design principles found on high-end yachts, the furniture has rounded edges, natural finishes and recessed skirting. The bed, trimmed with inlaid lighting and sat on a mirrored pedestal, appears to float just above the floor. The excellently stocked minibar features all-Aussie products, including pre-mixed cocktails from top Melbourne cocktail lounge the Everleigh, although you can also order your tipple of choice from the bar via the concierge, as well as an extensive in-room dining menu.
Indeed, every level of the hotel's hospitality offering ranks as one of the finest in the city, thanks to its highly lauded in-house restaurant, the Gantry. Diners come from across the city to eat here, so making a reservation should be at the top of any guest's to-do list.
But perhaps most key to Pier One's appeal is the variety of guests it can cater to. Of course, in the Beforetime, overseas tourists made up the bulk of bookings, but the hotel is also perfectly suited to corporate retreats, thanks to its conferencing facilities. Pier One has one of the most paw-fect dog-friendly offerings of any Sydney hotel, including suites with direct pier access – great for walkies and toilet breaks – and a 'doggy degustation' your four-legged friend can enjoy while you dine at the Gantry. There's also a range of "Experience Seekers" packages that are perfect for special occasions. These include private in-suite dining options, prepared by Gantry head chef Thomas Gorringe, and luxury yacht excursions on Sydney Harbour complete with gourmet hampers.
These dazzling extras are all part of Pier One's nimble response to the dramatic change in demand for hotels while our international borders remain sealed. Staycation sceptics may well ask, 'Why should I fork out for a hotel bed when I have a perfectly good one at home just a few suburbs away?' And that might well be a compelling argument if staying at somewhere like Pier One were merely about having a place to lay your head. However, with its beautifully appointed interiors, its myriad thoughtful touches, astonishing food offering and the added bonuses of its bespoke experiences, a stay at Pier One is just as much a holiday as any you'd need an airport to reach.
Time Out was hosted as a guest of Pier One Sydney Harbour hotel.
Details