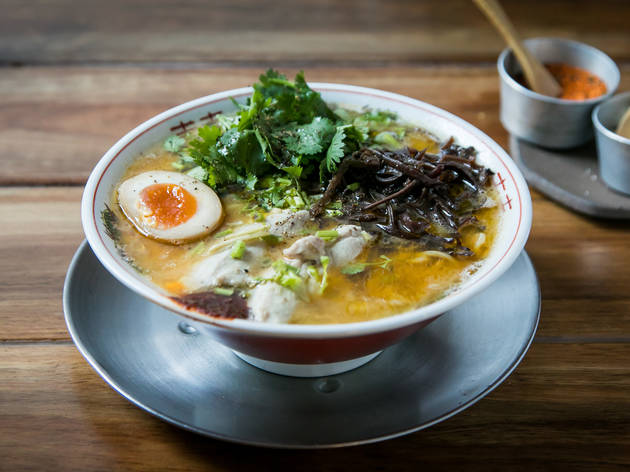 1/4
Photograph: Anna Kucera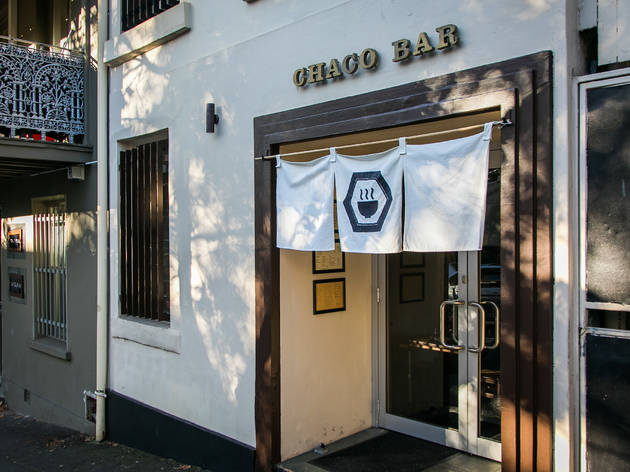 2/4
Photograph: Anna Kucera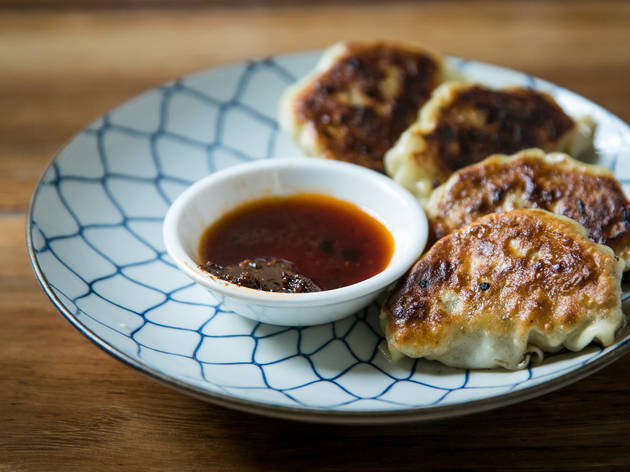 3/4
Photograph: Anna Kucera
4/4
Photograph: Anna Kucera
Time Out says
Delicious things on sticks!
It's all sticks all the time, here at this tiny Japanese yakitori restaurant built on the old Jazz City Diner site. You want heart pipes? Liver? Gizzards? Gristle? They've got 'em, along with plenty more protein that isn't quite so gutsy. The meats are grilled over white charcoal and served over piles of roughly chopped raw white cabbage. By the time you're done with your juicy, salty chicken thigh or crisp folds of strangely sweet chicken skin, that cabbage will have turned into a well-seasoned side of its own.
Enoki mushrooms aren't so much meat for vegetarians as meat for meat eaters after they've been wrapped in thin slices of pork, while lamb shoulder spiced with cumin has a sort of Northern Chinese twang to it. Meatballs come out on a separate plate with a slow - cooked egg sitting in a puddle of light soy. The idea is to stab the yolk with your meatball stick to create a sort of DIY sauce. It's a good time. But the best time is the tins on every table you use to dispose of your sticks. Mmm… stick tin.
In non-stick related news, the tuna tataki – lightly seared with a good whack of chilli - comes straddling a salad of gelatinous pig's ears. It's a double serve of luxury meats. We love the glossy, peppery John Dory dumplings, flopped out on the plate under a nest of green onion curls, and the thin slices of wagyu tongue - with a flavour that just keeps on keeping on.
Hand-sized steamed buns filled with pork belly and puffy gyoza, served still sizzling in the pan, are beer's best friend, though you'll need to bring your own until their license comes through. Sweets-wise, Chaco serves a gooey chocolate pudding with a scoop of vanilla ice cream and a fairly firm crème caramel covered in toasted sesame. But it's the aged banana brandy granita with ice cream we'll be going back for.
Us aside, it's a room that's nearly entirely comprised of Japanese diners, crowding around the low tables eating skewers. It's decorated like a vaguely steam punk izakaya: exposed pipes and copper painted white goods and lots of mysterious things pickling away in large glass jars. And despite the room only being partially full, it's already fairly loud and buzzy - we're guessing a full house will mean a lot of lip-reading. Or some good old fashioned shouting.
That's fine. WE REALLY LIKE IT HERE.
Details
Users say