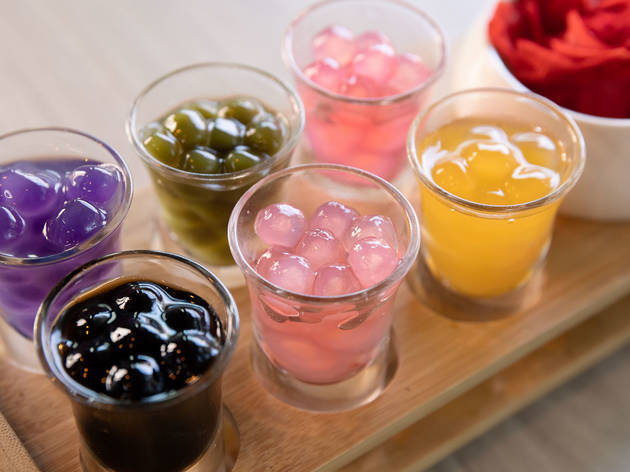 1/8
Photograph: Daniel Boud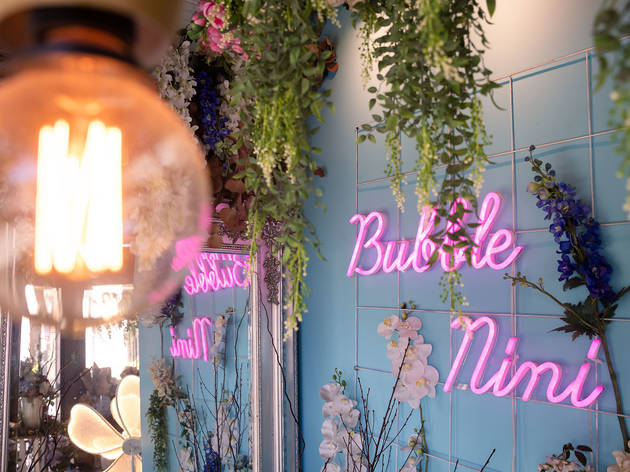 2/8
Photograph: Daniel Boud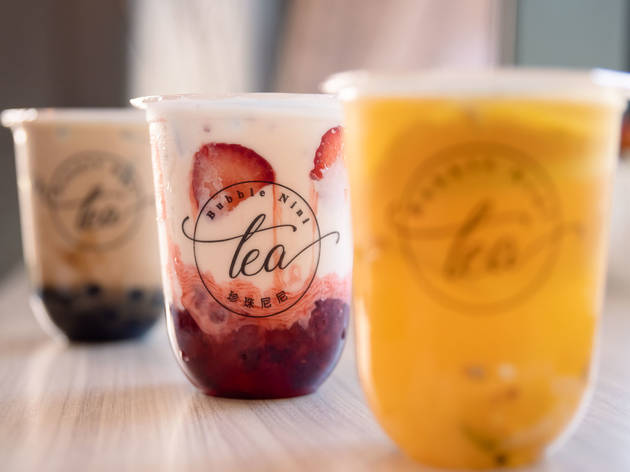 3/8
Photograph: Daniel Boud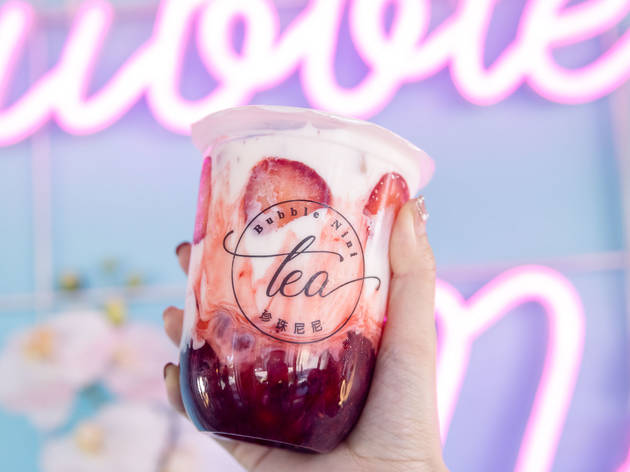 4/8
Photograph: Daniel Boud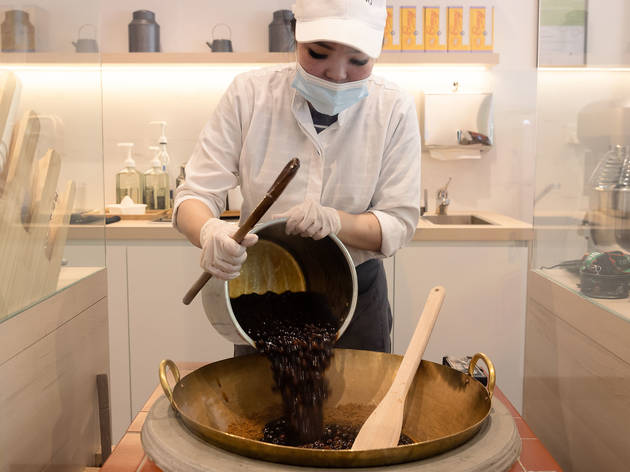 5/8
Photograph: Daniel Boud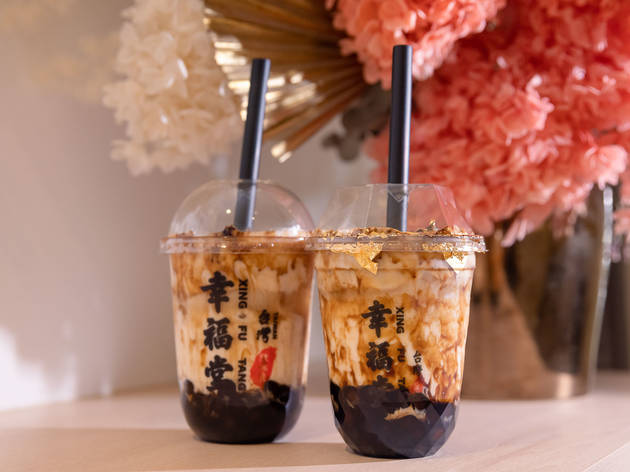 6/8
Photograph: Daniel Boud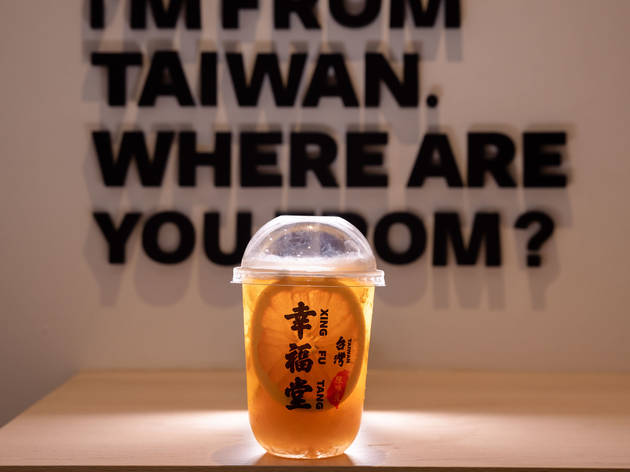 7/8
Photograph: Daniel Boud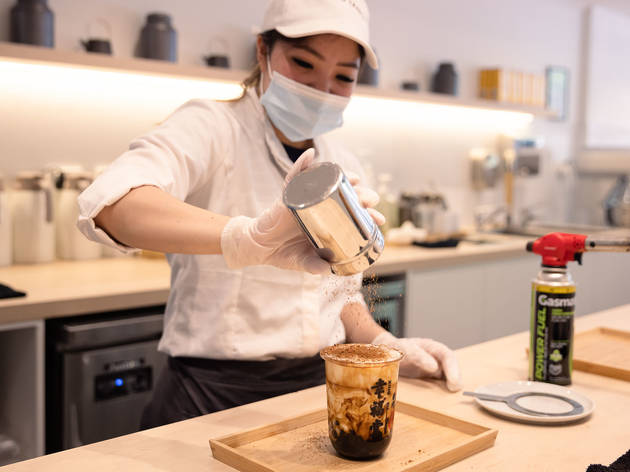 8/8
Photograph: Daniel Boud
Mega-chains and artificial flavours no more: Meet the artisanal bubble tea makers of Sydney
We take a deep-dive into how bubble tea has grown up in recent years – from the old-school to the new-age
Since it first landed on Australia's shores sometime in the mid-naughties, bubble tea – with its distinctive wide straw and chewy, fruity additions – has established itself as a staple in the lives of many Sydneysiders, both long-standing acolytes and recent converts. With its high-vis aesthetic and fast-casual appeal, you're more likely to slurp bubble tea in a food court than a boutique teahouse (find our list of the best here) – but there's a new wave of bubble tea makers shaking up the game.
While the basic bubble tea formula has stayed the same – cold tea with toppings, like tapioca 'pearls', jellies, cheese and creamy foams – its artisanal iteration is miles apart from its mass-produced counterpart.
For this growing movement of handmade bubble tea makers, gone are the days of exclusively artificial flavourings and creamers: more and more outlets are hand-producing artisanal toppings from scratch and farming their own tea or sourcing it from small producers. Xing Fu Tang and The Alley LuJiaoXiang, both global franchises originating out of Taiwan, the birthplace of bubble tea, focus on one type of tapioca pearl, made from brown sugar, while local brand Bubble Nini makes multiple flavours of pearls daily, in-house.
While the basic bubble tea formula has stayed the same, its artisanal iteration is miles away from its mass-produced counterpart.
That Bubble Nini focuses on small batch production comes as no surprise once you step into one of its three stores (a fourth concept café is slated for early 2021) decked with floral arrangements and bespoke lighting. Artisanal pearls were once made in-store, but are now made in a dedicated studio to ensure compliance with virus safety measures. Fresh, daily deliveries ensure that the store is still filled with the subtle sweetness of just-cooked tapioca.
"Our pearls can't last [for more than] one day [because] we don't put any chemicals or colourings in," explains Lara Hung, Bubble Nini's manager. "In maybe 99 percent of other bubble tea stores, the shelf life [of the tapioca pearls used] is two to three years."
For Hung, another appealing aspect of artisanal pearls is the plethora of flavour possibilities that couldn't exist on a mass scale.
"We make it ourselves, so we have a lot different flavours. For example, we have sakura pearls. We smash the sakura (cherry blossom) flowers and mix it [with the pearl base] to make it into pearls."
In addition to sakura, Bubble Nini also makes mango, strawberry, taro, matcha and black sugar pearls. Where most pearls are typically immersed in a syrup afterwards, Bubble Nini's method of mixing in flavours beforehand – whether through pulverising flowers or adding fruit juices or jams – gives each chewy morsel of tapioca gentle scent and a distinctive, subtle flavour.
While Bubble Nini has opted for the maximised range that in-house production allows, Xing Fu Tang and The Alley specialise in brown sugar pearls. Tapioca is combined with dark, unrefined sugar, and steeped in a gooey, sticky syrup. To make 'tiger milk tea', a viscous pearl and syrup mixture is rolled around the inside of a cup before milk is poured over the top, creating the recogniseable, animalistic slashes of colour or 'tiger stripes' so ubiquitous on Instagram.

If trends emerging out of Asia are anything to go by, Hung also sees the rise of other artisanal qualities in Sydney's bubble tea offerings in the future.
"That's the trend in Taiwan right now," says Hung, of using fresh and carefully selected ingredients. "I think maybe [in] two years in Australia, [we will see] people prefer fresh ingredients and [bubble tea made] with real tea."
But pearls are only one topping, among a range of possibilities like jelly, foams, sea salt creams, and even aloe vera. Are they being paid a disproportionate amount of attention? Bubble tea connoisseurs don't think so – seasoned drinkers have strong opinions about what's sitting at the bottom of their cup.
Brendan Lac, co-founder of homegrown bubble tea brand Tea Mates, says that, much like flavour profiles, everyone has a different textural profile.
"People like chewy pearls, people like soft pearls, people like hard pearls."
To the uninitiated bubble tea consumer, the textural variation of pearls can be imperceptible – but for the savants, it is a defining quality. Softer than bubblegum but denser than jelly, a pearl's texture is dependent on variables like cooking time, ingredients and additives –and it can make or break your drink. They don't have a strong flavour in and of themselves but function as a blank, textural canvas.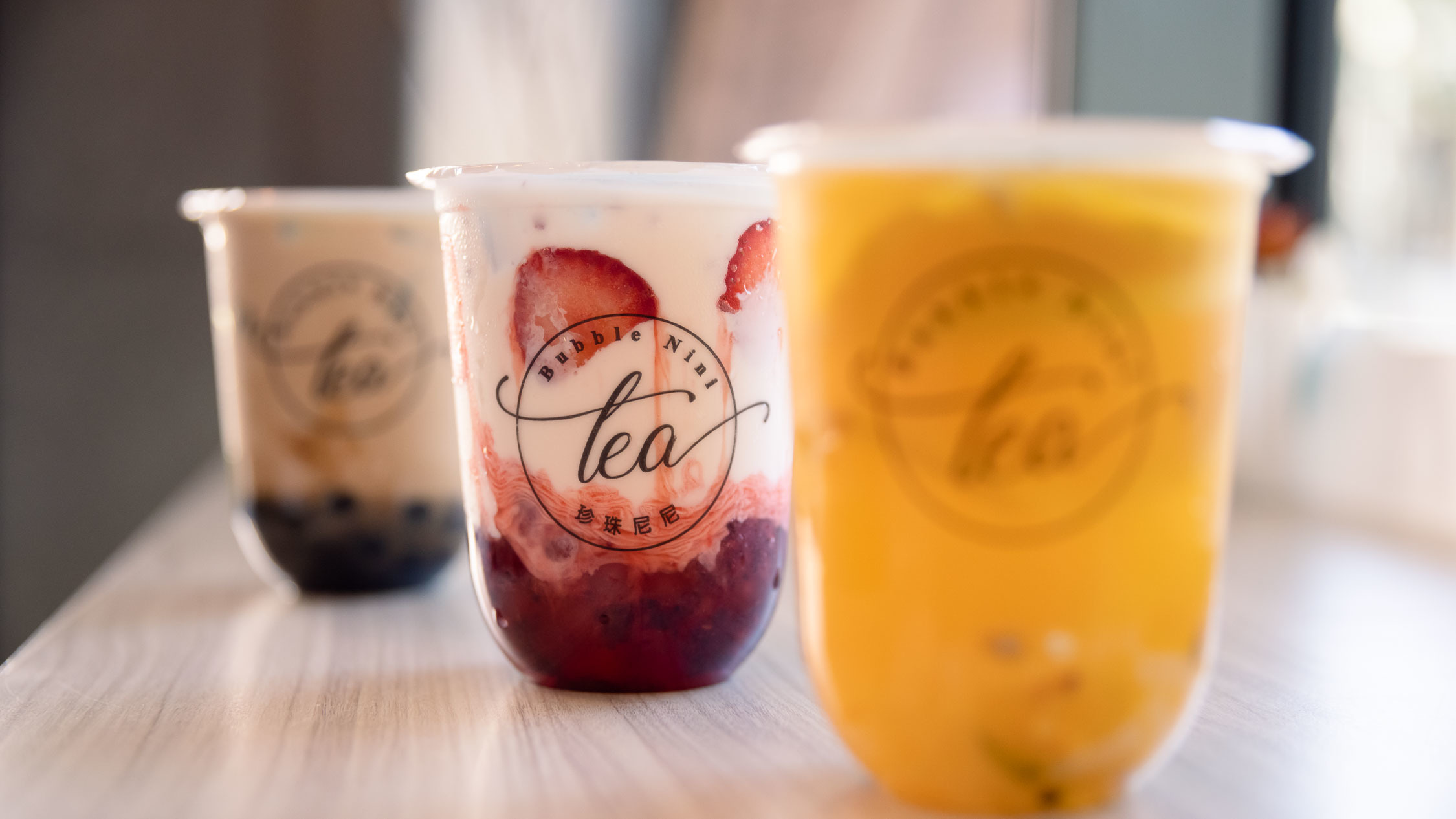 "That's why people really go towards one certain bubble tea store and they stick to that bubble tea store," says Lac.
While refinement has been the approach of some local bubble tea makers, this assumes a client base familiar with the options available – which can sometimes be overwhelming in their sheer number to a bubble tea novice.
"One of the things that bubble tea inherently does is have a lot of products," says Carlos Antonius, CEO of Chatime Group.
Larger franchises such as Chatime, which are looking to introduce bubble tea to a new audience entirely, are working on bubble tea's accessibility. Culling menu items and reducing the seemingly infinite number of combinations and options possible is the first step – its new and simplified menu is down to 35 items from an initial whopping 85.
It's not just the mega-franchises either. With a pared back 42 menu items, Bubble Nini is also finding favour with a diverse customer base. "Compared to other bubble tea stores, we have more Aussie customers [along with] Thai, Malaysian and Lebanese customers," Hung says.
As those with curious tastebuds discover bubble tea for the first time, its flavour profiles are changing. Antonius has also seen the ascension of "fruity based teas, which reflect the palette of the broader Australian consumer."
As logic-defying as it may be to slurp up slippery, little, marble-sized balls that double as a choking hazard to small children under three, Sydney's thirst for bubble tea and its multi-faceted pearls shows no signs of being quenched. Take your pick of the classic milk tea – still Chatime's number one product, and found on every bubble tea outlet's menu – or try one of the artisanal new guard concoctions. The only question is which one you'll guzzle faster.
Taste the artisanal bubbles for yourself
Time to dine in the sun
There's a certain je ne sais quoi about sipping a drink in the breeze of a long, summer evening, or taking your first bite of dinner knowing you're free from the curse of unflattering overhead lighting. Here's where to go.
Best selling Time Out Offers