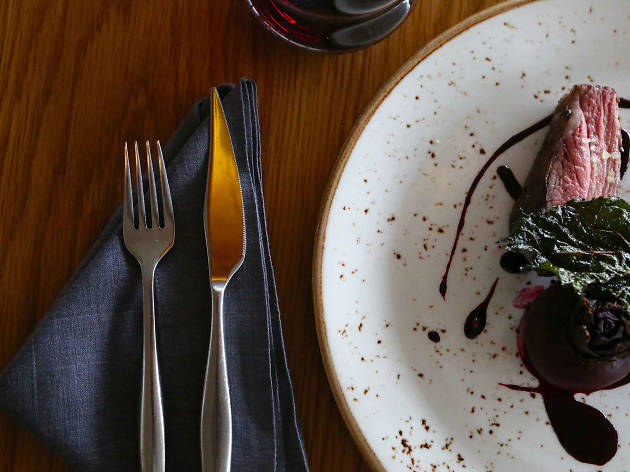 Pre-theatre dining at The Star
Get a culinary treat before taking your seat
Going to see The Book of Mormon? Then why not make your evening complete with a fabulous meal at Momofuku Seiobo, Balla or Black Bar & Grill?
The Star's premium restaurants are offering special menus designed for theatre-goers who need to get into the Lyric Theatre in time for curtain up. It's a great, memorable meal for people in a hurry.
Be sure to book ahead online. The Star practises the responsible service of alcohol.
Photograph: Supplied
The first restaurant to be opened outside of New York City by global food icon David Chang, Momofuku Seiobo is a showcase for the skills of chef Paul Carmichael, who draws upon his Caribbean heritage and the bounty of Australian ingredients.
Momofuku is normally a full-tasting-menu-only proposition at $185 (worth every cent) that takes two hours to get through. But for theatre patrons the Pre-Theatre Menu, offered Tuesday to Saturday, is a four-course affair for $115 per head, seating at 6pm and getting you out by 7.30pm.
Indeed, the Pre-Theatre Menu is a great way to experience one of the city's best restaurants at a lower price point.
Photograph: Supplied
One of the top steakhouses in town, Black Bar & Grill is where chef Dany Karam smokes premium cuts over cherry wood before grilling them over ironbark coals.
The pre-theatre menu offers a selection from the contemporary Australian grill menu and comes with an option of a two- ($70) or a three-course meal ($80). Starters include oysters, snapper ceviche and fig salad. Mains include lamb rack, barramundi, fillet 200g grass-fed Angus beef, or pumpkin and ricotta gnocchi. For dessert there's sorbet or Rebecca's Lemon Cake.
Photograph: Supplied
Balla is The Star's slick, upmarket Italian offering, bringing a modern interpretation of traditional Italian cooking to Sydney under the command of executive chef Gabriele Taddeucci, complemented by an extensive list of Italian wines.
Balla's pre-theatre menu comes with an option of a two- or a three-course meal ($55 or $60). Choose from polenta with pork sausage ragù; oven-baked Tomino cheese; pan-fried salmon; Black Angus beef flank; pistachio semifreddo; and chocolate tart.
Best selling Time Out Offers