The best bacon and egg rolls in Sydney
It's the hangover cure you can hold in your hands – and we've rounded up Sydney's best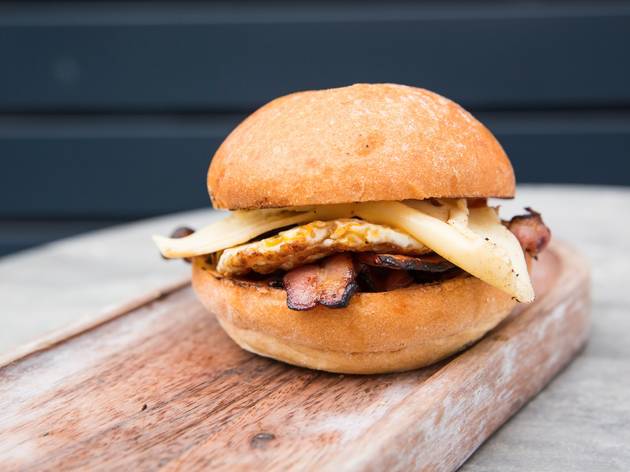 Whoever first put cured, fried pork and soft, melty eggs together deserves a seriously prestigious award, in our opinion. Stuff them between two layers of soft white bread, spread on a heap of butter and you've pretty much got food nirvana right there. So we took it upon ourselves to traipse the streets of Sydney to find you the best bacon and egg rolls to fix any hangover, heartbreak or hard-earned snack. Man, it's a tough job.
6
People queue the length of the market for a roll here. And with good reason: you get a barbecued egg with runny yolk and a generous stack of honey and port-cured bacon that strikes the perfect balance between crisp edges and malleable centre. They pack the lot onto a soft white roll that absorbs any yolk spillage, and you can apply your own barbecue, tomato or Tabasco sauce and cracked pepper to meet your taste preferences.
Read more
4
The Star's corner café fires up its own outdoor barbecue from 6am Mondays through Saturdays, frying up bacon and egg sangas for hungry commuters and weekend warriors. The smoky grill ensures the thinly sliced bacon is charred and the egg comes with a runny yolk. The fine folk from Will and Co also tap out decent brews back inside the café. Walk down to Pyrmont Bay Park after, sit by the water and let the view (and the bacon) instantly improve your morning.
Read more
3
Most of the time, cafés get bacon and egg rolls wrong: the bread is too dry, the bacon portioning too stingy, and atrocity of atrocities: the egg yolk is overcooked. Not at Rolling Penny in Newtown. Here, the breakfast roll sees a big white roll stuffed with two perfectly poached eggs, a heap of crispy bacon, a thicket of fragrant coriander and parsley, fresh spinach leaves and a slick of mayo and spicy house-made, sour tomato relish. Add a splash or two of Diemens hot sauce for extra punch, but really this is just a beautiful plate of food as is.
Read more
2
To any fan of a bacon and egg roll, the idea of a big leaf of kale entering the equation may seem blasphemous. But In the Annex manage to make the superfood both a tasty and functional addition. The sautéed leafy green nicely captures the runny yolk and chunky capsicum relish; add rashers of crisp bacon and a lick of garlicky aioli for a five-star finish.
Read more
1
This hotel café pumps out one of the best rolls in the CBD. A buttery brioche roll topped with toasted sesame seeds holds a soft egg cooked in a ring. As such, it sits perfectly within the bun. No fancy chutneys here – just a swipe of barbecue or tomato sauce, and the bacon it complements is well cooked and plentiful. Grab it with a coffee to go for just $7.50 and you've got your morning and/or hangover sorted.
Read more
Want more?
Aussie breakfasts are legendary the world over, and we damn well know how to do them right here in Sydney. From the best cheese toastie around to that liquorice bread, here's our list of where to go and what to order at the best cafés in Sydney.
Read more