Mastercard presents People's Choice: Best Fast Food
For when you're craving something salty and delicious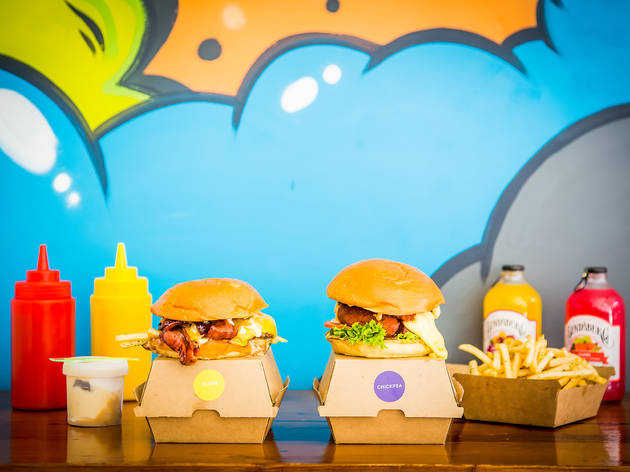 Oxford Street's late-night eating credentials are still in perfect order. The neon-lit block between Crown Street and Flinders Square is where post-midnight snacks come in the form of Portuguese-ish chicken, kebabs, late-night pizza by the slice and burgers. No, Sydney is not over burgers. Our love affair remains as heady as that rush you experienced when you bit into your first Blame Canada from BL Burgers. Never before had a burger been so outrageously, defiantly messy, with the poutine on the inside along with maple-glazed bacon, cheese and a thick beef patty. We're not really surprised that BL Burgers took out the top gong in the People's Choice Award for Best Fast Food this year. The regular shwish and thump of burgers sliding down the chute from kitchen to counter keeps time with the punk soundtrack. For every person in the shop there's two getting their BL Beef Burger (beef, cheese, bacon, pickles, lettuce, tomato) home delivered so they can drip special sauce everywhere with no eyewitnesses. And for the serious burger connoisseur, the 'hacks' menu lets you create your own Frankensnack, plussing or minusing a deep-fried patty of mozzarella, a hash brown, more pickles and a fried chicken fillet if you want the whole of Old MacDonald's farm on one monstrous sandwich. No, this is not a good place for a first date, but it is an excellent place to hit between the bar and bed. Nothing will straighten you out like a fried chicken burger with Sriracha mayo and a side of fries. You wanted fast food, and BL Burgers are the best in the business, as voted by you.
Want more budget-friendly Sydney dining?
There's a host of restaurants around Sydney serving up tasty food at prices that won't leave your wallet empty.
Who else was a winner?
Time Out crowns the champions of Sydney's restaurant scene, from Restaurant of the Year to Best Café.