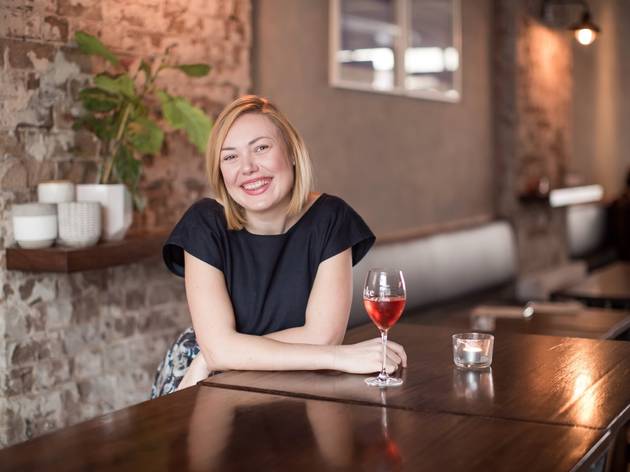 Meet Sydney's matchmakers
Online dating isn't the only way to find love
These modern-day cupids are doing things the old-fashioned way – face-to-face! We've profiled the best matchmakers in Sydney to find out how they got started, their biggest success stories and what they think of online dating. Plus, we've got a list of upcoming speed dating nights and our top picks for first date bars.
"When I was single, all my friends were on Tinder and I found myself despairing that it was the only way to meet someone."
Craft queen Kaila Perusco began hosting dating events with Work-Shop founders Matt Branagan and Chet Garcia three years ago. Sixteen guys and 16 girls would be paired together for five minutes at Work-Shop's warehouse space to do craft activities like making pom-poms or moulding sex positions with plasticine. Persusco had no prior experience as a matchmaker, but lots of crafty activity ideas, and the unorthodox dating event took off. One moment that still raises eyebrows happened without warning: a woman climbed over the table and started pashing her date. "It was like a movie," says Perusco. "She used her arm to clear the table of all craft stuff, sat on his lap and ate his face." Apparently the couple had a follow-up date, but the romance didn't last. Kaila is still running Craft Singles at Work-Shop, but now she's adding another matchmaking string to her bow – a grown-up dating event called Conscious Dating. "I think Craft Singles and Conscious Dating complement each other. It's quite a young crowd that comes to Craft Singles, so I wanted to cater to people interested in meeting someone in the long term." Conscious Dating takes place in a more intimate setting in a collaborative space in Darlinghurst. "We put cheesy candles and flowers around and there's a bar and tea available on the side. It's still speed dating – but we have conversation challenges. For example, you're not allowed to ask anyone what they do for work, how old they are, or where they live." Questions we did ask Perusco, who is 27 and lives in Petersham. "I feel like that's the unconscious thing you do when you meet someone," she says. "I don't think anything really great comes from small talk. Like Craft Singles, there's an activity at every station, all gearing you towards talking about topics you might not normally talk about with a stranger." They play games like 'Two Truths, One Lie' and 'Budda Says It's So', and Perusco makes Chatter Boxes filled with questions. "It gets pretty deep, but it's a good way to gauge whether or not you agree on fundamental things like that." It's not all conversational either. Perusco has experimented with hand massage challenges, "which people really get into," meditation and Laughter Yoga, which she says pushed people out of their comfort zones, in a good way. Her aim is to run the events once a month, bringing in different activities every time. Most of the people at her first events have been in their late 20s and early 30s, but she's already had requests for an over 45s night and one for age 65-plus. Conscious Dating's first lesbian dating night will take place in July and Perusco aims to run more frequent same-sex dating nights too. Kaila's top dating tip is "Don't take yourself too seriously. Be open to new people and different things. Sometimes you can get stuck dating a 'type' of person, which is why I love that at Conscious Dating you can't ask certain questions about people."
"I had a couple send me a photo-shoot of them on the rocks at Clovelly. Another couple flew to Japan within a month of meeting, which was pretty crazy."
Jane Austen's Emma Woodhouse has nothing on Dear Pluto's Emma Daniels. The 27-year-old started launched the brand name as a vintage clothing shop in 2008, and branched out almost immediately into craft workshops, parties and film screenings. It was during one of the movie nights that she and a friend came up with the idea to create a speed-dating event. "The first event was held by gold coin donation," says Emma. "This was in the days before Tinder and we had 70 girls turn up and only six boys. So we thought, 'OK, maybe we have to manage this better'. We started ticketing it and turning it into a proper thing." Five years on, Dear Pluto's speed dating nights sell out faster than swiping right. "I think people like having those one-on-one interactions in a casual setting. It's really easy to go out for drinks with your friends and not meet anyone new, so to meet that many new people in one night – new single people – is probably why it's so popular." Daniels runs speed-dating events every six weeks. Their format is four minutes per date, with 20 dates on the night. "Four minutes can either be a really short time, or a very, very long time. I've found it to be the happy middle ground between being really intrigued or knowing it's not going to be a thing." Daniel's speed-dating nights take place at venues like Cake Wines Cellar Door in Redfern, Freda's in Chippendale, and in a warehouse in St Peters. They often enlist friends like Shantan Wantan Ichiban, Ariane or Future Classic to DJ and those at Heaps Gay for entertainment at their gay speed dating parties. "I think something is much more likely to result from meeting 20-30 people one-to-one than having 100 Tinder matches. It's just a different ballgame – I'm not saying one is better than the other." Daters indicate that they'd like to see their date again by ticking a box on a card during the night. Emma then emails everyone with their matches and let's you take it from there. "I don't follow up because I think it's a bit creepy, but I do know there's been one marriage and a few mid-to-long-term relationships. A coupe flew to Chile and eloped there, but she was actually back at my last speed dating party telling all the boys she was looking for a second husband. It was pretty funny."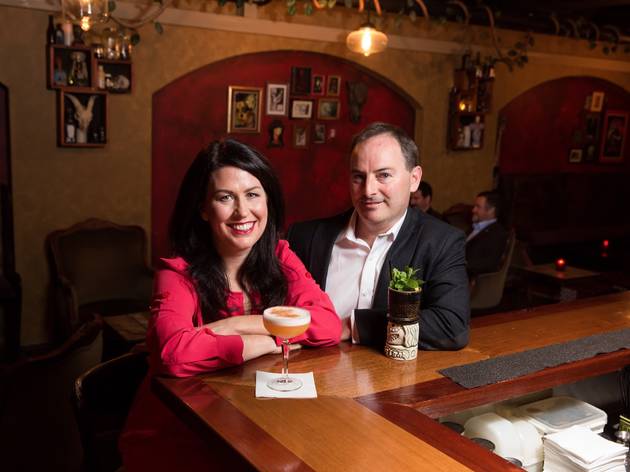 Photograph: Daniel Boud
Brett Couston and Louise O'Connor, Cityswoon
"I think Tinder has been good for dating, but it's more of a hook-up site. You can't tell what people are like from photos."
If matchmaking were a competitive sport, Louise O'Connor and Brett Couston would take home gold every time. They launched their company Cityswoon in the most ambitious way – by breaking the Guinness World Record for the biggest blind date at Sydney Opera House two years ago. "It nearly killed us," jokes O'Connor, who says they wanted to do something special to get our name out there. The married couple decided to go into business together after years working in investment banking. Louise was a natural matchmaker in the office, so she combined her expertise in computer programming with her hobby to develop software that matches people by interests and personal attributes. "You're born into a family, but the big life decision you can make is who you choose as a partner," says O'Connor. Now, Cityswoon employs a network of a dozen hosts around the country and they run events from 30 people in a small bar like Papa Gede's, Since I Left You and Button Bar – and up to a hundred people in larger venues. Brett explains, "[Daters] turn up, log into the app and select 'here now'. Once everyone has arrived, the host sets off a round and that's when they get photos of who they're meeting." Dates usually last for ten minutes before the app prompts you to move on to the next date. "It's hard to predict who the software will match you with," says Couston. "When you see people hitting it off, it's thrilling." For Cityswoon, they like the use of the app to filter preferences for things like height, age and long-term goals, like whether you want children. "I remember coming out of a long term relationship and not wanting to waste time with the wrong person," says O'Connor. Together they've set up thousands of dates, and they run approximately 20 events per month. One of those events is called Adventure Dating, which sees daters move to new locations to meet new people, like a bar crawl with prearranged pairings. After each event, daters rate their experiences via the app, which has thrown up interesting patterns for Louise. She leans in and says, "You know how people say men like younger women? They don't. Men may look for younger women online, but they rate their dates with older women much higher on the app."
Where to go once you're hooked up
Sit close, grab a drink and get to know each other.