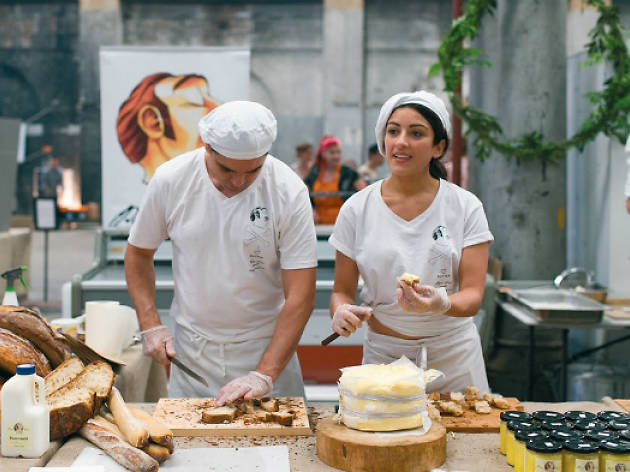 Sydney's premiere fresh food and produce market pulls in the crowds
This weekend market is well-worth the trip for its range of seasonal produce, including organic and bio-dynamic foods from farmers and producers from across New South Wales. The markets are curated by Aussie chef Mike McEnearney, formerly of Kitchen by Mike.
Producers come from all over the state with their wicker baskets of curly-ended carrots and radishes to loaves from Bourke Street Bakery's Bread and Butter Project (a social enterprise designed to train new bakers). Look out for superstar chef Kylie Kwong there every week behind the steamers at the Billy Kwong stand… her plump and fluffy pork buns all drizzled with chilli are a must.
Further into the undercover hangar-like space you'll find Raw Raw Honey, Shepherd's Bakehouse and Frenchified, gluten-free, fit-for-high-tea-with-gran baked goods at Kimmy Choux. But our favourite part of Eveleigh – aside from a dog we've seen there wearing a skull-and-crossbones knit – is that sun-exposed Carriageworks wall just opposite. Take your cuppa from the Ritual Coffee stand and a slice of banana cake from Bird Cow Fish, park your bike and take a seat with the other cool kids. Saturday morning bliss.