Heads up! We're working hard to be accurate – but these are unusual times, so please always check before heading out.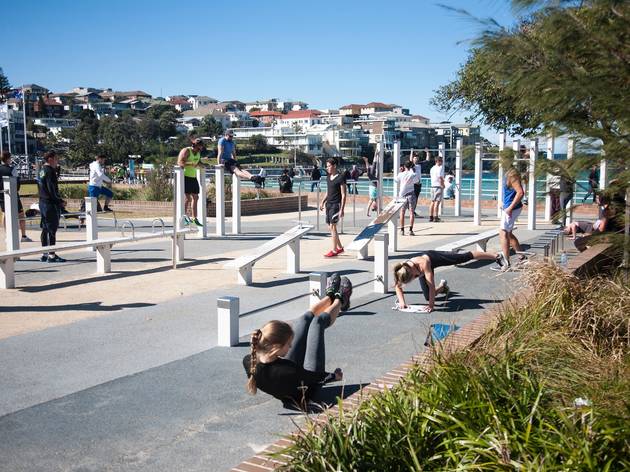 1/5
Photograph: Gilbert Walden
Bondi Beach Outdoor Gym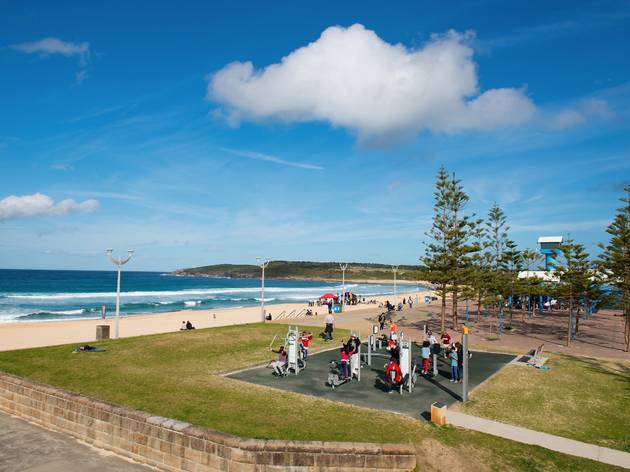 2/5
Photograph: Glenn Duffus
Maroubra Park Outdoor Gym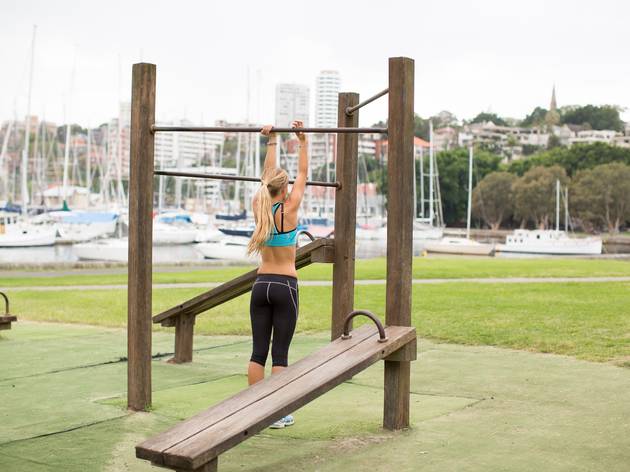 3/5
Photograph: Matt Seasbury
Rushcutters Bay Park Outdoor Gym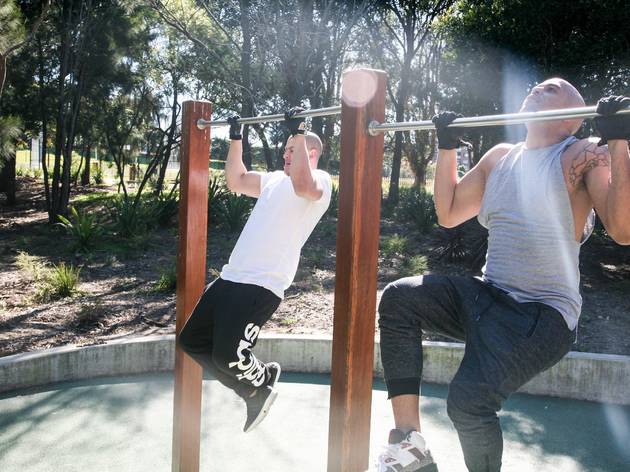 4/5
Photograph: Gilbert Walden
Sydney Park Outdoor Gym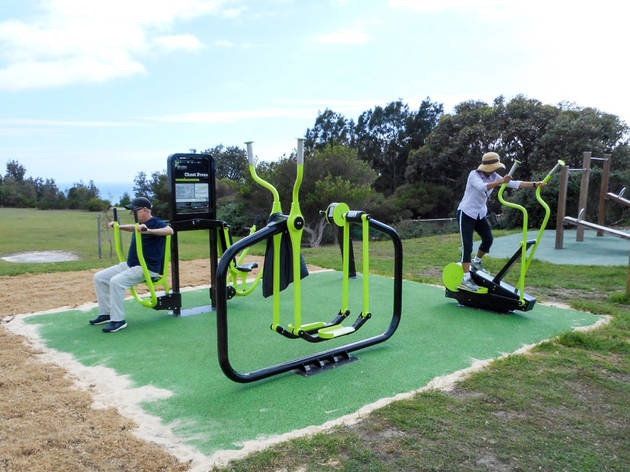 5/5
Photograph: Woollahra Council
Outdoor Gym at Christison Park
The best outdoor gyms in Sydney
Work up a sweat under sunny skies at these free outdoor fitness stations
While the city's gyms remain shuttered for the time being, outdoor community gyms will once again be accessible to the public from May 15. Here are some of the best outdoor fitness stations from across Sydney, which you can access 24-hours a day and completely free.
Want outdoors fitness options? Get a run in along one of Sydney's most scenic running trails.
Outdoor gyms and fitness in Sydney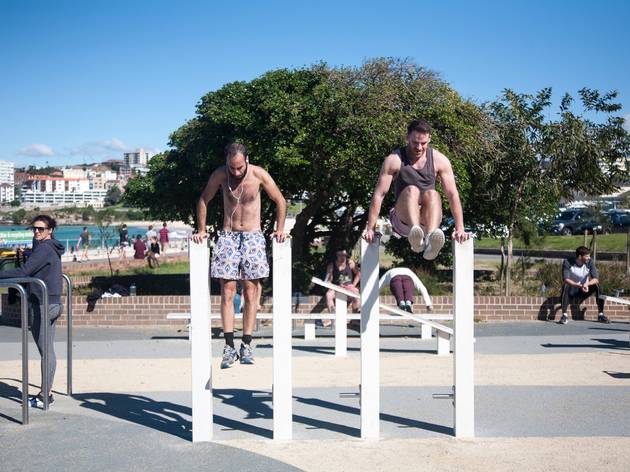 If Sydney had its own Muscle Beach, Bondi Park's outdoor gym would be it. Buff and sweaty bros brave out the midday sun to ensure their biceps are suitably big. You'll also spot acro yoga enthusiasts leaning off one another and some super cute dogs. Not such an exhbitionist? Get down bright and early when the park is filled with PT groups instead of peacocks. Or head on the Bondi to Bronte and use the work out spots dotted along the coastline.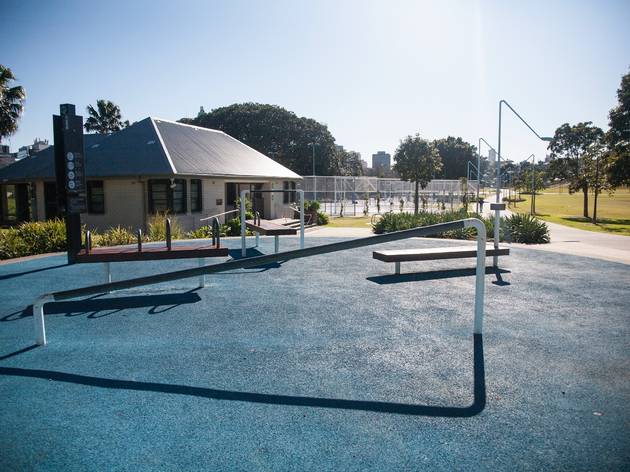 Over the past few years Prince Alfred Park has become a fitness destination. On any given week day or night you can see groups of people playing half-court basket ball on their two-and-half courts. There are also five plexicushion tennis courts (the same surface used at the Australian Open). Their outdoor gym facilities do not disappoint either, with options including push-up bars, sit-up benches, stepping squares and wheelchair friendly workout options. Expect everyone from casual exercise enthusiasts to the office gym junkie. After working up a sweat, take a dip in the pool for just $6.40.
Between Sydney Observatory and the Harbour Bridge is a patch of bouncy turf that's surprisingly well equipped. There are three zones with vaulting bars, sit-up benches, pull-up rings and stretching poles – plus a bubbler, a couple of resting benches and public toilets only minutes away (down the hill). Instructions boards guide you on how to use the fitness equipment, and there are handy charts for how many reps you should aim for depending on your age. It's a meeting place for personal trainers and their clients, but it's underused even on weekends. You don't really get harbour views, but you're close enough to the Bridge to incorporate some stair training and a few hill runs. It's only partially shaded so pack sunscreen.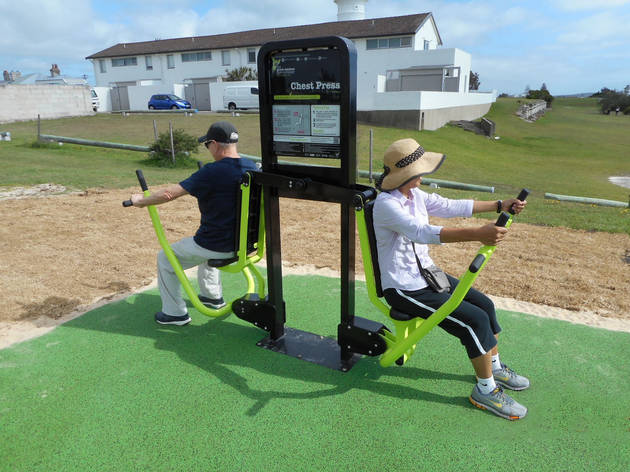 Wedged in between the Macquarie Lighthouse and the fringes of Watson's Bay is Christison Park. It has two large football fields and a killer outdoor gym. The first has kinetic equipment including two cardio machines and two weight machines. The other stations focus on strength and warm-up exercises. You'll also get some of the most expansive views of the South Pacific Ocean and it links up to the South Head Heritage Trail, if fancy complementing your workout with a coastal walk.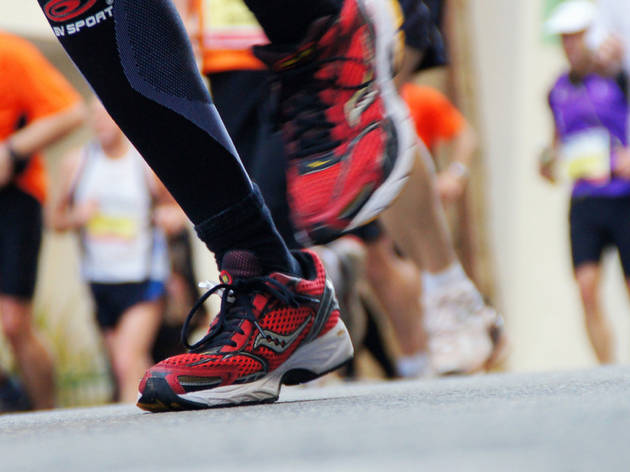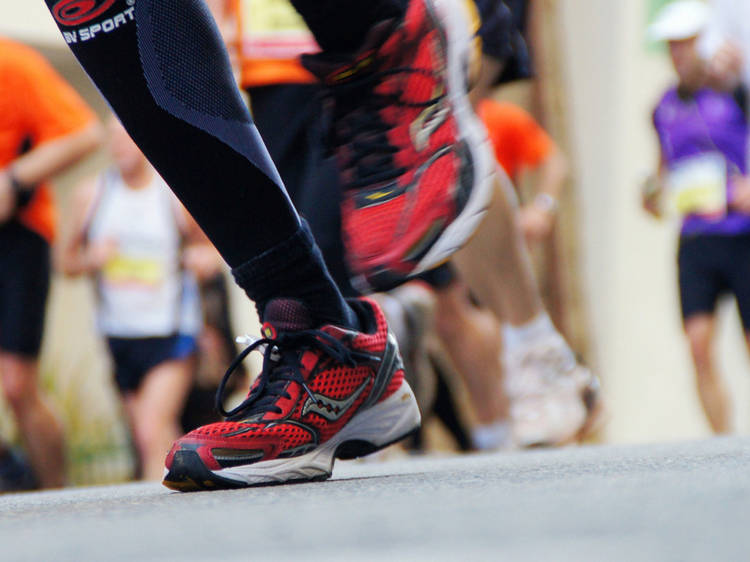 Located in one of the city's most picturesque and well equipped parks, this outdoor gym is relatively new and in good nick. Pull up bars, step up planks and other stationary exercises make up most of the space. The body curl is killer and Time Out can't master the vault, but a couple of times around the circuit with some sprints around the sports field and you've got yourself a good workout.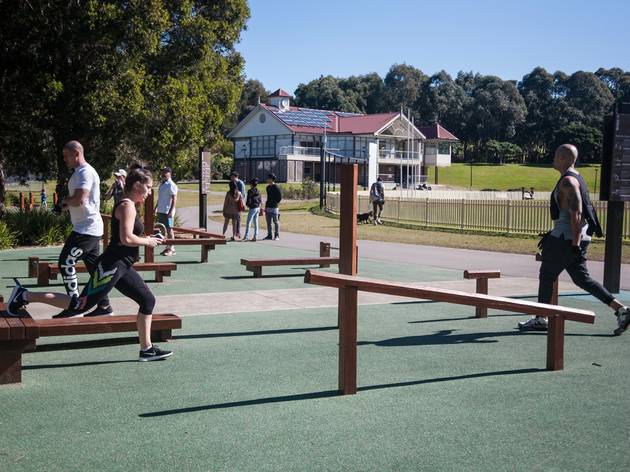 Kids and adults alike can enjoy Sydney Park and all it has to offer. Stretching over 40 hectares including wetlands and pond (complete with ducks), it gets pretty close to being the perfect picnic location. Add some neat children's attractions like a giant playground and a miniature road network for little bikes, and hey, presto! A lovely day out for everyone.
You might not think of this little patch of green along the train tracks in Alexandria as a park, but it has both a small set of playground equipment as well as a small outdoor gym tucked up in the top right corner. There are three pull-up bars at different heights, a sloped bench, parallel bars and two metal rings attached to a pole that look not unlike netball rings (for an alternate pull-up perhaps?). It might not bee too flash but it does mean you're more likely to get the whole spot to yourself, which is nice for self-conscious people and people who like me-time with their work out.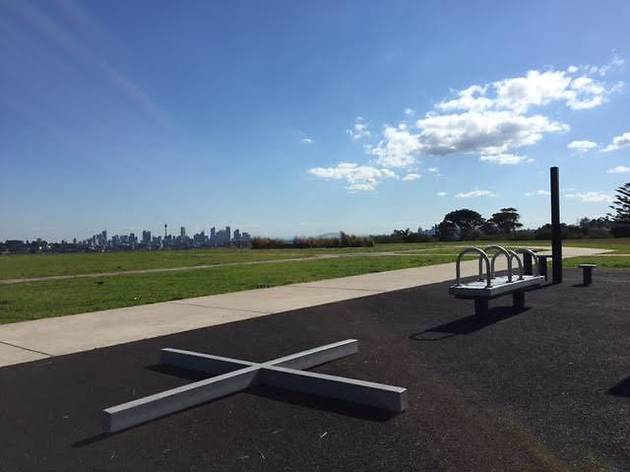 This outdoor gym has one of the most picturesque views of Sydney. In between pull ups and crunches, you'll see glimpses of the city skyline from the fringes of the Eastern Suburbs right across to the North Shore. A single station has eight instructions for different exercises focusing on building strength. Make sure you bring water – there's not a bubbler in site.
This sprawling park is home to fitness fans of all kinds – bootcampers, soccer players and young taekwondo enthusiasts populate the the grassy greens. The three different equipment stations are spread across the park basic, stationary pull up bars and sit up benches.
When people say Camperdown Park, they often mean the much larger Camperdown Memorial Rest Park near King Street in Newtown. This park has a sports ground, tennis courts, basketball court, toilets, and a playground. It's closer to Parramatta Road.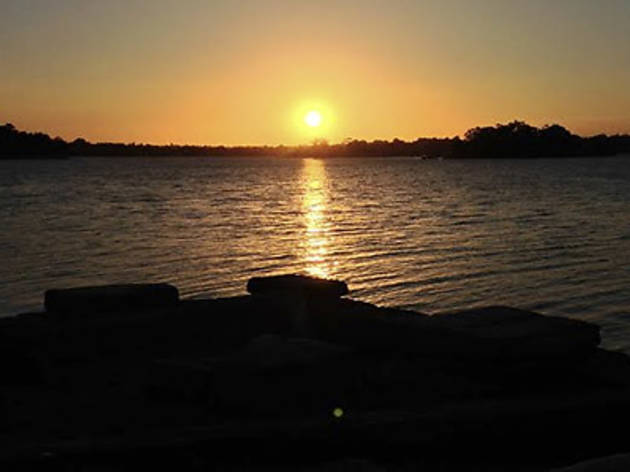 Runners, walkers and cyclists on the Bay Run will be familiar with Leichhardt Park's outdoor gym as the bubblers here are a welcome refresher along the seven kilometre route. The free equipment is designed for older people within the community, everything is geared towards gentle movement, like leg swings and leg presses. As there's a playground, people of any age use and play on the fitness station – and it has spectacular views over Iron Cove.
This bay-edged park has a basic outdoor gym backed by beautiful vista of sail boats and seawater.. The stationary equipment includes vault bars, chin-up bars and the other usual suspects. It is astroturfed, so maybe opt to do any runs/sprints on the nearby footpath.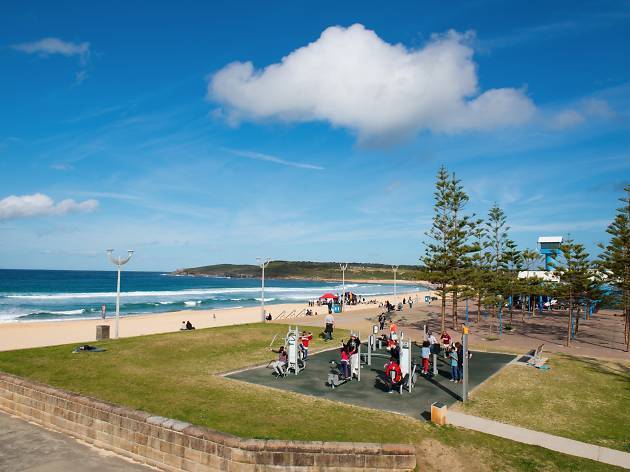 This seaside gym has moving equipment like leg presses, frontal rows, a stationary bike and an elliptical. Its beachside location makes it a popular spot with locals, with groups exercising together as well as individuals shredding things up.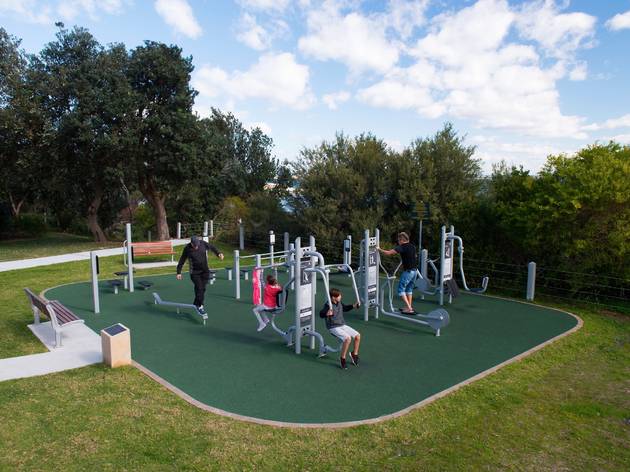 This schmick new outdoor gym has ten different pieces of low-impact exercise equipment. The soft flooring keeps things easy on the knees and most of the equipment – from the zig zag bar to the step up balancers – is very simple to use.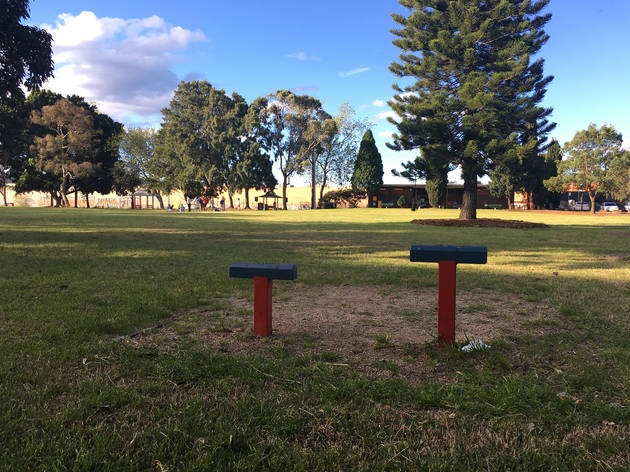 This St Peters outdoor gym is located just next door to the cricket pitch and sports house. It's a dog-friendly park so feel free to bring your four-legged friend along for you workout. It's a family-friendly spot as well – it's low key and welcoming.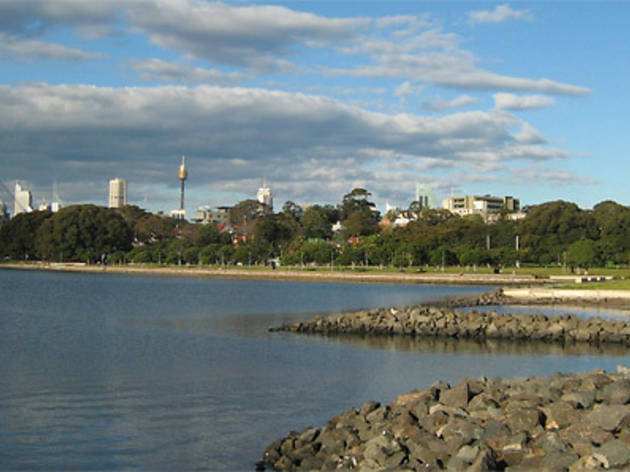 This small but functional outdoor gym is situated just off the Glebe foreshore next to the park's two large ovals. There are only pull up bars and a balancing beam, so pair your work out with some sprints along the foreshore for a well rounded session.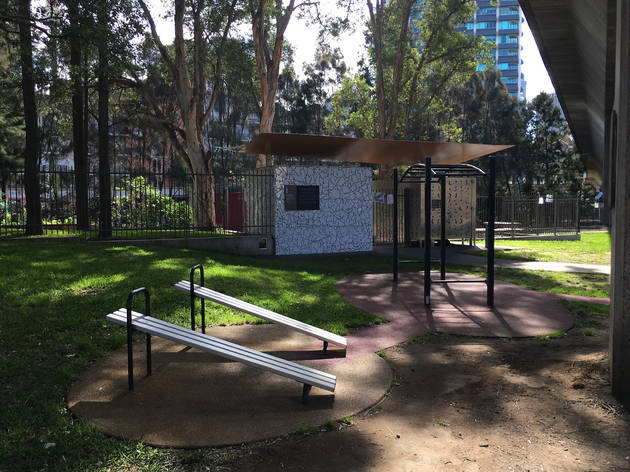 This small outdoor gym sits under an overpass so you wouldn't have to worry about sunscreen. The workout area is next to a community garden and has toilet facilities. The limited equipment consists of push-up bars, sit-up benches and monkey bars. If you work in the city, you can jog through the Domain for a warm up. It's not an park we'd recommend for exercising at night or alone as it's too secluded.
Fuel up with a healthy breakfast
When you go out for breakfast it can be hard not to go straight for the brisket waffles. But for those days when you're not nursing a hangover, here are the breakfasts you order that won't make you feel guilty for the rest of the day. Here are Sydney's eight best healthy breakfasts, none of which, you'll be glad to hear, compromise on flavour.