Great dog parks
You and your best friend can both run free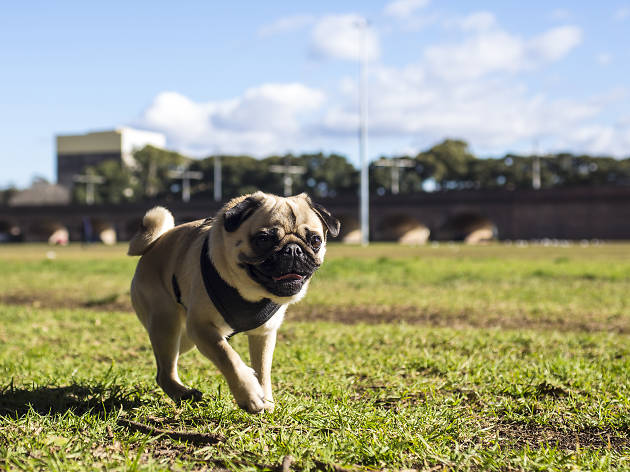 Do you live in or around the inner city? Are you tired of taking your dog to the same park or for the same walk every day? Try these
1
It's estimated that over a million dogs visit Centennial Park every year. Occupying 189 hetares, with 158 of those designated as off-leash areas, it is basically doggy nirvana. Hang out with your pooch near Federation Pavillion and make furry friends. There are multiple cafe's so you're never far from coffee. Entry via gates in Randwick, Queens Park, Paddington and Woollahra.
2
Sitting high atop the city with a vista across the harbour, this is a truly beautiful spot to take Spot for a run. Hit the nearby Trust Café if in need of a caf feine hit. Of f-leash is permitted incertainareas. Upper Fort St, Millers Point.
3
By the water and next to the Marina, Rushcutters Bay Park is a lovely spot to look out across the harbour while your pup plays. It also boasts a tennis court, fenced sports field and children's playground, plus a kiosk. Off-leash is permitted 4.40pm-8.30am.
4
Boasting the largest off-leash area in the City of Sydney, this huge park is extremely popular with dog owners. Unforunately, the local pig doesn't walk here any more - and we promise he used to - but there are still many reasons to visit Sydney Park, including the Kiosk.
5
Milson Park
Milson Park plays host to daily dog gatherings between 4 and 5pm, but if you come in the morning you can start your day with a coffee from the Flying Bear café, on the pier next to the park.
6
Foreshore Walk and Foreshore Parklands
Grab a coffee from one of Glebe's many cafés and take your pup on a walk through four Sydney parks, from where you can enjoy spectacular views of the Anzac Bridge and Blackwattle Bay. The Foreshore Walk is a dog-friendly slice of heaven, especially at sunset, stretching from Bicentennial Park to the Pyrmont Fish Markets.