Sydney's futurescape
Our city could look very different in a decade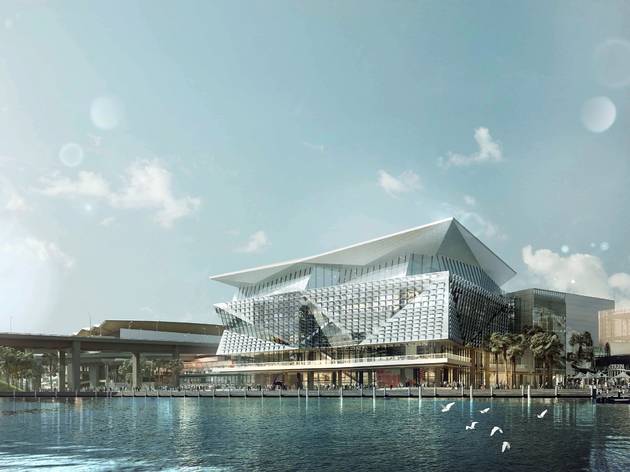 It's estimated that an extra one million people will live in Sydney by 2026, and architects and urban planners have been busy thinking up new residential zones, entertainment centres and transport options to cope with the population growth. Here are the developments set to change the way we live over the next decade...
1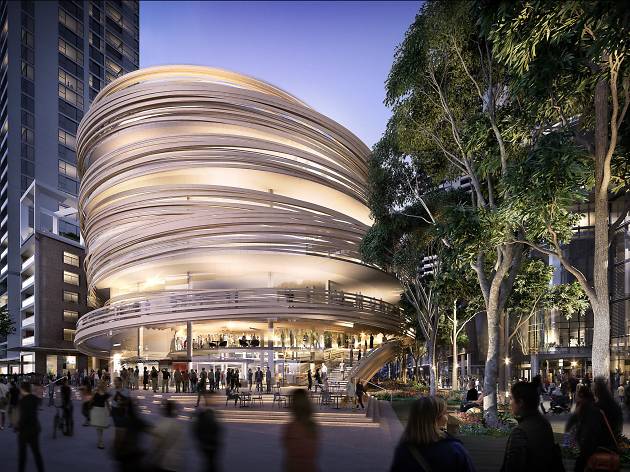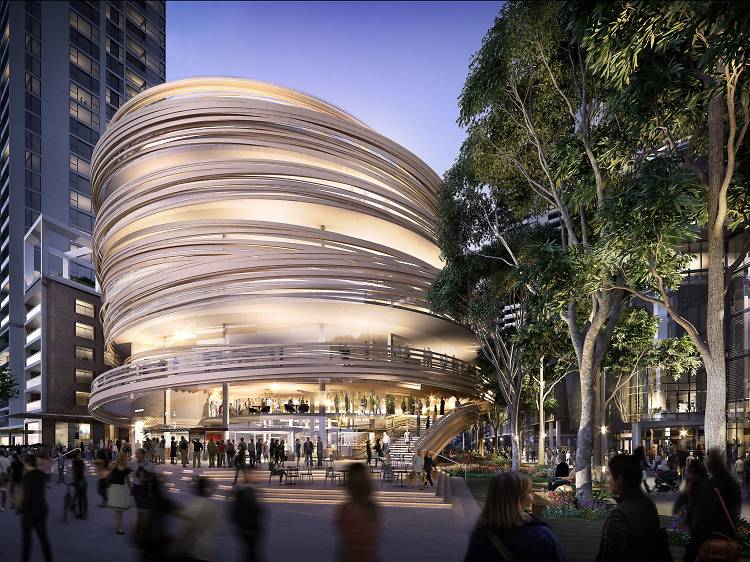 Image: Lend Lease
What is it? A multi-level library with childcare centre and makerspace
When will it open? 2018
In March, the City of Sydney announced a new landmark civic building for Darling Square, the new urban neighbourhood being constructed in Darling Harbour. The six-storey building has been designed by a globally acclaimed architecture firm, Kengo Kuma Architects. Subject to approval, the Darling Exchange will include a new library, a makerspace to support creative startups, a childcare centre, a rooftop bar and restaurants. The spiralling building is yet to be approved.
2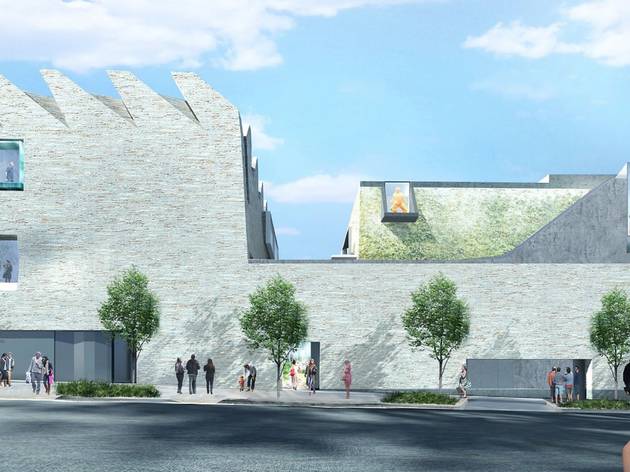 What is it? A $32 million cultural centre
When will it open? Unknown
Last year,
White Rabbit Gallery
owner and billionaire Judith Neilson submitted a development application to council for a new art gallery and performance space at 37-49 O'Connor Street, Chippendale. It's widely reported that Neilson's building would rival that of the Museum of Old and New Art (MONA) in Tasmania, as the three-storey centre would include apartments for artists, galleries and a central garden, all open until 10pm every day. The architectural plans from John Wardell Architects, Durbach Block Jaggers and 360 Degrees show a jagged roof and open atrium to the central garden. If it goes ahead, Chippendale will have a new addition to its skyline as the building (likely to be called Phoenix) will rise above the neighbouring terraces.
3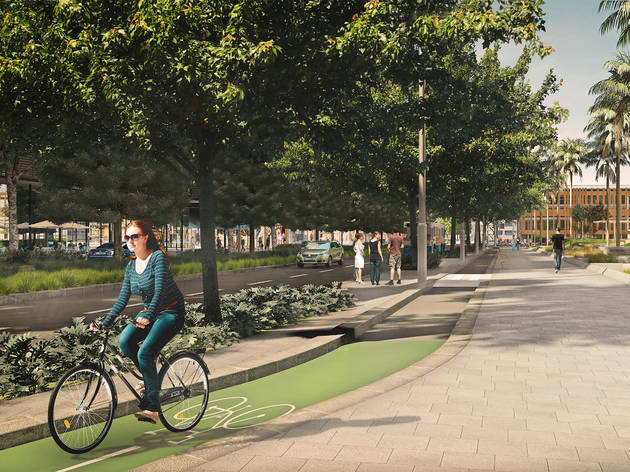 Image: City of Sydney
What is it? Urban renewal in inner-east Sydney
When will it be completed? 2026
The residential area that encompassed Beaconsfield, Zetland and parts of Rosebery, Alexandria and Waterloo will be getting $540 million worth of development over the next ten years. New community facilities will include a library, aquatic centre, parks, public art, a childcare centre and creative hub. Works are expected to begin this year to create the town centre, which will be home to 7,500 residents. Green Square's new streets will be called Zetland Avenue (the boulevard), Ebsworth Street (the 'high street') and Geddes Avenue (a commuting route). But we're most excited about Gunyama Park and Green Square Aquatic Centre – a beach for the inner-east. Building works begin for the new 'beach' in 2017.
4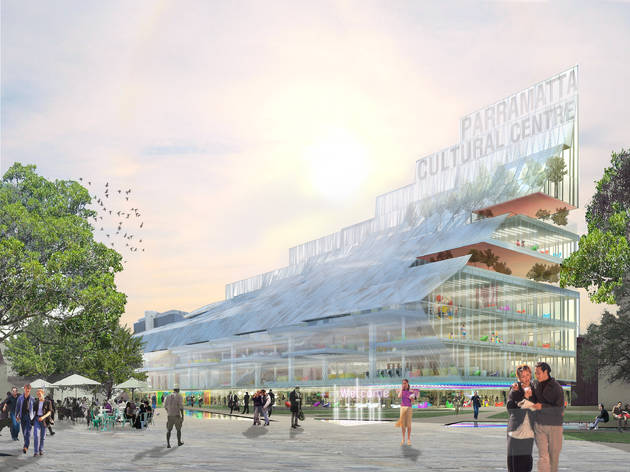 Image: Parramatta City Council
What is it? A new landmark community building
When will it open? Unknown
Parramatta's historic Town Hall could be getting a wave-shaped extension in the form of a new civic building endorsed by Parramatta City Council. The new design comes from French firm Manuelle Gautrand Architecture and Australian firms DesignInc and Lacoste + Stevenson, and it shows a six-storey building complete with a futuristic library, public roof garden and technology hub. It has a cantilevered structure and transparent glass that gradually rises to the north-east with a large LED screen for public art projections. The $50 million project has been designed to be as environmentally friendly as possible. Designs are due to be exhibited as part of the development application at the end of 2016.
5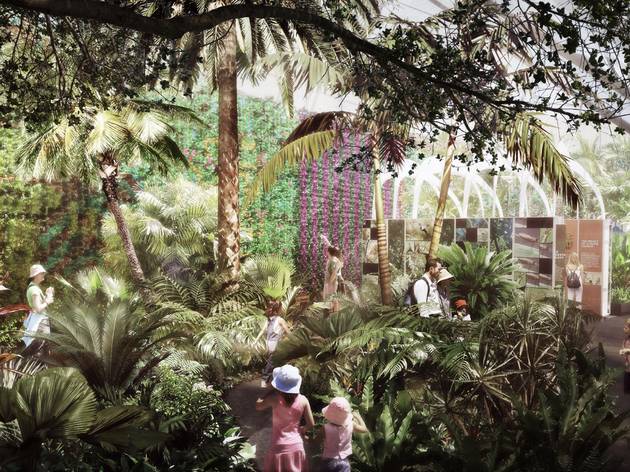 Image: Sydney Royal Botanic Gardens
What is it? "Broadway for plants"
When will it open? June 11, 2016 – real soon!
To celebrate the Royal Botanic Garden's 200th birthday, they're building a new world-class horticultural space. Opening next month, the new structure will replace the glass pyramid greenhouse that was demolished in June 2015 with an arc of beams, circling the space of the former structure. The Calyx, meaning 'the outermost whorl of flowers', will showcase ever-changing exhibitions, starting with one about chocolate. The Botanic Garden's director of horticulture management Jimmy Turner has called it "Broadway for plants… a fusion of art, theatre and flora." To many, it'll be a shiny new circular building in the Botanic Gardens to pose with – just remember to go inside and take a look at the flora, too.
6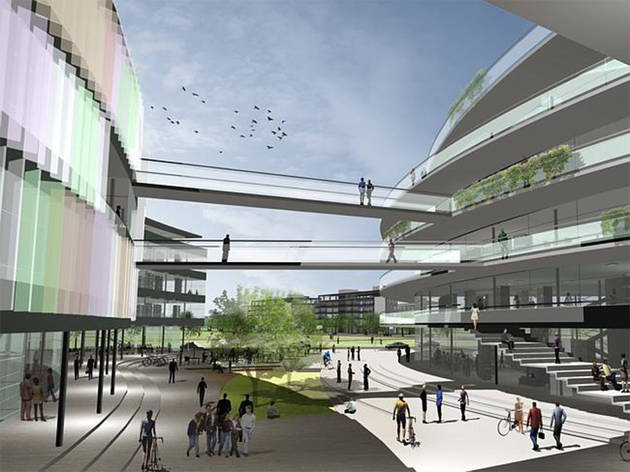 What is it? A Silicon Valley for Western Sydney
When will it be completed? The first stage is expected to open in 2019
Plans are in place to create a town of leading science based businesses, tertiary institutions, research and development centres in Luddenham, approximately eight kilometres south of Penrith. Sydney Science Park, as it's known, wouldn't just be a place for work, it will also include a town centre with retail spaces, 3,400 residential properties, a primary school, sports fields and parks. It sounds like a Silicon Valley for scientific research in food, energy and health – and the developers say it'll provide 57,000 new jobs over the next 30 years. Nearly three hundred hectares of land is earmarked for the development, and once up and running the vision is that Sydney Science Park will attract the world's leading scientific professionals to Western Sydney. The first stages of development begin later this year.
7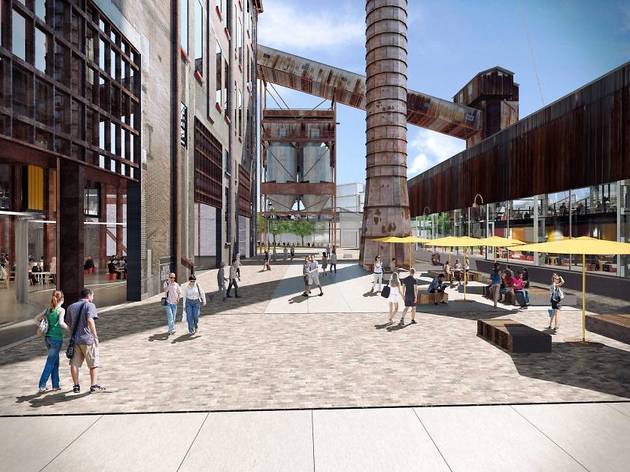 What is it? A new technology park
When will it be completed? 2019
In March, 13 proposals were lodged for the redevelopment of White Bay Power Station, the derelict building on the Rozelle side of the ANZAC Bridge. The site is a priority zone for UrbanGrowth NSW, who're planning to develop the entire Bays Precinct covering five kilometres of harbourfront from Sydney Fish Markets to Rozelle and Glebe Island. The vision is that the State-listed heritage site (closed since 1983) be developed into a technology hub of businesses like Google, without losing the classic architecture of the building. Ideas include a new ferry service, social areas and a uninterrupted views of Sydney Harbour. It's hoped the site would be a destination for high-tech professionals within the Asia Pacific. Proposals are due to be presented to government in June 2016, and the developers plan to begin construction works as early as 2017.
8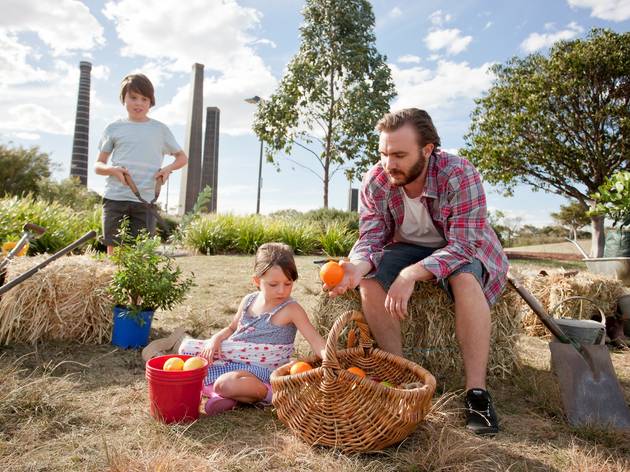 Photograph: City of Sydney
What is it? Our first urban farm
When will it open? As early as 2017
The City of Sydney is creating a City Farm on a half hectare site in Sydney Park, St Peters. It's a project that's been in development since 2009, and many locals have volunteered their time to the social enterprise that'll become community managed over time. The farm's designs are still being drawn up, but construction is due to start mid-year. We can expect to find locals growing their own fruit and vegetables all year round, a weekly farmers market and educational programs within the first year of operation. There are plans to introduce farm animals and an on-site kitchen teaching organic food preparation and cooking within ten years. By the year 2020, City of Sydney plan to hand over all responsibility of the farm to the community.
9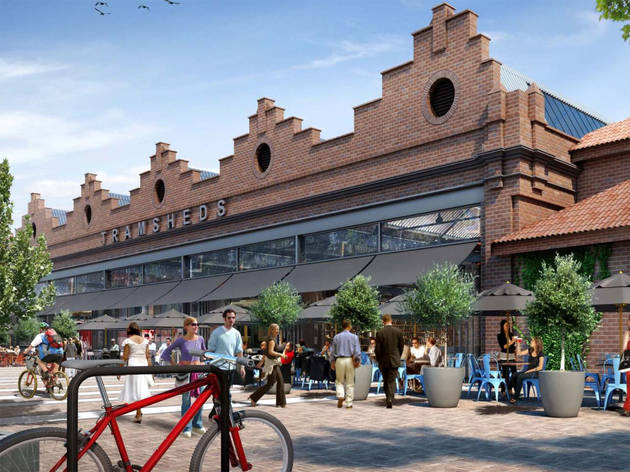 Image: Harold Park
What is it? A new Carriageworks with top restaurants
When will it open? Now to 2018
The Harold Park project in Forest Lodge is a redevelopment of the former Rozelle Tram Depot, which operated from 1904 to the 1960s. Construction has been well underway for the past four years and the first residents moved in in 2014 – however, it isn't finished yet. Harold Park has maintained its heritage looks, and it is likely to become a new dining hub in the Inner West. Ben Milgate, Elvis Abrahanowicz and Joseph Valore (of
Porteño
fame) are opening a spin-off of their Surry Hills restaurant,
Bodega
, at the new development. But that's not all: there's a 3.8-hectare park on the way too, scheduled to open in August 2016, plus 80 more apartments will be ready by 2018.
10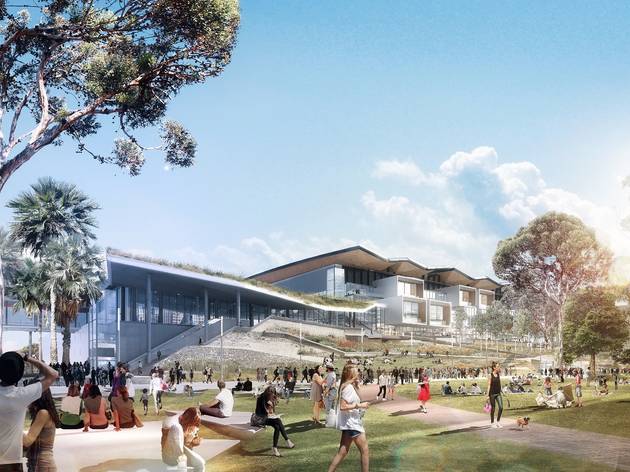 International Convention Centre
What is it? Our shiny new multi-purpose convention centre
When will it open? December 2016
Darling Harbour's huge convention centre has been torn down and rebuilt with the future in mind. The new ICC Sydney will become a meeting place for businesses, arts organisations and large-scale entertainment, like Comic Con. The framework of the glass-lined facade is already visible across Cockle Bay, and that's because they've got a tight deadline to work to – opening by the end of this year. It already boasts 270-degree views of the harbour and an outdoor event deck, a spectacular ballroom, an 8,000-seat theatre and the ability to host three concurrent events. The new director of live entertainment at the ICC is Phil King, who's worked at Allphones Arena and Suncorp Stadium. So dry your eyes over the closure of Qantas Credit Union Arena, and start dreaming of the acts who'll play at the new venue.
Getting around in 2026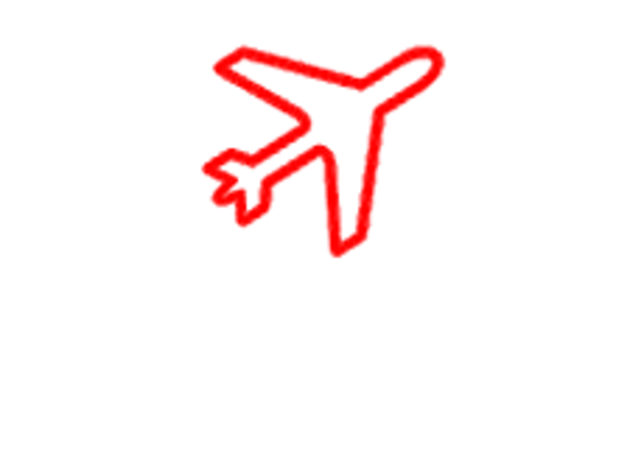 Badgerys Creek, in Greater Western Sydney, will be home to Sydney's second airport. It's 51 kilometres west of the CBD and it'll mean greater options for those who live in Liverpool, Penrith, Campbelltown and the Mountains. Construction works begin in 2016.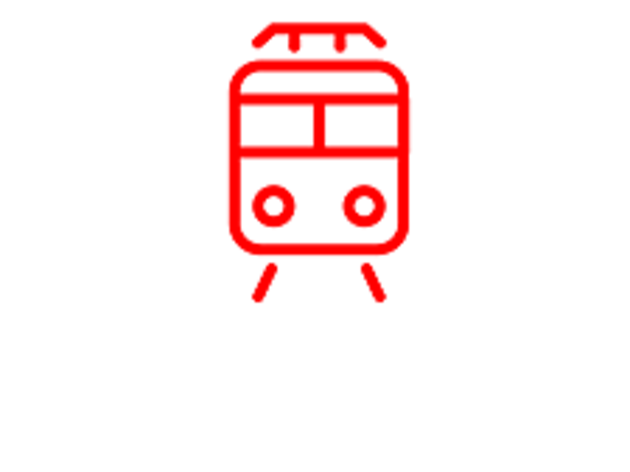 The new CBD and South East Light Rail will travel from Circular Quay along George Street to Central Station and on to Moore Park, then to Kingsford via Anzac Parade and Randwick via Alison Road and High Street.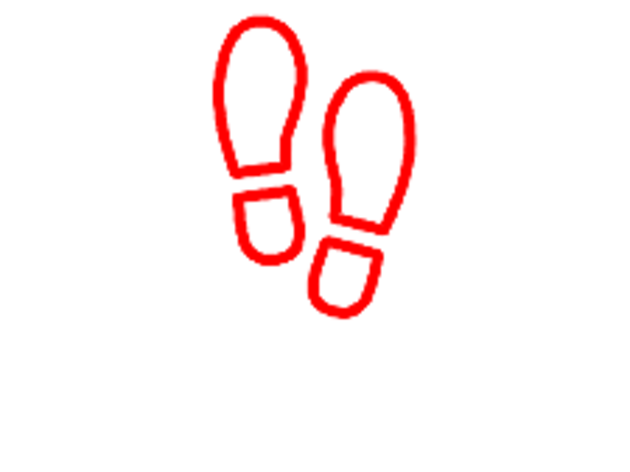 A pedestrian George Street
Taxi drivers never seem to like the idea, but we're looking forward to a main street we can cross, moving from shop to shop like we're in a European metropolis. Plus, more light rail!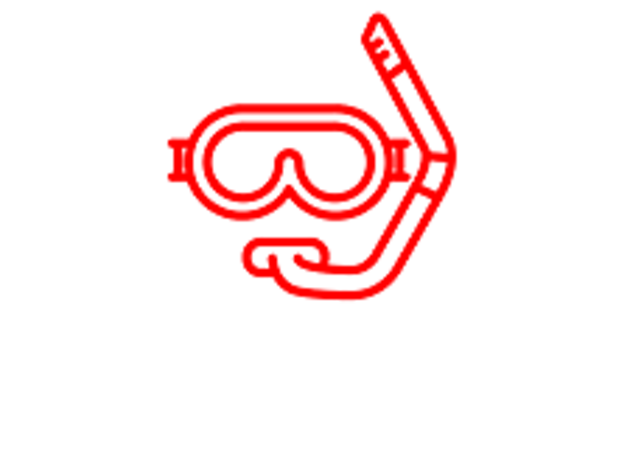 A new harbour rail crossing
By 2024, Sydney will have a second underwater tunnel. This one is exclusively for trains.
That's not all...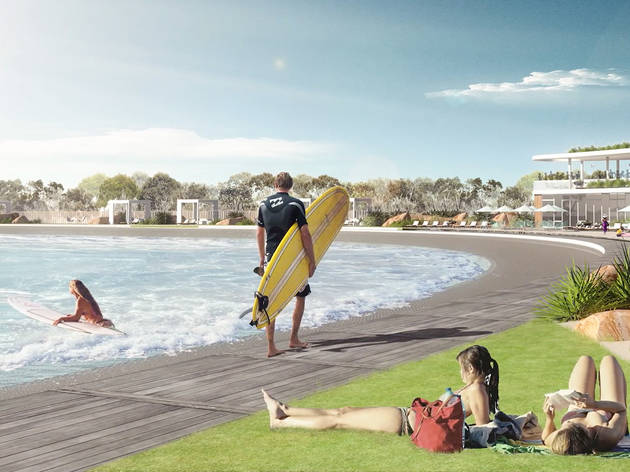 Get ready to hang ten sans sharks, rips and surprise sandbanks Grommets, salty rigs and goofies rejoice – Sydney is getting its very own manmade surf shack by the way of URBNSURF Sydney. The leading manmade WaveGarden technology will be hitting Sydney Olympic Park in 2018, following its debut in Melbourne late next year.