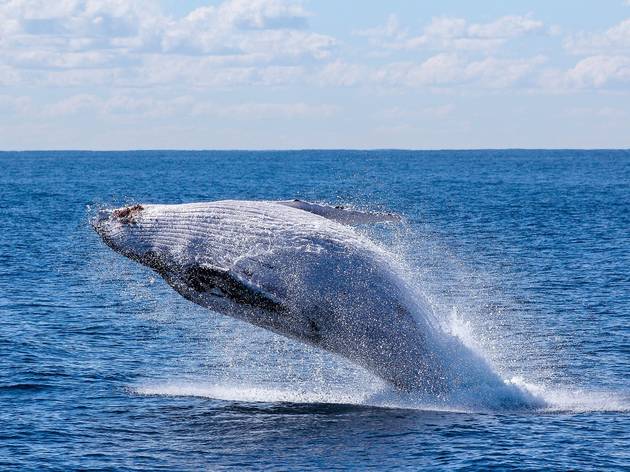 The best places to go whale watching in Sydney
Turn your walk into a whale spotting expedition with these top sightseeing locations
Hark! What's that? If it's winter in Sydney and you're standing by the sea, it could very well be the most majestic creature of the sea popping up to say hello – and, y'know, breathe.
In Sydney, winter is your best bet to catch a glimpse of some humpback whales, as 20,000 of them make moves along the New South Wales coastline between May to August. While the chill envelops Sydney, the whales begin their journey north towards warmer waters to mate and give birth. While humpbacks are the most common sight around our city, you might also spot some lesser found whale species on your adventures, including orcas and minkes. No luck? They might be hiding out by Sydney's best secret beaches – but even if not, those shores are well worth a visit.
Head to one of these lookouts with your camera and binoculars in tow to capture some blowholes spouting. Better yet, tack some whale spotting on to a morning of activities with some of the 90 things to do in Sydney before 9am.

RECOMMENDED: Go out safely by following Sydney's social distancing rules.
Whale watching tours
Oz Whale Watching was awarded the New South Wales Gold and Silver Tourism Awards for 2015. It's $89 for adults and each adventure cruise is four hours long. Opt for the morning tea cruise (which leaves at 9.30am) and see a humpback before lunch.
Australian Spirit Sailing offers eco whale watching tours on a four-hour boat trip for up to 12 passengers at a time. Not only can you catch humpback whales, but there's also some Pacific dolphins, penguins, albatross and fur seals on the agenda. They offer tours throughout the year, departing at 8am and 12.30pm, for $135 per adult.
The pricing for this tour starts at $199 for adults and it includes a 2.5-hour whale and dolphin watching cruise in Port Stephens, a visit to a native wildlife sanctuary, Walkabout Wildlife Park, and sand-boarding at Stockton Beach. The tour departs on Wednesdays and Saturdays.
There's an app!
One of the best ways to take a self-guided whale watching tour is to download the free app Wild About Whales. Google Maps will find your location and you can select sightings, vantage points or tours. Directions to the closest whales are only a click away.
Take a hike
Coastal walks, bush walks, historical walks and inner city ambles: there are many routes where you can see Sydney from a new angle. See our 13 favourite places to wander around the city.
Best selling Time Out Offers