The 20 best Italian restaurants in America
Hit the best Italian restaurants in America for the finest pasta, pizza, antipasti and Italian desserts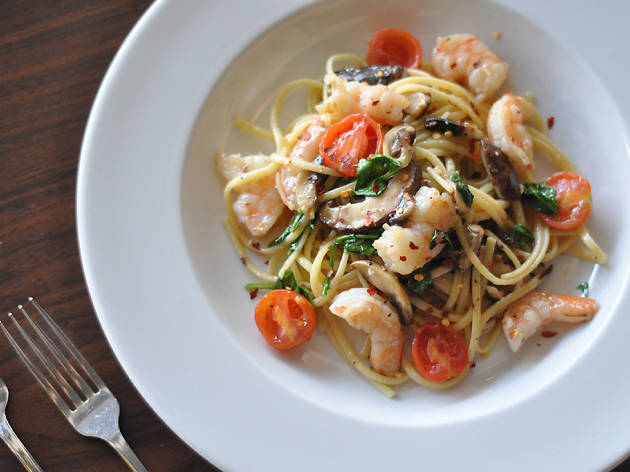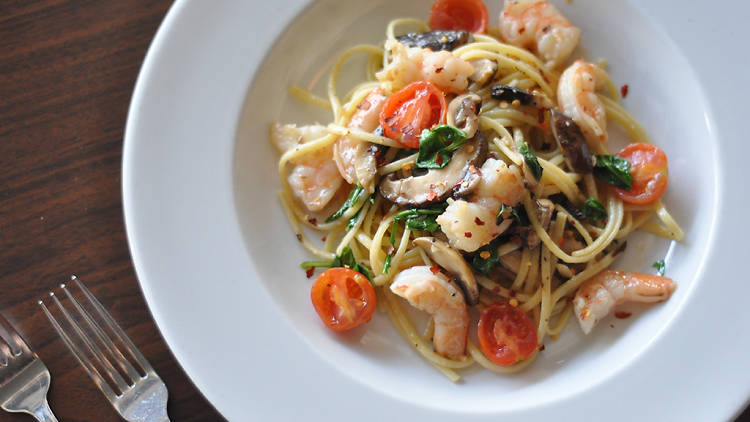 Best Italian restaurants in America
Cathy Whims drew inspiration from her own experiences as a vagabond abroad for this airy, bustling, mod-rustic take on the roadside eateries along Italy's autostrade. Market-driven fluctuations make for a menu that can change considerably from week to week, never mind season to season: red-wine braised octopus one day, gnocchi in sunchoke cream the next, Dungeness crab pizza with paprika butter the one after that. (A few dishes are forever, though, including the wood-fired bistecca alla Fiorentina and the capellini in tomato butter sauce á la Marcella Hazan, of whom the North Carolina-born Whims was a student.) And Nostrana's wine list furthers the adventure: there aren't many places in the U.S. that dare to pour the likes of Barolo, Brunello and Amarone by the glass while stocking such uncommon enophile's darlings as Sforzato di Valtellina and Corsican Sciaccarellu.
12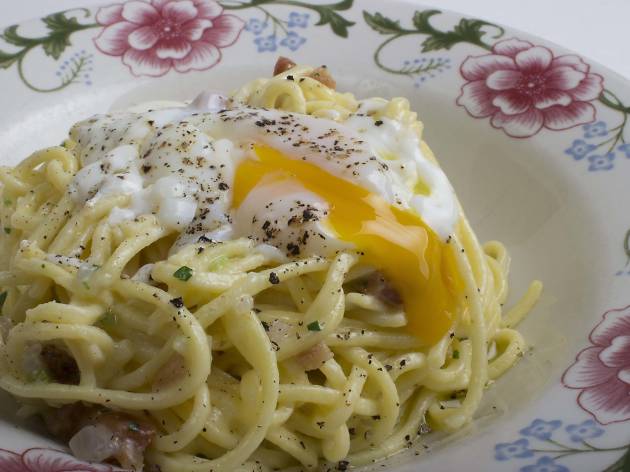 Photograph: Courtesy Bar La Grassa
Bar La Grassa in Minneapolis
Seduced by the relaxed mood at the chef's counter of this casually swanky affair—all cool brick and warm wood in a former North Loop warehouse—you could be forgiven for "accidentally" cruising through the entire array of bruschetta before even glancing at rest of the menu, each offering wilder than the last (we're talking creamy scrambled eggs studded with lobster or grilled shishito peppers atop a smear of chocolate tapenade). But try to control yourself, because there's so much else to love on Isaac Becker's exuberant menu at Bar La Grassa, like the deceptively simple spaghetti with red wine and pine nuts. Or the ridiculous foie gras tortellini. Or the salted-caramel crespelle. Ditto an accessible but super-fun collection of Old and New World bottles.
Piedmontese cuisine is Osteria Langhe's focus, so expect regional ingredients like truffles, cream and eggy pastas. The space is warm and cozy, and you'll want to order a bottle off the well-curated wine list before diving into the food. The plin, hand-pinched ravioli filled with creamy La Tur cheese, are beautiful and light; the beef tartare is impeccably seasoned; and the vitello tonnato tops tender slices of poached veal with a vibrant tuna citrus caper aioli. End the night on a sweet note with an order of the creamy panna cotta.
When Naples native Daniela Marcone wandered into Andiamo for lunch one day, little did she know she would go on to become the hostess and manager before eventually purchasing the restaurant and turning it into the authentic Italian gem it was destined to become. An ever-changing menu of refined, farm-driven dishes includes exquisite house-made pasta and fresh seafood selections like salmon carpaccio, zuppa di pesce, whole baked branzino and seasonal lobster offerings.
One of the few restaurants in Miami with an actual view of the water, this pricey pasta joint is ideal for fans of garlic, truffles and homemade pasta that's a far cry from ragu. Spaghetti alla carbonara will set you back $27, while risotto with porcini mushrooms is a divine culinary creation with an ungodly price tag of $37. If you really want to splurge, there's a filet of beef with sautéed foie gras for $55. Service is old school, verging on stuffy, but what you're paying for here is the view—and the exemplary food.
Aptly named for a racy Lina Wertmüller comedy, Milanese native Riccardo Ullio's Inman Park fixture feels as chic and sexy as it did when it opened in 1999. No doubt the mood at Sotto Sotto is fueled in part by the gorgeous wine list: here, as at Nostrana, are Italy's vinous trophies by the glass, with many more in bottle alongside curiosities from the Valle d'Aosta and Marche regions. Yet the robust, pan-regional piatti couldn't be truer to the traditional spirit of the neighborhood trattoria—be it the historic recipe for veal-and-pork tortelli in butter and sage found in Michaelangelo's letters; risotto flavored with caramelized onions and balsamic vinegar; or acqua pazza ("crazy water"), a vibrant dish of poached fish in tomato broth, followed by the simplest of house-made desserts (including true gelato artigianale).
17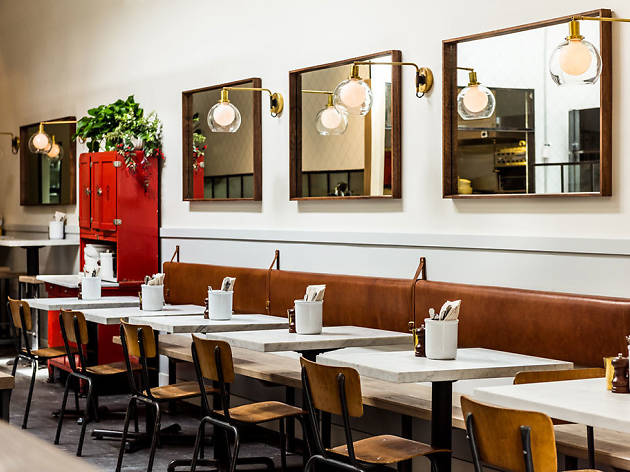 Photograph: Kassie Borreson
Barzotto in San Francisco
San Francisco pasta lovers flock to this Mission favorite both to eat in and take away: the slim, elegant restaurant plates its excellent dried and fresh pastas but also vends them by the pound for superb but easy-peasy Italian cooking at home. The exemplary pastas are matched by deeply satisfying saucing: think soft ribbons of pappardelle tossed with juicy braised beef and umami-rich mushrooms, and curly campanelle flecked with salty Italian ham, sweet green peas and fresh mint. The excellent porchetta, a moist pork roast with a crispy cap of crackling, is not to be missed, either.
This Austin institution has called South Congress home for nearly two decades, serving refined Italian entrées like vitello saltimbocca and pollo alla valdostana in an upscale atmosphere. Pastries and coffee plus charcuterie and cheese are available for takeout in the adjoined Enoteca Vespaio, which also serves more casual fare (paninis, salads and pizzas) for lunch.
19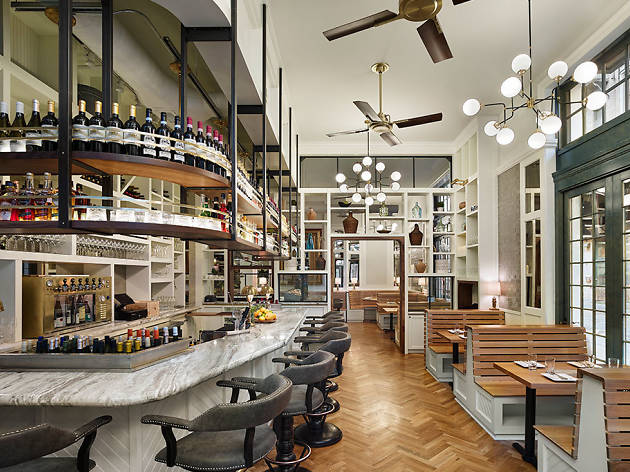 Photograph:
Tredici Enoteca in Philadelphia
The little sister of beloved Philly eatery Zavino, this handsome corner enoteca plates soul-satisfying, Italian-inflected plates such as hanger steak with crispy potatoes, branzino over cauliflower purée and a number of classic, flawlessly executed pastas like a creamy green lasagna and fluffy spinach gnocchi. Don't miss out on Tredici's well-loved wine program, which offers affordable half-pours of French muscadets, Sicilian grillos and Argentinian malbecs: throughout the course of your meal, you can hone in on your favorite glass.
It's okay to splash a little red sauce on the butcher-paper-topped tables in this raucous storefront. Old friends and big families admire the autographed celebrity photos and shots of the owner's family tacked to the frescoed walls. Smiling waiters squeeze between tables juggling huge plates of veal scallopini and bottles of decent Italian red. Order any of the appropriately garlicky pastas and a plate of escarole and beans for the table; the leftovers will warm up just fine tomorrow.
See the best Italian restaurants by city