Heads up! We're working hard to be accurate – but these are unusual times, so please always check before heading out.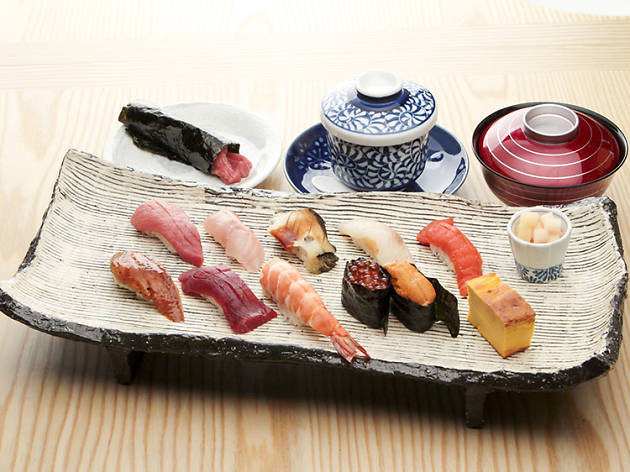 The 22 best sushi restaurants in America
Feast on super-fresh sushi and sashimi, matched with top-shelf sake, at the best sushi restaurants in America
Long-vanished are the days when mainstream America recoiled at the thought of ingesting raw fish: today, even heartland supermarket delis stock spicy tuna rolls. Discerning diners, though, pass over such mass-market items for top-tier, pristine sushi and sashimi at the best sushi restaurants in L.A., the best sushi restaurants in New York and all across the country—putting themselves in their chefs' hands to experience an interactive, often open-ended feast. Where once date night might have meant getting cozy over a pepperoni pie ("It's the best pizza in America," he said as he wiped some cheese from his chin), today it might mean settling in for a night of non-stop, Edomae-style nigiri (emphasizing local species and warm vinegared rice) fueled by junmai daiginjo sake. If you're especially lucky, it will be at one of these extraordinary shrines to the art of Japanese seafood: The best sushi restaurants in America.
Best sushi restaurants in America
At this 20-seat sushi counter from rock-star chefs Jimmy Lau and Nick Kim—formerly of Neta—a cool $135 prompts an omakase (chef's selection) of exceptionally made edomae sushi served in its purest form, each lightly lacquered with soy and nestled atop a slip of warm, loosely packed rice. Luscious, marbled toro, a usually late-in-the-game cut affectionately known as the kobe beef of the sea, boldly arrives first, even before sweet Spanish mackerel with barely-there shreds of young ginger, or sea bream dabbed with plummy ume shiso. The cocksure shuffling, though initially jarring, is a kick hiccup to your usual omakase beat, a winking reminder that, even with the price hike, Shuko's Lau and Kim haven't completely shed their subtle sushi-dogma subversions.
Nodoguro is open Thursday through Sunday for dinner only, excepting the occasional Wednesday. There's just one seating per evening along the chef's counter, with room for 14 patrons at most. The "regular" yet ever-changing farm-to-fork Japanese menu—built around such whimsical themes as Twin Peaks (sample course for David Lynch devotees: "Cod in the Dashi Percolator")—normally runs 13 courses; on even-more-freewheeling sushi nights, the number rises to nearly 20. Just doing the math gives you a sense of how truly special itamae Ryan Roadhouse's tiny yet mighty pop-up-turned-permanent sensation is. But only a taste of his sesame-pressed trout sashimi or uni-salmon roe hand rolls, paired with premium sake or cool local boutique wines, can really drive the point home.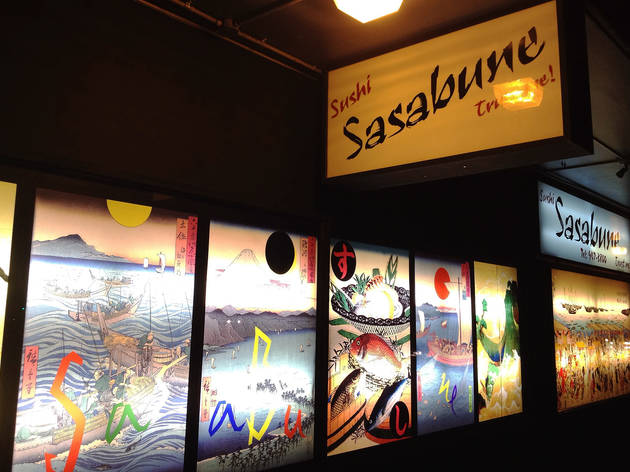 Photograph: Courtesy Creative Commons/Flickr/Ryan Ozawa
Seiji Kumagawa doesn't give a damn about his uncompromising reputation—as a host. As a chef, he gives every damn. Which is why, amid increasingly tough competition, this simply, traditionally decorated Makiki outpost of an L.A. original remains a must-go among must-gos for the gung-ho. If you sit at the bar at Sasabune—and you should—it's omakase-only, a 12-to-13-course affair about which, barring allergies, you have zero say. But from the cool-warm nigiri (including revelatory negitoro) to the painstaking treatment of local abalone and opah to the rare treat that is Koshu (Japan's indigenous white wine), you'll be speechless and powerless to resist your chef's directives anyway.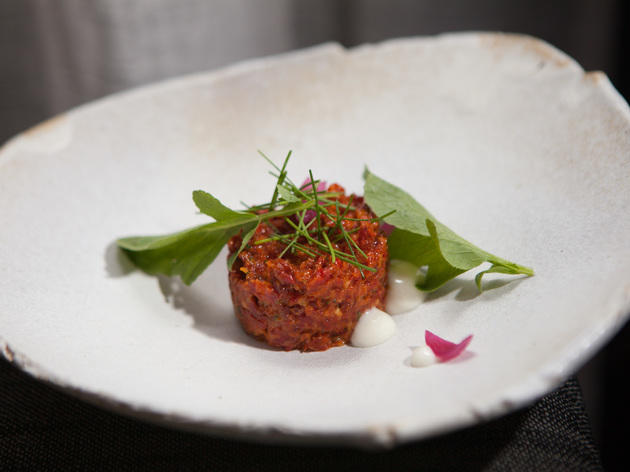 There are more than enough good things at Momotaro to have an entire meal without even glancing at the sushi menu, but that would be a big mistake. An eight-piece order of nigiri or sashimi omakase is $55, and our server steered us toward the nigiri plate, with composed bites of sweet shrimp, seared mackerel and creamy uni lightly accented with perfectly balanced sauces. Maki, like spicy octopus with pickled shallots and mackerel padded with a mix of herbs, are well-executed and restrained.
The main level of Double Knot functions as a cozy café, but Philly's sushi connoisseurs know to expect more than coffee and pastries at this Midtown Village outpost. Downstairs, a dimly lit dining room serves a Japanese menu complete with sushi, sashimi, meaty entrées and creative sides. Specialties include the crowd-pleasing edamame dumplings, a Philly-inspired duck scrapple bao bun and the signature Big Eye Tuna roll. Behind the bar, unique cocktails incorporate Japanese components like yuzu, Japanese plums and cherry blossoms.
Yet another example that proves the maxim that strip malls often contain some of the best food around, this perpetually packed Coral Terrace spot is a must-visit for any sushi lover. Inside the no-frills, wood-paneled dining room, beautifully fresh, reasonably priced sushi is the name of the game—think sashimi for $2, specialty rolls for under $10 each and $5.50 glasses of wine. Selections include ruby-red big eye toro, fresh sweet scallops and meaty hamachi—and at these prices, you can afford to try everything that catches your eye, and then some.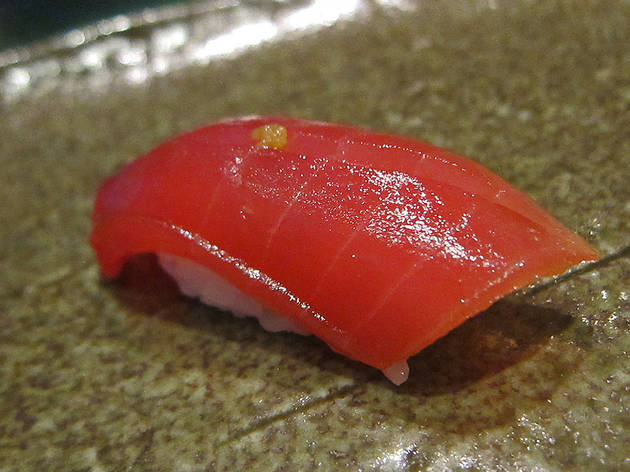 Photograph: Courtesy Creative Commons/Flickr/Kirk K.
17. Sushi Tadokoro, San Diego
A stripped-down, strip-mall storefront sets the stage for a low-key yet high-toned parade of daily specials in the Edomae style: here's your chance to try Japanese sardines and barracuda, the fatty halibut fin muscle called engawa, and clams galore, including blood cockles. Start with fried smelt and sake in charmingly mismatched cups; finish with a bowl of zenzai (mochi dumplings in sweet adzuki-bean soup); and, above all, bask in the serene glow of Sushi Tadokoro's seafood extraordinaire, presented with neither pomp nor circumstance.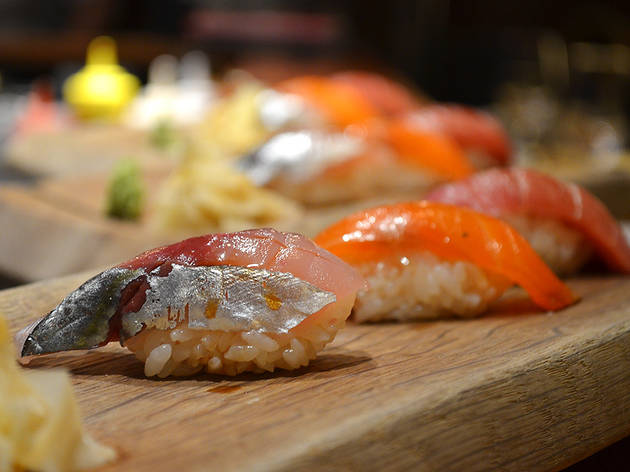 Photograph: Courtesy Miyake
Back to the land, deep into the sea, forward to the future: having expanded from a buzzing hole-in-the-wall to a sleek, urbane Old Port destination, Masa Miyake keeps his celebrated namesake moving in all directions. Raising chickens and heritage pig breeds on his own farm, he also sources seafood as locally as possible (uni and monkfish included) in service of a repertoire marked by cheffy contemporary flourishes. Which means Miyake's seven-to-eight-course take on omakase could as easily feature grilled oysters with duck skin and celeriac bubbles or braised Mangalitsa pork belly as Maine lobster sashimi. Of course, sake pairings are an option, but take a gander at the streamlined, spot-on wine selection first.
Though the homier Sushi House Hayakawa runs a close second, this glam go-to has raised the bar for A-Town Japanese cuisine to haute levels. In a strikingly glossy, oak- and cypress-filled Buckhead space, Tokyo native Fuyuhiko Ito turns out lesser-known gems of the sushi genre like Osaka-style box-pressed oshizushi and lightly seared aburi, along with such originals as uni-shiso tempura. Craft cocktails and desserts from Ito's wife, pastry chef Lisa Ito—think chocolate bento boxes and green-tea soufflé—put the finishing touches on a gold-standard gourmet experience at Umi.
At nearly 30 years old, Nobu Yamazaki's Dupont Circle fixture gleams as brightly as it did when his father opened it—if not even brighter, its polish extending from the handsome decor to the smooth execution of multiple menus. You can take an a la carte thrill ride through orders of spotted-parrot snapper nigiri, live-scallop sashimi, soy-simmered eel liver and ginger-blossom tempura. You can indulge in a kaiseki-style chef's tasting, with or without soft-shell snapping turtle as a centerpiece. Or, with foresight and patience, you can book a reservation for Sushi Taro's six-seat sushi bar and do omakase as it was meant to be done, in conversation with the chefs. The sake selection's divine but, for a change of pace, check out the shochus and imported beers.
Show more
See the best sushi in American cities