London events in December
Your guide to the best events and things to do throughout December 2016 in London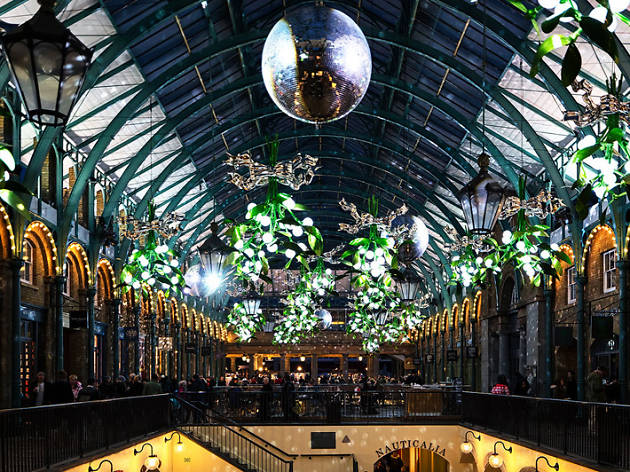 It's beginning to look a lot like Christmas in London – the trees are up, the Christmas lights are on and the seasonal songs are already driving us insane. This December, prepare yourself for some serious festive cheer and head to one of London's events full of the holiday spirit. We reckon a quick spin around London's ice rinks should do it – or, if you've had one festive sandwich too many, there's plenty of non-crimbo events to enjoy too. Check out our pick of the best things happening this December and we'll catch you under the mistletoe.
RECOMMENDED: The definitive London events calendar
Our December 2016 highlights
Art exhibitions this December
Nightlife this December
Think bingo is boring? So do this lot, which is why they created a brilliant, bizarre, boozy and unashamedly silly alternative. Two 'Wayne's World'-styled hosts throw serious shapes to the likes of Bon Jovi and 'Eye of the Tiger' while calling the numbers. There are numerous prizes to be won, including the coveted Bogan Bingo lunch box, plenty of classic '80s pub rock and floods of stonewashed denim.
Read more
Brooklyn native Kweli helped set a new benchmark for conscious rap through his collaborations with DJ Hi-Tek (the Reflection Eternal project) and Mos Def (as the stellar Black Star). He makes a welcome – and quite rare – solo showing here, performing his familiar free-flowing rhymes and symphonic samples.
Book now
Read more
Discover the stars of tomorrow at one of our specially curated gigs. Taking place at iconic music venues around London, our Rising Stars events showcase some of the best new artists in the capital. Each show will feature five up-and-coming artists performing intimate sets especially for you. Featuring the freshest faces in blues, rock, country and folk, this is the place to find your new favourite artist. Plus, if you arrive before 8pm, you can have a drink on us at each gig! So grab this opportunity to see these amazing acts now so you can say 'I was into them before they were famous' while you still can.
Book now
Read more
Do you remember when you were young and wanted to set the world on fire? If not, Against Me's brand of punk will certainly remind you of angstier days when nothing mattered and you were always right. The band's powerful latest, 'Transgender Dysphoria Blues', deals with singer Laura Jane Grace's – well, just what the title says.
Book now
Read more
This NYC-born maker of 'organic electronic music' tinges his beautiful soundscapes with dub, jazz and experimental touches. He claims to be committed to slowing down his music, claiming that 'more unintentional things happen between the beats'.
Book now
Read more
A couple of years ago, Clean Bandit were an underground crew picking up tastemakers' respect for their weird-but-it-works blend of classical strings and funky house-pop. Then came 'Rather Be', one of the most successful singles of the decade, followed by their Top Five debut album 'New Eyes', and they became one of 2014's biggest new acts. Ubiquity doesn't mean complacency though: they're known for building their tracks on stage without pre-recording anything, so they're generally a great live act. Hear some new songs from their upcoming second album at this London show.
Book now
Read more
Blitz-era tube-themed bar Cahoots hosts live music every Friday, with electro-swing and 'chap rap' acts performing alongside more traditional gypsy jazz and lindyhop bands.
Read more
Signed to FatCat and naming 'racquet sports and diseases' as their major influences, the excellent Selkirk quartet headline. Their slightly folk-toned indie pop is soaring and surprisingly robust, given their name. Listen out for tracks from their recently released fourth album, 'Pedestrian Verse'.
Read more
Show more
Find out what's happening in January
Forget the gym and forget the diet, this January fill your diary full of the capital's biggest and best events.
Read more