The cosiest winter pop-ups in London
Stay warm, happy and full at these cosy winter London pop-ups, only in town for the snowy season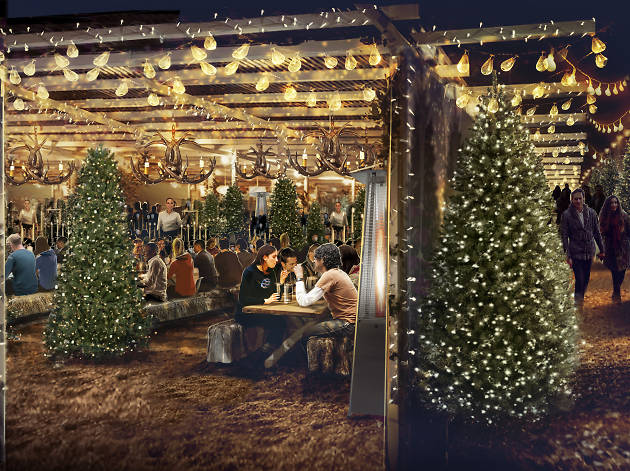 Winter in London is ace, but can be bloody chilly. It's enough to make you want to stay indoors, near a radiator. But, thankfully, the city is also home to countless cosy pop-ups in the run up to Christmas. Urban beaches and London rooftops have been transformed for winter, while festive wonderlands appear complete with twinkling lights, snug blankets and steaming mugs of booze and hot chocolate to warm your bones. Oh, and did we mention London has gone wild for igloos this year? Grab a woolly jumper and embrace all things toasty, with these wonderfully wintery pop-ups.
RECOMMENDED: The best things do in London this Christmas
14 cosy winter pop-ups in London
1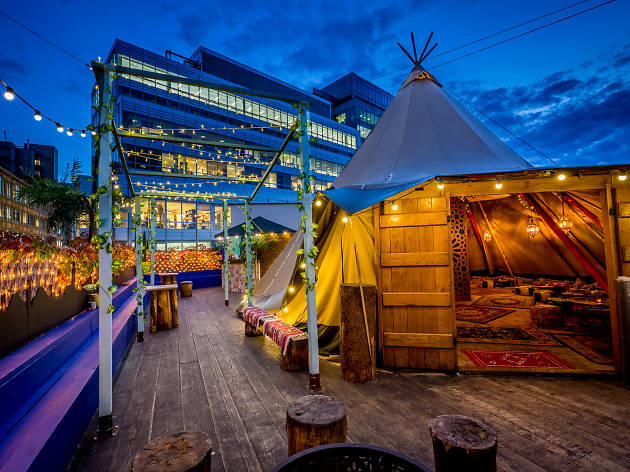 For a heated wigwam
The Queen of Hoxton's rooftop is seriously balmy this winter. Inspired by the Majorelle Gardens in Marrakech, the spot on the Shoreditch skyline has been transformed, with giant cacti, fairy lights, pretty lanterns and fire pits. Sip gin-spiked Casablancan mint tea and piping hot espresso martinis, feast on halloumi fries, mezze and tagine and warm the hell up inside the giant wigwam snug. Serious desert vibes.
2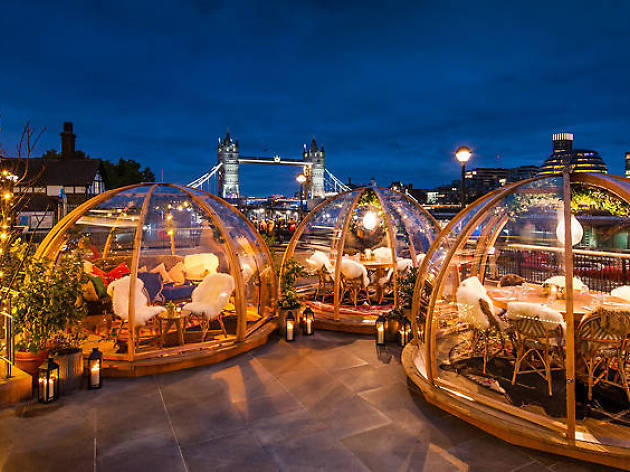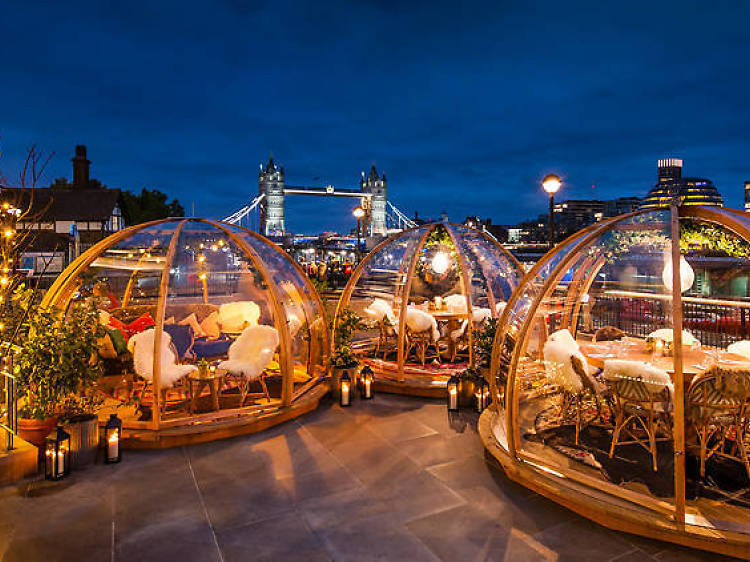 For dinner in a dome
Such is our appetite for warm places to sit that last year London lost its collective shit over Coppa Club's PVC riverside igloos. This year they are back and they're as cosy as ever, with snug sheepskin blankets, festive snacks and breeze-free views of the city skyline. The eight-person snuggeries are fully booked into the new year, but daily walk-ins for chilly Londoners are available. See you in the queue.
3
Jimmy's Lodge
For all the melted cheese
Hide from the cold by huddling up in a private Snow Globe (yep, that is just another name for an igloo) at Jimmy's Lodge by the BFI on the Southbank. There's also the chalet-style Refuge Restaurant perched on the edge of the Thames, serving melted cheese and warming treats. Still shivering? Head to the Hot Cocktail Bar and sip butter rum, hot mojitos and mulled booze until you're all steamed up. From Nov 10.
4
Venue says: "Hidden alfresco garden and rooftop: drinking/dining in the heart of London, with 850 seats, seven day-beds, four restaurants and two bars."
For burgers on a rooftop
The buzzy urban garden in west London is open again for the snowy season. We know what you're thinking: brrrr!, but it'll be heated and fully enclosed for the winter months, with a clear roof so you can see the sky without the plummeting temperatures. Patty & Bun, Tonkotsu, Made of Dough and more are on the winter menu, alongside hot and festive cocktails to be sipped among the winter greenery and glowing lights.
5
For mulled negronis
Escape the heaving hordes of Christmas cash-splashers on Oxford Street and clamber up to the roof of John Lewis. The space is festooned with a massive tree, vintage baubles and festive lights, and is designed to remind Londoners of a village green. Sing along to Christmas tunes at rooftop pub The Gardeners' Arms, indulge in traditional British festive fare courtesy of The Ethicurean, sip mulled negronis and cuddle up in cosy bookable lodges. From Nov 8.
6
For boozy egg nog
Cuddle up under blankets high above Oxford Street on winter rooftop Woody Bear. It's the summer's Sisu transformed for the colder months, with fairground ride booths, swings, tables made out of logs and heaters galore to ward off the winter chill. Raise your body temperature with cheesy croque sandwiches and raclette wheels. And don't skip the coin operated cocktail dispenser serving steaming hot gin punch.