The cosiest winter pop-ups in London
Stay warm, happy and full at these cosy winter London pop-ups, only in town for the snowy season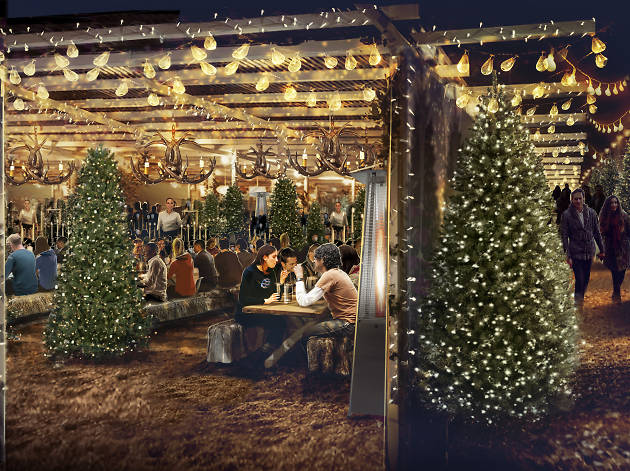 Winter in London is ace, but can be bloody chilly. It's enough to make you want to stay indoors, near a radiator. But, thankfully, the city is also home to countless cosy pop-ups in the run up to Christmas. Urban beaches and London rooftops have been transformed for winter, while festive wonderlands appear complete with twinkling lights, snug blankets and steaming mugs of booze and hot chocolate to warm your bones. Oh, and did we mention London has gone wild for igloos this year? Grab a woolly jumper and embrace all things toasty, with these wonderfully wintery pop-ups.
RECOMMENDED: The best things do in London this Christmas
14 cosy winter pop-ups in London
For a heated wigwam
The Queen of Hoxton's rooftop is seriously balmy this winter. Inspired by the Majorelle Gardens in Marrakech, the spot on the Shoreditch skyline has been transformed, with giant cacti, fairy lights, pretty lanterns and fire pits. Sip gin-spiked Casablancan mint tea and piping hot espresso martinis, feast on halloumi fries, mezze and tagine and warm the hell up inside the giant wigwam snug. Serious desert vibes.
For steamy temperatures
The Southbank Centre can always be counted on for brightening up the darker months. Its Wintertime festival runs annually throughout November and December and the highlight in 2017 is a toasty treat: a pop-up Finnish sauna set in the Queen Elizabeth Hall Roof Garden with ace views of the Thames. Strip off and warm up to a steamy 90 degrees before sipping warming tipples under blankets in a Scandi-inspired rooftop bar. It's peak cosiness.
Things to do, Quirky events
For sky-high skating
Elevate your winter evenings with London's very first rooftop ice rink. The Tobacco Dock location is reinventing itself for the season, with skating, ice-hockey shooting and street food. Being perched on an icy London rooftop might sound like an uncomfortably arctic activity, but cheese fondue and mulled wine (plus patio heaters) promise to raise your body temperature post-skate.
Restaurants, Contemporary European
For dinner in a dome
Such is our appetite for warm places to sit that last year London lost its collective shit over Coppa Club's PVC riverside igloos. This year they are back and they're as cosy as ever, with snug sheepskin blankets, festive snacks and breeze-free views of the city skyline. The eight-person snuggeries are fully booked into the new year, but daily walk-ins for chilly Londoners are available. See you in the queue.
Things to do, Quirky events
For snowy sports
Ascend to this Stratford rooftop for The Social Fun and Games Club's wintery incarnation. It's all neon curling lanes and igloo dining dens for snuggling up and escaping the cool night air. Retro layers are encouraged at the '80s-inspired ski lodge bar (so feel free to sport those slightly suspect, borrowed salopettes) and street food is on theme with raclette and hearty hog roasts.
For a golf in a forest
Fulham's once-summery beach is freezing over for the festivities. Neverland is now Winterland, an enchanted forest with neon-lit curling lanes, mini golf, prosecco pong, lodges and, yep, more of those heated igloos. If the transparent domes don't do it for you, there are intimate feasting tables for fondue and more ski-themed snacks, while on Thursdays, Fridays and Sundays you can BYOB and the staff will mix it into ace cocktails.
7
For all the melted cheese
Hide from the cold by huddling up in a private Snow Globe (yep, that is just another name for an igloo) at Jimmy's Lodge by the BFI on the Southbank. There's also the chalet-style Refuge Restaurant perched on the edge of the Thames, serving melted cheese and warming treats. Still shivering? Head to the Hot Cocktail Bar and sip butter rum, hot mojitos and mulled booze until you're all steamed up. From Nov 10.
Restaurants, Pop up restaurant
For burgers on a rooftop
The buzzy urban garden in west London is open again for the snowy season. We know what you're thinking: brrrr!, but it'll be heated and fully enclosed for the winter months, with a clear roof so you can see the sky without the plummeting temperatures. Patty & Bun, Tonkotsu, Made of Dough and more are on the winter menu, alongside hot and festive cocktails to be sipped among the winter greenery and glowing lights.
Venue says Hidden alfresco garden and rooftop: drinking/dining in the heart of London, with 850 seats, seven day-beds, four restaurants and two bars.
Things to do, Film events
For wintertime classics
This winter Backyard Cinema is screening wintery classics like 'Cool Runnings', 'It's a Wonderful Life' and 'Frozen'. Its latest guise sounds really rather nippy: you enter past snowdrifts, through caves of ice, over a frozen lake… But rest assured, once settled on a squishy giant bean bag with a blanket over your knees and a hot drink in your mitts, you'll be as cosy as can be.
For mulled negronis
Escape the heaving hordes of Christmas cash-splashers on Oxford Street and clamber up to the roof of John Lewis. The space is festooned with a massive tree, vintage baubles and festive lights, and is designed to remind Londoners of a village green. Sing along to Christmas tunes at rooftop pub The Gardeners' Arms, indulge in traditional British festive fare courtesy of The Ethicurean, sip mulled negronis and cuddle up in cosy bookable lodges. From Nov 8.
Show more