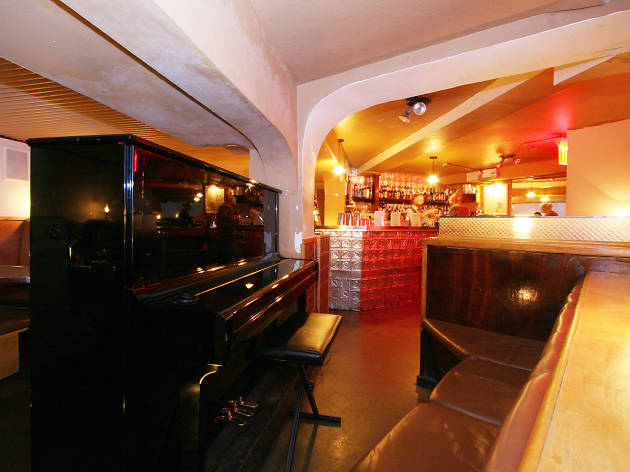 The 15 best speakeasy-inspired bars in NYC
Want a speakeasy in NYC? Drink in Jazz Age interiors, tell secrets in a phone booth and sip throwback cocktails at these speakeasy-inspired bars.
Although reports of their resurrection are greatly exaggerated, the last of New York City's real-deal speakeasies ceased operation in 1933. That's the year prohibition ended, and once that odd bit of wise legislation managed to pass, in spite of hidden entrances, decoys, and hooch-obscuring levers and pulleys, wowie-zowie, all those gin joints turned into bars!
Some of those bars, like 21 Club, remained open in various forms for many more years. Any place popping up in the interim is simply speakeasy-inspired. These newcomers aim to approximate Jazz Age style absent its inconvenient trappings. See, just like we wouldn't take a suborbital flight and call it space travel, we can't really say we fully comprehend the sights, smells, tastes and heartbeat of erstwhile speakeasies.
But we do go to a lot of bars, and plenty of those are rather convincingly fashioned after speakeasies, but with better booze (fewer errant pest particles), improved air quality (no smoking), and modern conveniences like online reservation platforms, air conditioning and mobile payments to follow up with the moochers in the group. Some have circa (19)20s details for days and others would make a dramaturg's stomach turn, but their semi-hidden entrances, Old New York decor and appearance of exclusivity are almost enough to make us feel like we're about to light up a Chesterfield, sip some cold clear liquor and–what?–oh, we'll Venmo you later.
RECOMMENDED: Full guide to the best bars in NYC
Best speakeasies in NYC
Occupying the former Milk and Honey space (the bar said to have kick started this whole genre revival on New Years Eve, 1999), there's now a whole generation of drinkers who could be forgiven for thinking Attaboy has been here forever. Its narrow interior, anchored by a brushed steel bar, is chicly worn, and plenty of old-timey tipples are available. Some still say it's a little hard to find, so here's a tip: The address is 134 Eldridge Street, and it reads "AB" on the door.
This was one of a few speakeasy-inspired bars to add outdoor seating last year, sunshine dehydrating any last lingering molecules of anonymity. But now that the indoors are open once more, it's fun to climb Angel Share's staircase, stride through adjacent Japanese restaurant Village Yokocho, and see if you can squeeze in past the bar's big wooden door. Arrive alone or in pairs for a better chance of nabbing a spot.
PDT also added an outdoor annex this year, though PDT Tropicale's cocktails, including a few frozen drinks, are much more suitable for sipping in the sun than PDT proper's deep libations. To visit the original, enter Crif Dogs, keep your fingers crossed and pop into the phone booth to see whether any tables are available. Most nights, it looks like a job for Superman.


In theory, you and a companion–yet to be determined friend or foe–will turn up Norfolk street just as a cloud of steam rises from a subway grate, and your eyes will land on a sign: THE LOWER EAST SIDE TOY COMPANY. This must be the place, you'll say, pulling your trench coat tighter, no longer sure whether you're nervous or excited, or if this is really the place at all. In practice, there will probably already be people milling around outside The Back Room, and you may have to wait for your cocktail-in-a-teacup, but the environs are just transportive enough to make it seem, for a minute, like you're back in the original roaring 20s.
As befits cocktail progenitor Sasha Petraske's liquid legacy, the drinks at this low-ceilinged Village rathskeller are nigh perfect. If you choose to deviate from the menu, just give the bartenders a base liquor and a hint of your mood, and they can tailor a drink on the fly. A call for rye got us a spot-on Italian twist on a Manhattan, featuring maraschino liqueur, Carpano Antica vermouth and amaro. Bespoke cocktails—no password or secret handshake required.
If you're really thirsty for the whole hide-and-seek conceit, or simply tolerating someone who is, this is the place to be. Up front, it's a functional coffee shop. In the back after dark, it's Jazz Age cosplay, baby. Not that most people come wearing costumes, but they certainly could and blend right in with the copper bathtub in the center of the room. Go ahead: Take a little social media dip.
This one ranks high on the calculated seclusion spectrum, too. Situated above a Five Guys, the path up a back staircase leading to tin ceilings, banquet hall-esque chandeliers and cozy tufted booths is pretty neat if you just sort of happen upon it, so grab a pal prone to whimsy and try to orchestrate that very experience without mentioning the place is already all over Yelp, Instagram, and TikTok.
Newly opened La Noxe is, like a lot of spots, literally underground, but its unexpected location just off the 1 train in the 28th Street subway station gives it an edge. It has more of an element of surprise than most of its peers, better capturing that slightly clandestine quality other venues in this category aspire to. Take a date here for boudoir decor and the quickest possible exit.
Originally opened by industry pros on the earlier side of the 2000s speakeasy resurgence, Employees Only has real NYC bar bonafides. The comfortably-worn reproduction of a prohibition-era bar is also among the city's most populist, with enough nerd-baiting sips on the menu to please aficionados without alienating everyone else.
To explore Antarctica, Sir Ernest Shackleton had to navigate floating ice sheets after his ship was trapped and eventually crushed by pack ice. To get to Banzarbar, which is inspired by those 20th-century expeditions, you must take the MTA. Six of one, half dozen of the other. Its olive-green paneling, seafaring paintings and burning candlesticks in the intimate space above Freemans restaurant amount to a nautical adventure on land.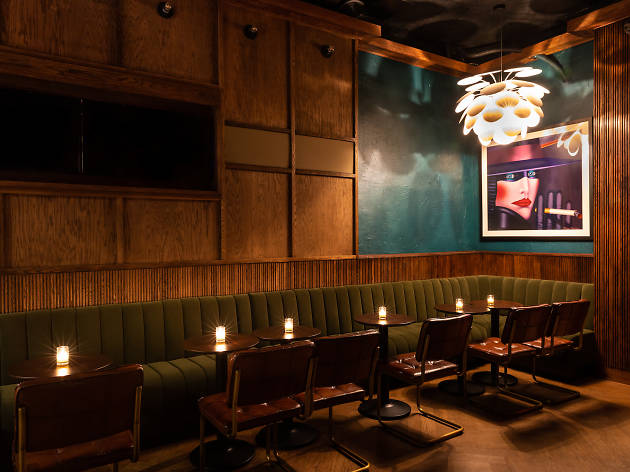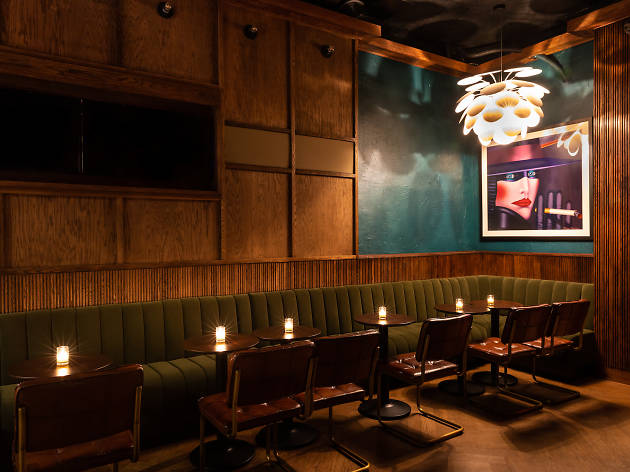 Photograph: Nitzan Rubin
Mingling sports bar and speakeasy themes is incredibly clever, and J. Bespoke is the only game in town successfully executing both at once. Here, you'll view games on flat screens from velvet banquettes and sip seamlessly between $18 cocktails and $7 draft beers.
Peachy's present semi-operational status ironically makes it as close to a speakeasy as anything we've seen since the 21st Amendment. And, paradoxically, you have to kind of get unlucky to get lucky enough to nab a tab here: It's is only open on Fridays and Saturdays as an overflow space for Chinese Tuxedo restaurant upstairs. Together, the duo is making accidental entrée the new exclusivity.
This is a bar-in-a-bodega concept where you can stockpile Fruit by the Foot and Haribo up front, then amble back to the vibrant cocktail den. Expect floral wallpaper and antiques around the bar proper, which pours sake, brews, wine and cocktails. Though we can only imagine what zero-proof cocktails were like at the original speakeasies (. . . water?), Little Shop has some nice ones in addition to the hard stuff.
Similar to Bathtub Gin, UES. has an ice cream shop front, but when you ask whether they have this or that in the back, you get an intoxicating surprise. And it's alcohol! Make like a soda jerk and pass the frozen treats for Upper East Side-themed cocktails like the 1040 Fifth Avenue and Here's Looking at You, Bradshaw, in what is colloquially known as UES.'s "storage room."
With natural light and an almost beachy ambiance, this bar from the teams behind Donna and Kuu wouldn't quite land here were it not for its location within Wanpaku Ramen. If striding through an establishment and ignoring repeated 'may I help you's' gives you a thrill . . . maybe you should be a little nicer, but you can get that experience here.
Looking for a really good wine bar?
From educational vin studios to natural-wine–focused neo-bistros, find the best wine bar NYC has to offer
Best selling Time Out Offers