The best restaurants, bars and cafes in Phrom Phong
Explore the dining scene near Phrom Phong BTS station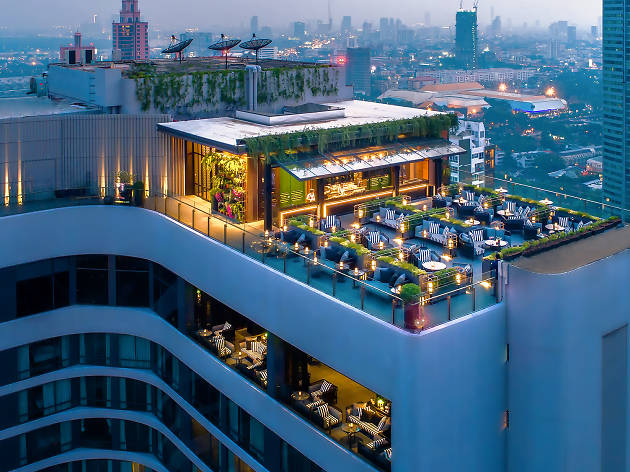 Phrom Phrong, an affluent Sukhumvit neighborhood, has always been a haven for gastrophiles. There's everything for everyone, from hip restaurants in the shiny malls and upscale eateries in five-star hotels to shophouse restaurants hidden in the alleys and food trucks cooking on the streets. Don't know where to start? Let us be your guide.
Shinsen Fish Market is perhaps the most exciting eatery to open in Sukhumvit this month. The fancy seafood-focused restaurant is located next to Ozono on Sukhumvit Soi 39 and is built around the concept of Addiction Aquatic Development, a modern-looking wholesale and retail fish market in Taipei that also supplies most of the seafood served at Shinsen. The space is stylishly decked out in glossy black and features ten different zones. Only two zones, Market and Café, are open for now.  For those who aren't familiar with how things go at the Taipei fish market (we aren't either), here is how it works: You enter through the Market zone where you can handpick fresh or live produce (everything from Hokkaido crabs to Wagyu beef) from ice-topped counters or tanks. You then pay for your loot at the cashier. You can also shop for cheese, wines, saké, fruits and pastries at the Market. Carry everything to the cooking station, choose how you want them cooked, pay a small cooking fee (starting from B50) and then wait to be served at the Cafe zone. You can also choose dishes and drinks from the à la carte menu, which includes grilled seafood and meats as well as glistening slices of raw fish prepared at the sushi bar located inside the Market. However, those who choose to sit at the said sushi bar won't be eligible for the pick-and-cook option. Sounds confusing? It is. We visited the place on a Sunday evening, a few days after the soft-opening period, and discovered that the place is i
Read more
Hanakurata serves great food, amazing cocktails and killer sake. The strawberry mogu mogu, mixed with Yakult and fresh strawberry, preps up the palate for a variety of Japanese dishes, from tofu salad with zesty dressing to saba rolls.
Read more
This eatery is one of the many branches of Saep Classic, the country's famous somtum chain. We particularly love this outlet for its cleanliness and easygoing vibe. Plus, a somtum break in between bouts of shopping is a real treat. Those unfamiliar with fermented fish sauce will be glad to know that the somtum here is seasoned to appeal to their uneducated palates. Try the mildly sweet somtum sua pu pla ra (papaya salad with fermented fish sauce, salted cured crab and rice noodle) to start. Pair it with their crispy-skin grilled chicken for a truly amazing meal.
Read more
Hidden on the 2nd floor of The Green Connect Building on Sukhumvit soi 31, this bar doubles as a space where artists can showcase their pieces for free. Cocktail workshops are also hosted on special nights – visitors get educated on Thai liquor-based drinks infused with local ingredients such as Bua Bok Splitz, Honey Spice, Pineapple Beer and Whiskey Tea.
Read more
This world-class dessert house, which originated in France, has just open its third branch in Bangkok at the Emquartier. Imported ingredients are used into making decadent millefeuille, chewy macarons and creamy eclairs. The signature tea blends range from black to rose blends. Try their savory meals if you can manage to tear yourself away from their sweets.
Read more