The best restaurants and cafes in Aree
Discover the best places to eat and drink in the charming area of Aree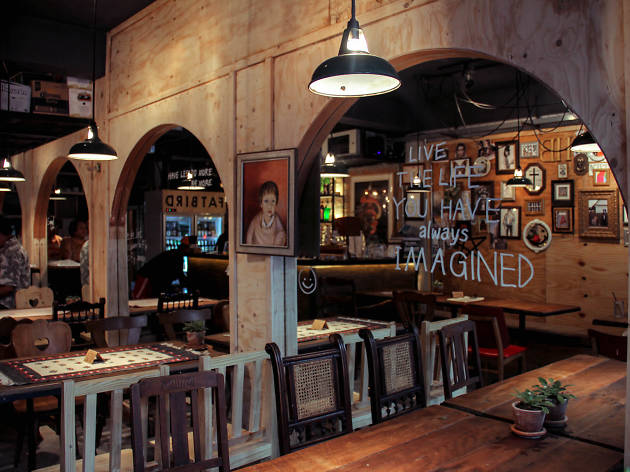 Less than 10 minutes from Siam by BTS, Aree is best known for being home to some of the city's best restaurants and cafes. From artsy Laliart Café to fashionable Vick's and trendy Fatbird, Aree shows Bangkok what hip dining is all about.
The best restaurants and cafes in Aree
This big fat bird's nest captures everyone's attention with its incredible façade. Step inside it and instantly feel at home in its warm and friendly atmosphere. The menu is attractive as the décor – Fatbird offers appetizing food and beverages that are comparable to many of the city's more popular restaurants. If you're looking for a place to chill and eat good food, go to Fatbird – you'll instantly know you made the right choice.
Read more
This shiny food truck in Aree Soi 2 is famous for the incredibly fresh seafood grill which can be bought from the road. It runs on the first come first served basis, so the mouth watering crowd will have to wait for the scrumptious giant freshwater prawn, squid, and many more. Don't be afraid to be there too early as the truck starts serving drinks at 2pm.
Read more
Decorated simply with style, this coffee-lovers cave offers delicate drinks and homemade pastries. The subtle hint of coffee that will hit your nose when you walk in definitely guarantees smells that match the taste. Their recommended Hazelnut Milk Iced Cube Latte makes time fly, which can accompany you while reading one of your favourite books.
Read more
Marlin is a harmony of Japan meeting the West in term of both cuisine and decoration. Bricks, tiles, and concrete creates help establish the New York vibe, that charms every visitor along with their fusion So Salmon rolls, Japanese-inspired pasta, BBQ ribs, and many more. You can also order their special cocktails; sour, sweet, and playful, The Scented and The Zen. 
Read more
Laliart Coffee brews the best quality coffee, the beans are resourced from Mae Jam (in Northern Thailand), which also offer a selection of scones and bake goods. Laliart Coffee proudly offer dairy-free, egg-free, vegan bakery that's low in sugar.  
Read more
 You can find Korean food with a twist here at Kimchi Hour. The traditional kimbab is made extra special with tuna and avocado. Crispy fried Kimchi and the famous Korean fried chicken tossed in optional sauces are hard to resist. They also have the traditional Soju and Soju-based cocktails available to complement your meal.  
Read more
Known for it's big juicy meat patties, Amp Signature Burger draws food lovers to take take an all-ground trip to it's kitchen's delicacies. Homemade Potato Wedges are a perfect side order along with tartar sauce. Alongside their fabulous food you can try some Spechieng cocktails to complete your night, right in the middle of Aree traffic.   
Read more