9 Chicago secrets you should know about
Shh! Discover the city's most hush-hush treasures hidden in plain sight.
Secrets, secrets are no fun? More like secrets, secrets are so fun, especially when they involve password-protected speakeasies, tucked-away gardens and a sneaky underground tunnel system. We're taking a closer look at some of Chicago's best secrets—the kind of stuff you won't find in most run-of-the-mill guidebooks, but, uh, nothing so crazy that you'll end up in jail. Embark on an exploration of city's top confidential happenings, from a crazy-good dining deal at one of the best restaurants in Chicago to pristine highrise chapel hidden in the Loop.
Explore Chicago's best secrets
You'll feel like you're on a covert mission when you slip through an inconspicuous alley to access Wicker Park bar Yokocho, a concept inspired by Tokyo's raucous, hole-in-the-wall drinking dens. Inside, the Japanese whiskey and sake flow like water, and the burger is dripping with soy, ginger and garlic flavors. Kampai!
Situated at the north end of Lincoln Park and just east of the Lincoln Park Conservatory and Mon Ami Gabi, Alfred Caldwell Lily Pool is a serene pond that's surrounded by lush vegetation and a stone walkway. Designed by landscape architect Alfred Caldwell, the secluded green space is meant to emulate a river twisting through a prairie—a.k.a. an environment of total tranquility. Pack a book, find a spot in the sun and stay awhile.
You needn't be religious to poke around Chicago's Sky Chapel, a breathtaking house of worship situated 400 feet above street level inside a Gothic skyscraper in the Loop. Accessible via two elevators and a staircase, the impressive space is surrounded by colorful stained-glass windows and intricate carvings. Free guided tours are available Tuesday through Saturday at 2pm, as well as Sundays at 9:45am and 12:15pm.
Still making your way through Chicago's 22 Michelin-starred restaurants? You can knock off two-star Acadia without paying a small fortune. While the restaurant's 10-course menu costs a pretty penny ($185 per person), guests who sit at the bar can cash in on a seriously decadent deal: $35 for eight "snack" courses, which include rotating bites like duck prosciutto, mini lobster rolls, whipped foie gras and chocolate cake made with Guinness stout.
For most Chicagoans, the Pedway is nothing more than a confusing maze of subterranean tunnels below the Loop, a way to get from point A to point B without braving the elements. Space p11 aims to change that through a series of off-the-grid installations that breathe new life into the utilitarian walkway. Step inside the space to explore the tiny art gallery: You'll find video projections, dance performances, talks and exhibitions.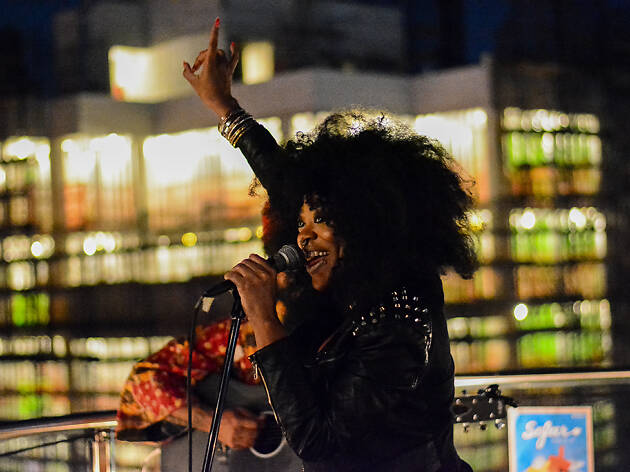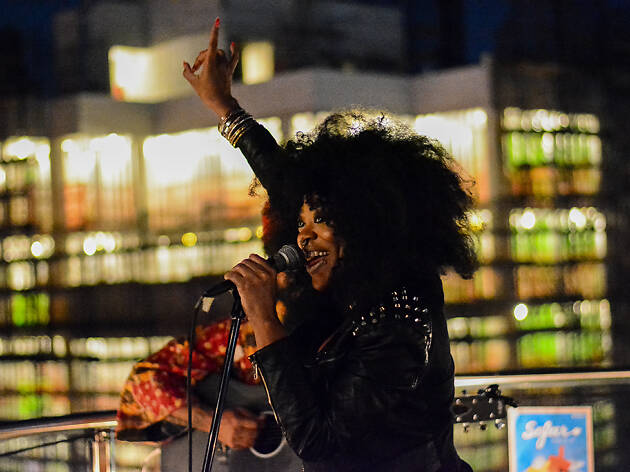 Photograph: Jose Pardillo for Sofar Sounds
6. Check out a secret concert series
Anyone can buy tickets to see their favorite artists perform at United Center or Soldier Field, but if you're looking for something off the beaten path, turn to Sofar Sounds, a platform that hosts intimate performances in unexpected places, such as a chocolate shop or a secluded rooftop. Most shows operate on a lottery system, so wannabe ticket holders must apply for passes and cross their fingers for a spot. The venue is revealed the day before the concert, but you won't find out who's playing till you get there. Rest assured, past acts have included top local talent as well as up-and-coming names like Kweku Collins, Morgan Saint and Femdot.
Chicago is littered with unsung historical gems that tell the story of how the city was built. Need proof? Look no further than The Secret Mermaid, a sculpture of a tailed creature that lives along Chicago's lakefront. In 1986, a handful of guerilla artists, led by steelworker Roman Villareal, chipped away at a hunk of stone in Burnham Park, and the mermaid was born. Later, when the shoreline was undergoing restorations, the boulder-size statue was moved into storage until it found its forever home at Oakwood Beach in 2010. Though it's out of hiding, the unauthorized work of art is still a funky beachside discovery.
Photograph: Courtesy The Hyde
8. Get into a password-protected speakeasy
There are a few things you should know prior to visiting The Hyde. Before you get gussied up in your flashiest 1920s attire (seriously, it's part of the strict dress code), you'll have to retrieve the password from the bar's Instagram account. Once inside, guests are prohibited from using their phones, so don't plan on getting a Boomerang of your flapper dress in action. The club sets the mood with cozy leather booths, red velvet drapery and a massive mural of Al Capone. Follow the rules and you'll have a grand ole time, chap!
You've already got Instagrammable photos of the cityscape from the Adler Planetarium and Cindy's at the Chicago Athletic Association. But have you seen the view from the women's restroom at the Signature Lounge inside the building formerly known as the John Hancock Center? From 96 floors up, Chicago's landscape of skyscrapers sparkles—especially after the sun goes down. Sorry, dudes, you'll have to stand in line for TILT, an attraction that allows you to lean out over the city in a glass-encased box from 1,000 feet in the air.
Best selling Time Out Offers