Where to celebrate St. Patrick's Day in Chicago
Celebrate St. Patrick's Day in Chicago with the annual dyeing of the river, parades, events and trips to the pub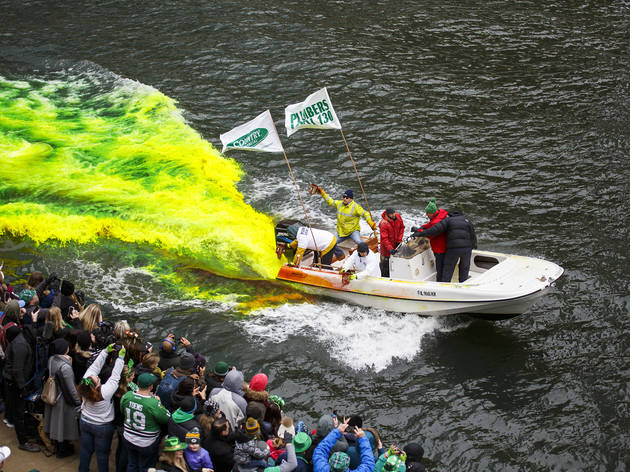 St. Patrick's Day is traditionally a proper institution in Chicago. In fact, it's such an institution that the shamrock-themed festivities stretch into multiple weekends, spawning clover-studded pop-up bars, corned beef specials and plenty of beer (both green-hued and otherwise). Unfortunately, this year's celebrations will be a bit more subdued, as the annual parades and many of the surrounding events have been canceled. You may still be able to put on a green outfit and nurse a pint of Guinness in a cozy pub, you'll just need to keep social distancing in mind. Channel the luck of the Irish with our guide to celebrating St. Patrick's Day in Chicago.
When is St. Patrick's Day 2021?
St. Patrick's Day is always on March 17, which falls on a Wednesday this year.
What is St. Patrick's Day?
St. Patrick's Day occurs annually on March 17, the date marked by the death of Saint Patrick, Ireland's most celebrated patron saint. The festivities surrounding this date specifically commemorate Saint Patrick and the subsequent arrival of Christianity in Ireland.
Is the Chicago St. Patrick's Day Parade happening this year?
Nope, the Chicago St. Patrick's Day Parade, the dyeing of the Chicago River and the South Side Irish Parade have been called off for the second year in a row, in light of concerns surrounding large gatherings.
St. Patrick's Day in Chicago
More St. Patrick's Day articles