Visiting Midwestern college towns
Hanging out in a college town as a nonstudent can be a blast, especially when you're not on that ramen budget anymore.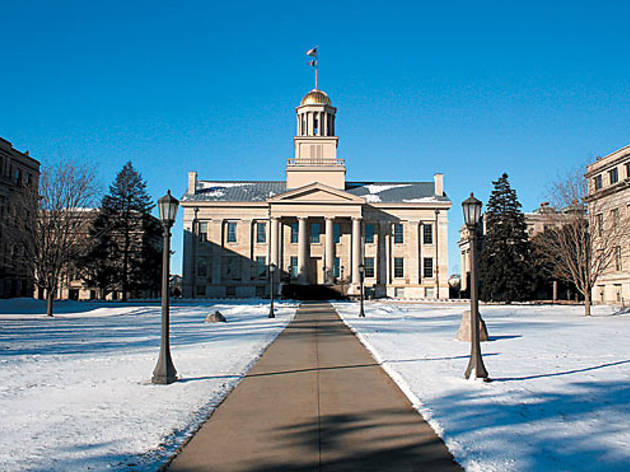 1/6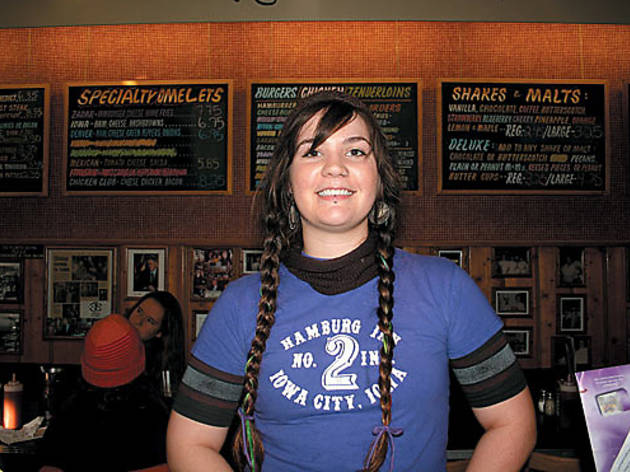 2/6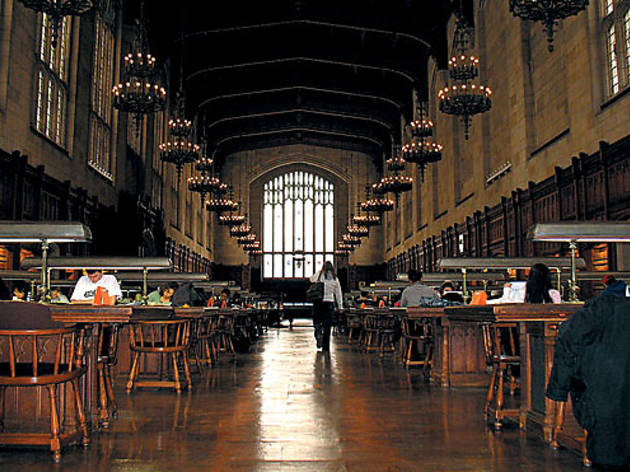 3/6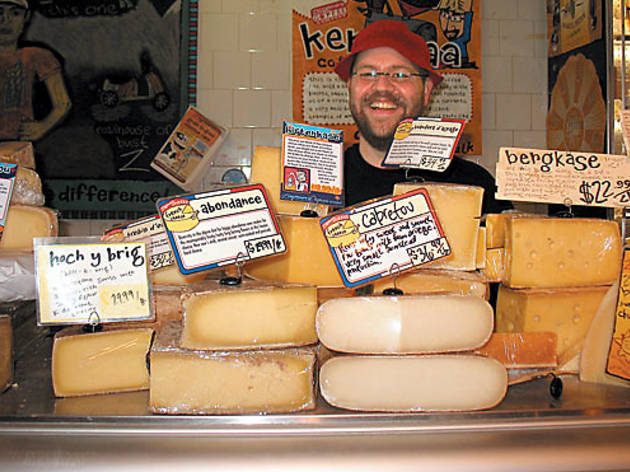 4/6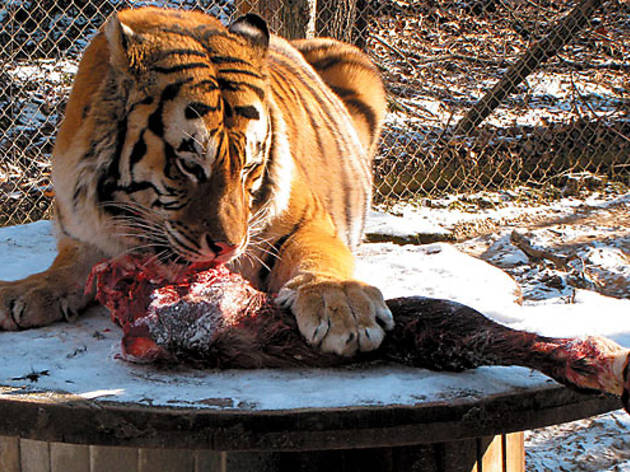 5/6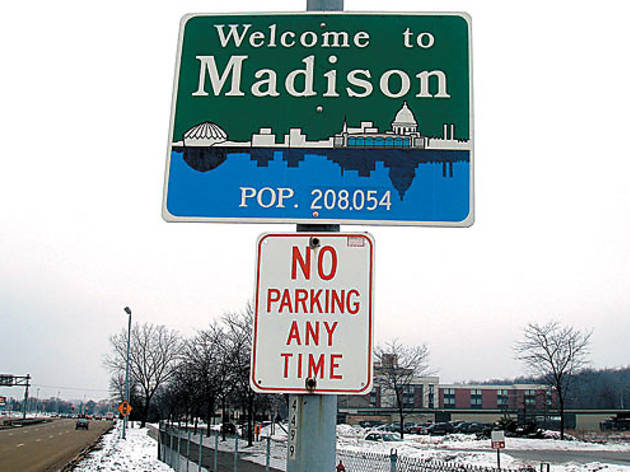 6/6
Iowa City, Iowa
Distance 222 miles
Travel time 3 hours, 45 minutes
Don't miss Breakfast at Ronald Reagan's table at Hamburg Inn No. 2
The pancake-flat prairie gets a sudden jolt in Iowa City, home to the University of Iowa, set among the eastern part of the state's rolling hills.

The pedestrian-friendly downtown, smoky bars, funky coffeehouses, a mix of liberal townies and diligent undergrads, and the bendy Iowa River that neatly divides the city and campus give the city an undeniably good vibe year-round. But during the colder months it's more geared toward indoor activities (like heavy drinking).
Inexpensive lodging options include the Iowa House (121 Iowa Memorial Union, Madison at Jefferson Sts, 319-335-3513, imu.uiowa.edu/iowahouse; $85-$120/night), a university-run hotel that occupies a chunk of the student union. The rooms are comfortable, and it's the perfect place to stay if you want striking views of the river and stone's-throw proximity to the art-house Bijou Theater (IMU, Madison at Jefferson Sts, 319-335-3041, bijou.uiowa.edu/), the performing-arts venue Hancher Auditorium (231 Hancher Auditorium, 319-335-1160, www.hancher.uiowa.edu) and the Museum of Art (150 N Riverside Dr, 319-335-1727, uima.uiowa.edu/).
Home cooking isn't hard to come by in Iowa, and it reigns supreme at the Hamburg Inn No. 2 (214 N Linn St, 319-337-5512, hamburginn.com), an Iowa City tradition where on any given weekend you'll find sleepy undergrads stumbling in wearing baggy sweatpants with IOWA emblazoned on their butts. Try an omelette stuffed with farm-raised veggies and sausage and ask for the corner booth, where President Reagan once sat. For lunch, head to The Bread Garden Market (225 S Linn St, 319-354-4246, breadgardenmarket.com) and keep winter in check with a big bowl of hearty soup and varieties of housemade breads and pastries. Don't miss coffee afterward at the always-frenetic Java House (150 Stevens Dr, 319-341-0012, thejavahouse.com). But your best meal may be had at Formosa (221 E College St, 319-338-8880, formosadowntown.com), an impressive pan-Asian restaurant.
The real benefit of visiting Iowa City in winter is that its dive bars are that much cozier. You can find a grad student penning the next great American novel on a cocktail napkin while clutching an American spirit at The Sanctuary Restaurant and Pub (405 S Gilbert St, 319-351-5692, sanctuarypub.com), a dimly lit off-campus bar. But the quintessential hangout has to be The Deadwood (6 S Dubuque St, 319-351-9417), with cheap beer, coffee, arcade games, pool tables and no annoying frat boys.
—Jason A. Heidemann
Ann Arbor, Michigan
Distance 281 miles
Travel time 4 hours
Don't miss Smoked-salmon sandwich at Zingerman's Delicatessen
The University of Michigan in Ann Arbor is a great place to go to school, but few graduates would say they needed to stay longer. Yet for those on a budget, the plethora of cheap eats and university-subsidized (read: thrifty) culture is more than enough reason to visit.
Breakfast in Ann Arbor must include a stop at foodie haven Zingerman's Delicatessen (422 Detroit St, 734-663-3354, zingermans.com). The customer service is legendary. While you wait to order sandwiches, one of the guys behind the cheese and meat counter usually offers samples of several cheeses and his favorite breads. For true comfort food, order Helen's Have Another, a scallion cream cheese–laden smoked-salmon sandwich, along with chicken noodle soup and a peppery mac and cheese.
Check out the recently expanded Museum of Art (1301 S University Ave, 734-763-8662, umma.umich.edu) to see Robert Wilson's surreal exhibit Video 50 in the new media gallery. Afterward, dinner at the popular Ethiopian restaurant Blue Nile(221 E Washington St, 734-998-4746, bluenilemi.com) provides perhaps the best value of the trip—all-you-can-eat vegetables and meat—so go to town on the collard greens, lentil salad and falling-off-the-bone lamb. Afterward, head to the grad-student hangout Ashley's Restaurant and Pub(338 S State St, 734-996-9191, ashleys.com) to throw back a Michigan-brewed Bell's Winter White Ale.
On Sunday morning, make your way to Cafe Zola(112 W Washington St, 734-769-2020, cafezola.com) for brunch. Zola gets packed on Sundays, so pass the time waiting for a table by sipping from a pot of fresh chamomile and clover-honey tea. Once you're seated, try the simple buckwheat waffle made with Greek yogurt and slather it with Zola's fresh butter and maple syrup. One weekend here and re-enrolling doesn't seem like a bad idea, after all.
—Matthew Lurie
Bloomington, Indiana
Distance 238 miles
Travel time 4 hours
Don't miss Spotting cyclists training for the Little 5 race or, potentially, Bloomington resident John Mellencamp
Lions and tigers and…monks? Oh, my. Come to Bloomington for college-town charm, stay for the exotic cats and Tibetan culture (more on that later).

During the winter downtime, you can save a lot of cash at local hotels, including Grant Street Inn(310 N Grant St, 800-328-4350, grantstinn.com; $149–$199/night), a supercharming Victorian bed and breakfast. There are delicious treats (like cookies, brownies or lemon bars) available 24 hours, and the free breakfast buffet—eggs Benedict, French toast casserole, lemon cake and potato-artichoke hash—will knock your socks off. Skinflints can head instead to the Economy Inn(4805 S Old State Rd 37, 812-824-8311; $30 weeknights, $38 Fri, Sat). It's on the edge of town, but still only a seven-minute drive from the central square.
All the money you save from off-season hotel rates can be spent where it counts: food. Don't miss Le Petite Café(310 W 6th St, 812-334-9747), an unassuming spot run by Amélie -quality French eccentrics. You get a choice of meats (or no meat), and shortly thereafter a fixed menu of delicious country-style French food begins to arrive. For a quick snack or a sandwich lunch, The Scholars Inn Bakehouse (125 N College Ave, 812-331-6029) is a Bloomington institution known for both its bread and its John Mellencamp sightings (he lives in the area).
Get away from the college-y scene at the Tibetan Mongolian Buddhist Cultural Center (3655 Snoddy Rd, 812-336-6807, tibetancc.com), a ten-minute drive from the center of town. On the grassy, tree-rimmed grounds lies a temple that is open to the public (as are Sunday-afternoon services). Take your shoes off before entering the brightly colored main space, and if you dally long enough, a friendly monk may come down from his second-floor quarters to chat.
Keep up the off-the-beaten-path vibe by taking a 40-mintue drive to the Exotic Feline Rescue Center (2221 E Ashboro Rd, Centerpoint, IN, 812-835-1130, exoticfelinerescuecenter.org; $10 entrance fee), a retirement home for 230 tigers, lions, pumas and other exotic cats that aren't suitable for zoos. Only a chain-link fence separates you from the gigantic, gorgeous beasts. It's a guaranteed flip-out for CuteOverload.com fans, as you're likely to see tigers lick each other like house cats during your visit.
Much more centrally located is the on-campus Indiana University Art Museum(1133 E 7th St, 812-855-5445, iub.edu/~Iuam; free admission). The I.M. Pei structure houses a broad collection of art objects from ancient to modern, much of it from non-Western cultures. Architecture buffs can take a detour through Columbus, Indiana, on the way home to see more of Pei's work.
—Ruth Welte
Madison, Wisconsin
Distance 146 miles
Travel time 3 hours
Don't miss The hot tub behind the secret bookcase at Mansion Hill Inn
There's got to be a reason why the magazines Money, Outside and Eating Well annually praise Madison on their "best places" lists. Sure enough, this college town—also the Dairy State capital—serves more beer for your buck, offers plenty of outdoor activities and features a range of excellent eats, from bargain South Asian to upscale French with an organic twist.
While nonchain digs are a bit scarce, the historic Mansion Hill Inn (424 N Pinckney St, 608-255-0127, mansionhillinn.com; $200–$350/night) is impeccable, inside and out. Among the amenities are breakfast delivered to your room, fireplaces and an überhelpful night concierge who doubles as a valet and bellboy. The 1857 home's 10 rooms are decked out with antiques so beautiful you'd half expect a tsking docent to shoo you away. One guest room even boasts a secret passage disguised as a bookcase that leads to an expansive bathroom with a hot tub.
The Mansion seems to have it all, but an alternate choice is the less central but eco-friendly Arbor House (3402 Monroe St, 608-238-2981, arbor-house.com; $125–$230/night). For budget choices, try the chains along Highway 12/18.
Get your night started on State Street, the bustling stretch that runs from the capitol building down to the UW-Madison campus. For eats, Chautara(334 State St, 608-251-3626) serves mouth-watering Himalayan fare (entrées are $9–$17) like fragrantly spiced curry, dal and dumplings. Fresco(227 State St, 608-663-7374, frescomadison.com), a triangular glass lounge atop the Madison Museum of Contemporary Art, is known for its martinis ($8–$10), contemporary American menu ($18–$29) and panoramic views of the city. Downstairs, the free museum features pieces by big names such as Frida Kahlo and Alexander Calder, while an exhibition of prints concerning the Mexican Revolution will run until April 15.
Other daytime pursuits include a visit to Monona Terrace(1 John Nolen Dr, 608-261-4000, mononaterrace.com), a highly touted Frank Lloyd Wright–designed convention center opened in 1997 after six decades of debate about how far it should/shouldn't deviate from the architect's original design. It was one of Wright's last visions, and its broad windows offer sweeping lake views. This is also where public radio's Whad'Ya Know? tapes most Saturdays, so you could catch a few laughs as part of the audience (608-262-2201, notmuch.com; $5–$10).
Take a brisk walking tour of downtown stores like State Street's mod gift shop Pop Deluxe(310 State St, 608-256-1966, popdeluxe.net) and local fave Paul's Books(670 State St, 608-257-2968). On the east side of the capitol, the decidedly more bohemian Williamson Street teems with its own cafés and indie businesses—many with the word co-op in their names. Here, vinyl collectors will dig Madcity Music Exchange(600 Williamson St, 608-251-8558, madcitymusic.com), which stocks CDs as well as crates of dusty 45s.
Back near the capitol, end your Mad City visit in style at L'Etoile(5 N Pinckney St, 608-251-0500). The much-lauded restaurant features a new seasonal organic menu daily (entrées $36–$56) and—like the rest of this town—a laid-back, feel-good vibe.
—Martina Sheehan
More to explore
Appleton, Wisconsin, home to Lawrence University. On College Avenue, you could go barhopping simply by closing your eyes and stumbling a few steps—and bam, you're in another pub. In fact, Appleton ranks in the nation's top ten for bars per capita. Stay at CopperLeaf Hotel (300 W College Ave, 877-303-0303, copperleafhotel.com). $140–$185/night.
Champaign, Illinois, home to University of Illinois at Urbana-Champaign. This college town is small, but it boasts great restaurants and offers a variety of nightlife options—from your typical college bars to the hot music scene. Stay at Country Inns & Suites (602 W Marketview Dr, 217-355-6666, countryinns.com). $100/night.
Indianapolis, Indiana, home to University of Indianapolis and Butler University. Stroll through this college town to discover the abundance of eateries, sports bars and shopping (check out the numerous malls). Stay at Wingate Inn (6240 Intech Commons Dr, 317-275-7000, wingateinns.com). $110–$140/night.
—Danielle Braff