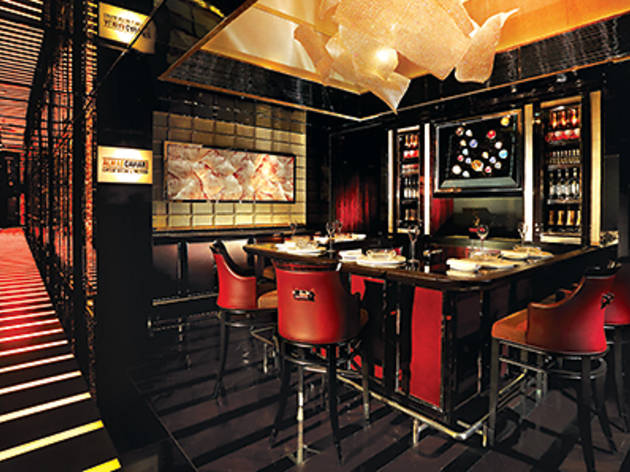 Time Out says
Caviar is a curious thing. It's one of those polarising delicacies that you either love or hate. And as many who love esoteric ingredients – like durian, blue cheese and uni – claim, once you acquire the taste for it you're likely hooked for life. The danger in craving such an exotic product like caviar, as opposed to the aforementioned produce, is the hefty price tag.
Open on the 102nd floor of The Ritz-Carlton hotel in the ICC, Almas Caviar Bar is a small seven-seat champagne bar situated just a step away from the escalators within the hotel. If not for the impressive lineup of caviar available on offer within the impressive looking glass cabinet, one might mistake this exclusive bar for a temporary event space without a theme.
Upon arrival we're presented with a menu listing but a handful of very select items. The biggest attraction, of course, is the caviar. The main brand on offer is Prunier and the price ranges from $900 to $4,200 for 30g, depending on which type you select. But even that isn't as pricey as it gets here. For a whopping $56,000 you can get your hands on 250g of the Holy Mother of roe – Almas Persicus, one of the most exclusive caviars in the world (whose connotations of grandiosity the bar tries to siphon with its name). Presented in a 23-carat gold tin, the rare breed of sturgeon that produces this caviar were once only available in the private reserve of the Shah of Iran. Known for its light colour, large grain and aromatically creamy texture, you actually need to place an order one month in advance as there're only a hundred tins of these babies produced per year.
Sadly, we forgot to call last month, so we have to pass on the Almas. Instead, we opt for the modest-by-comparison Prunier caviar ($900) and Caviar House champagne brut ($250) to pair. Served atop a bowl of ice with an abalone shell spoon and a side of blinis, the eggs are dark and fine with a potent flavour. What we really enjoy is the alcohol pairing. The light toasty notes and hints of vanilla enhance the briny flavours while the alcohol abates the punchy flavour of fish.
The counter seating is the perfect setting for a swish romantic or business tête-à-tête, but it's still a tight squeeze and the eye-watering prices will deter most parties or couples casually passing by. If you do decide to grab a stool, however, the product is pretty top-notch stuff. We can imagine this being an ideal location after a night out or if you want to push the boat out on a date – but that's about it. Naomi Locke
Almas Caviar Bar 102/F, The Ritz-Carlton Hong Kong, ICC, 1 Austin Rd W, Tsim Sha Tsui, 2263 2270; ritzcarlton.com.
Details
Best selling Time Out Offers