Ariel Sichuan Barbecue Restaurant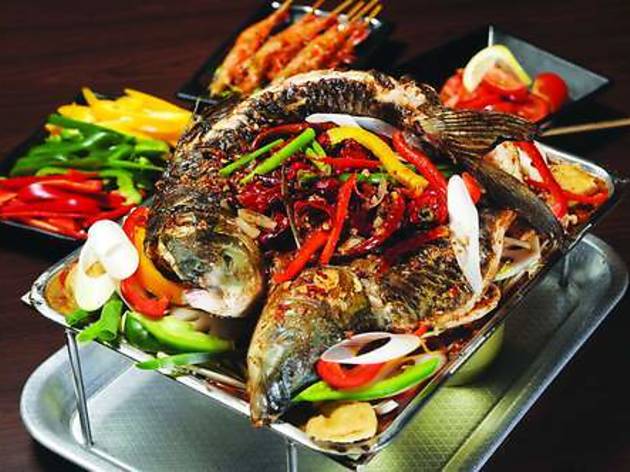 Time Out says
Fans of do-it-yourself restaurants, be warned – Ariel's fish is a bold combination of barbecue and hot pot that is fun and delicious, but very, very slow to cook. The restaurant's owner, from Beijing, has brought a mainland favourite to Sheung Wan: Chongqing-style barbecued fish. First, a whole fish is barbecued until half-cooked then it is placed in a shallow dish of broth. This is brought to a gentle boil at the dining table, slowly cooking the fish and steeping it in the broth's flavours, usually a fiery blend of Sichuan peppercorns, chillies and some secret ingredients.
In Ariel's no-frills setting, we ordered a large half-portion ($148) of grass carp. The fish was big enough for four people to share and was soaking in a magenta broth of Sichuan peppercorns, fermented bean paste, chilli oil and other spices the chef refused to disclose. At the sight of the devious-looking bright red chillies that lay across the fish's belly, we suspected we would be mixing pleasure with pain.
The fish was spicy all right; after a few bites, we were labouring to gulp cold beer in between gasps, but the broth could have done with more of a liquorice kick from star anise and the Sichuan peppercorns curiously lacked that wicked numbing sensation that addicts of Sichuan and Chongqing cuisine cannot live without. Nevertheless, the flavours were rich and we were starving, but we had to wait for the fish to cook through before we could devour it.
We turned our attention to a small half-portion ($118) of grass carp in a broth of sour, pickled vegetables. It was an impressive-looking dish, heaped with chunks of pickled mustard greens resembling pieces of pale jade. We had to wait about 20 minutes for the flavours to develop and be absorbed by the thick flesh of the fish. Another round of beers distracted us from our hunger and we ate mushrooms and youmaicai (Chinese lettuce, $15) cooked next to the fish. In the end, the fish was not too sour, not too sweet and it satisfyingly cut through the oily spiciness of the other broth. Good things do come to those who wait, after all.
Zoe Li
Details
Best selling Time Out Offers