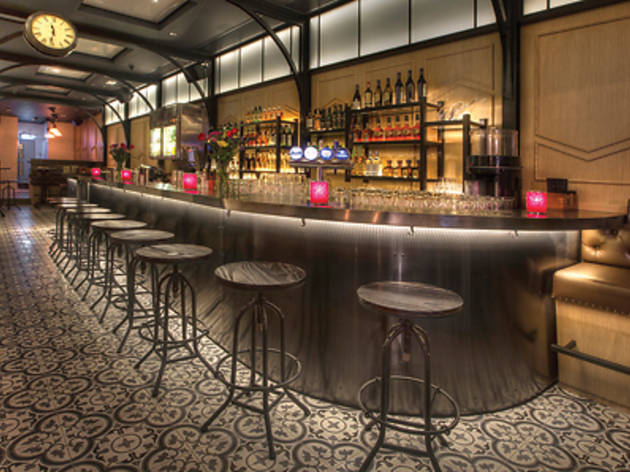 Time Out says
Knutsford Terrace is a colourful – to put it mildly – lane of pubs and eateries in Tsim Sha Tsui, so it's an interesting choice for Privé Group's latest location, Assembly. Touting itself as a gastropub serving molecular mixology, we steady ourselves for some good grub and innovative drinks.
Assembly's vibe is definitely more upscale than your typical Knutsford experience, with ornamental floor tiling and design accents along the theme of an old train station. The food looks good, too. We opt first for the mac and cheese ($98), served in a trio. Each small bowl is topped with a Parmesan chip and chunks of buffalo cheese. Despite a blend of different cheeses, it's not overly heavy and the flavour is brought to life with sliced onion and parsley.
Before moving on to the wagyu beef and foie gras sliders ($98), we sample some of the mixologist's recommendations, namely the Breakfast Club ($85) and Princess Peach ($88). While we appreciate the lower-than-usual prices for these drinks, the innovation and creative flavour combinations we would expect from molecular mixology are missing. Instead, the cocktails – along with others on the menu – are all a bit fruity and taste readymade. We struggle to find anything 'molecular' or even remarkable about them.
Thankfully, the sliders come off well, though, and other dishes exude the same gourmet comfort food appeal that will probably have people coming back for more. But the drinks need to step up to the molecular mixology mantle if Assembly is to live up to expectations. And when they do – the Privé team is known for its care and attention when it comes to improving its venues across town – we'll rally to the joint like we're going to a special, well, assembly... Lily Nona
Details
Best selling Time Out Offers