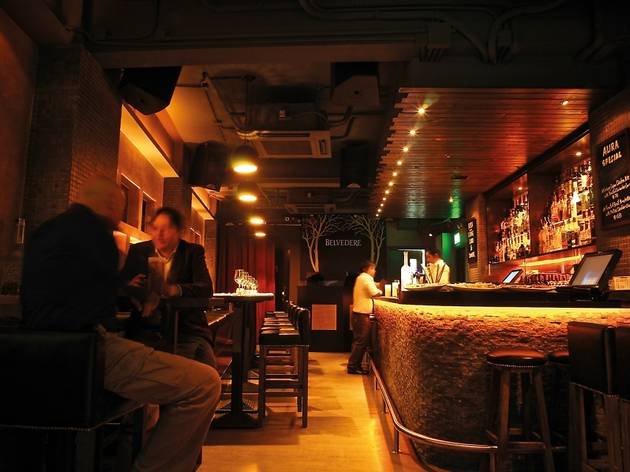 Time Out says
Some bars in Central exude class and others appeal to a rowdier Friday-night crowd. Somehow the new Aura Lounge bar comfortably caters for both. We graced the venue on a Friday night and were treated to some satisfying cocktails in a chic setting with a relaxed, laid-back atmosphere. However, we didn't have a quiet time. Not by a long shot. The place was packed and buzzing, striking the perfect balance between chillin' out and partying hard.
Aura Lounge sits neatly on the corner of Wyndham and Pottinger Streets and is a gem of a watering hole. The standard of the drinks serves to reward your arduous and undoubtedly sweaty walk up the hill from the Central MTR station. Cousin to the previous Aura Club on Wellington Street, this new venue has sized down the glam of its predecessor creating instead an accessible little space just a stone's throw from all the Soho action.
When you enter into the slick black and deep orange interior you immediately spy the lengthy leather couch running along the left-hand side of the long room, which is complete with tables and opposing chairs – black, of course. To your right the well-stocked bar glows orange, lighting up the room with a warm... well, aura.
We were impressed with the vibes in the bar, as well as the slick and friendly service too. We didn't try the food but there is an assortment of sharing platters available to line your grumbling bellies, such as the cheese platter ($148), and main courses like risotto with wild mushrooms and black truffle oil ($138). We wouldn't say the venue, with its high tables, is overly suited to a full dining experience – but that's not to knock the clear quality.
Aura, however, reveals its true colours as the night draws on and the people come. That's when the cocktails are shaken and stirred. The drinks menu is juicy and flavourful, with a touch of creative flair, as is exemplified by Aura's Molecular Martinis. We tried the Vanilla Passion Martini ($90) that comes with a delightful light and fluffy passion fruit foam resting atop the liquid fruity goodness below. Novelty or not, it tastes pretty damn good. The fruity cocktails, like the Gulabdora ($80), are ultra-refreshing and muddled with ripe fresh berries, crushed ice and served in a tall glass. If you're more of a classic cocktail kind of person then they have marvelously mixed Caipirinhas too ($79) served short, crushed, and very strong. After a couple of those we were certainly in party mood.
Aura is open from 11am every day and it goes on well into the night at weekends, drawing in a mix of post-work drinkers, daters and groups of friends. There is no entry fee – a bonus – no fuss and no pretension. The only downfall is perhaps the size – which, in a way, is also its forte, as huge groups of noisy drinkers walk by keeping the venue free for smaller (but no less chatty) groups to claim their areas.
The bar plays a mix of house and R'n'B tunes through the week and a DJ spins some upbeat tracks to the livelier weekend crowds. We were lovin' the music. As it's a small space it was a little annoying when trying to chat next to the discreet DJ booth but, otherwise, the music, and venue as a whole, are perfectly conducing to a pre or post-dinner tipple or, as we discovered, a night out in itself. Simple but stylish, this little bar is a great locale to bring a mate, grab a table and sip away at some delicious cocktails. Christina Wylie
79 Wyndham St, Central, 2868 2892, HH 3pm-8pm
Details
Best selling Time Out Offers