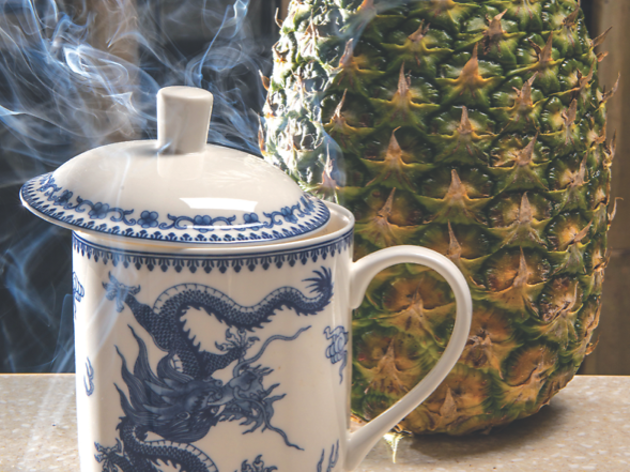 Time Out says
Try a baijiu cocktail at this Wan Chai's den devoted to the infamous Chinese grain liquor.
If a hard alcohol like whisky is said to 'have teeth', then baijiu is a shark's bite. Merciless, relentless and brutal, the Chinese grain-based spirit has had a pretty bad rap over the years. Not known for its flavour or aromatics, baijiu boasts a 52 percent alcoholic content which, it's said, increases with age. This is the reason why an aged bottle of Maotai fetches a pretty penny at auctions. So a bar that specialises in this beast of a drink is more than just a curiosity for us.

Baijiu Bar, which is connected to the new Deng G restaurant in Queen's Road East, is small, given the kitchen for the Sichuanese eatery is right behind the bar. In fact, the sound of a roaring stove in Deng distracts us in the dark ambience. But we're here for the drinks alone, so we begin with a Baijiu Colada ($80), one of three signature cocktails which uses the eponymous ingredient. A mix of pineapple juice and creamy coconut milk, the latter smooths out all the edges of the spirit. And what's amazing is that we taste a fragrant, fruity aroma that ends with the signature baijiu dryness. It's a side to the liquor we've never experienced before. What's also interesting is that Elite Concepts' group bartender Héktor Monroy has selected Luzhou Laojiao as the baijiu base. Much fruitier than most varieties, this sorghum wine boasts great aromatics in its own right.

We also try the Passion Sour ($80) cocktail. The sharp acidity of passion fruit combined with lime and cayenne pepper dries the palate and enhances the previous drink's bouquet threefold. This will put hair on your chest. In fact, all the drinks here should put hair on your chest. The tipples and concept are unique and give us a new appreciation of this spirit. It takes a dining group with resources and an ace bartender to achieve this. We await a wider selection of cocktails at Baijiu to take our tastebuds on our next journey.
Details
Best selling Time Out Offers