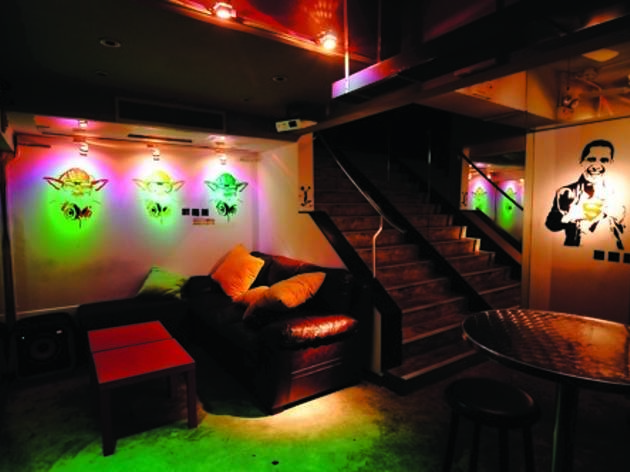 Time Out says
Every now and then, a new bar comes along that excites you – one that departs from the tried and tested, offers something distinctive, and fills a void that you'd almost forgotten needed filling. In recent years, cool new additions to the indie scene have been few and far between. And although it isn't floundering, there's been a real lack of variety in the arty underground, in particular, needing another party-oriented venue. No longer. Now, there's Basement, a new bar and club on Central's surprisingly drink-phobic Lyndhurst Terrace, in terms of aesthetic and vibe positioned precisely where it's needed: a venue less clubby than Yumla, more party than Senses.
Perhaps as a warning to those of a different political persuasion, a stencilled, spray-painted Obama greets you at the bottom of the stairs to this cosy, subterranean den, grinning broadly at images of a sunglasses-wearing Yoda on the opposite wall. And immediately, there's a familiarity to the bar – in its rough-around-the-edges charm, thrown together eclectic furniture, and street art: with the nightly alt.rock, electro spinning DJs and industrial feel, it's just a little slice of underground Berlin, Melbourne or London. With the pints served in plastic cups, it's quite a lot like 'sitting in the basement of a mate whose uncle has managed to score him a keg'. In a cool way. Although a decent space, it could do with a few more seating options for the more chilled moments – not that the early-to-mid 20s crowd seems to mind.
In contrast, seating is plentiful in the spacious open air courtyard at the rear: a couch surrounded by tables low and high, all barely stable on uneven concrete. What could be better? Encircled by unkempt gardens and dark alleys, the courtyard's not exactly sexy, but that's where its charm lies. And with fans and mist machines soon to be installed, this courtyard is poised to become the hipster chill out spot for the summer.
Of course, with Basement's concept involving quite a lot of partying, drinks are an important consideration. Owner Alister Hill, the man behind The Beer Bay, has used his considerable pull in the local booze market to produce a menu that, although excelling in the brew department, is generally focused on trouble. In a good way. Cheap drinks are part of Basement's mantra, from the simple Heineken or Spitfire pints ($30), the range of Scottish Brewdog ($35), USA's Cisco brews ($35), to Johnny Black and Maker's Mark ($50). They're not afraid to promote a bit of binge either, with nightly deals (Monday $100 open bar, Tuesday $10 mixers, and Thursday ladies night), and other regular deals all encouraging complete corruption (ten tequila shots for $150; optional $150 open bar). Throw in a cool, youthful staff who work and party in equal measure, and you have a recipe for the coolest new party spot around.
Basement is what the scene's been crying out for: an unpretentious place with cheap drinks, decent indie music, and an atmosphere that can seamlessly go from chilled to madhouse faster than a, well, spitfire. The big test will be to see if Basement can hold the attention of a scene that is prone to fads. Let's hope it does, and sees others following suit.
Michael Guan
Details
Best selling Time Out Offers