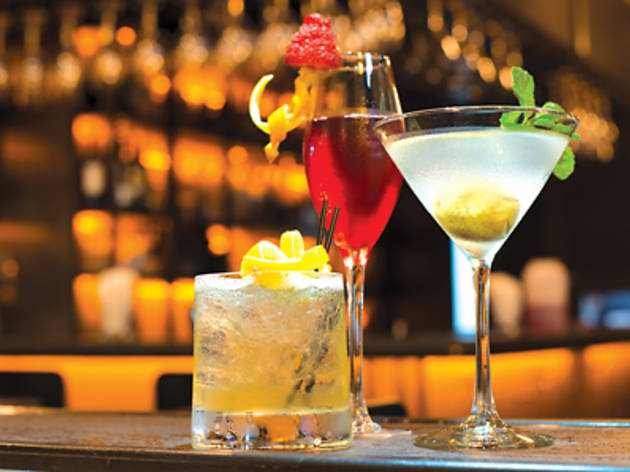 Time Out says
Everyone knows the litmus test for the success of a bar rests precariously on several factors – one of the most important being its noise levels. Yes, the seismic cacophony and decibel measure in an establishment can mark its success or failure – and, with that in mind, this new Haven Street venture has named itself (presumptuously but not wrongly) after the Canto equivalent of 'chitter-chatter': bilibala.
The yakitori-slash-casual cocktail, sake and whisky bar may be on a quieter street in Causeway Bay but its charming 30-seat space and tucked-away vibe speaks volumes. Bilibala, opened independently by two friends, offers a cute range of skewered bites (as well as trussed-up slivers of chicken skin, heart, liver, gizzard, you name it…) and libations, some directly inspired by Japan, others directly from the Land of the Rising Sun. Intimate two-seater stooled tables pack the large industrial window areas and, in cooler months, said windows can roll out to make way for an alfresco bar top (22 Ships-style). There are also low tables for bigger parties of four or five, and a really sweet corner bar area, replete with hang-out stools for those who like to get up close and personal with the bartender and, more importantly, the drinks.
Our tongue itching for a dark tipple, we try the Yamazaki Sour ($98), a medium-bodied Suntory whisky-based drink muddled with a light sour mixer. The peaty, woody finish of the spirit bursts through surprisingly well, and while the sours don't mask the taste completely, they do compliment it. Next, we go for the Drunkin Plum ($88), which confirms the Japanese influence – instead of the traditional dry salted plum of Hong Kong, we get the softer, mellower tart plum of Japan in the drink's aftertaste. Packed with shots of shochu and highly effervescent Thai soda water, Drunkin Plum has more of a punch than the Yamazaki Sour. Next time we go back to Bilibala, though, we'll be braver and try the Yakult-infused cocktails, with sake and shochu.
Bilibala also boasts an impressive list of sakes, mostly by the bottle – from the award-winning Tatsuriki Daiginjyo ($2,180) to the sparkling Dassai ($290), there's a wide gamut of flavours, blends and calibres. Whisky bottles (from 12 to 21 years) are proudly on display, and there's the usual selection of wines, champagnes and even fruit liqueurs. For a nibble, try the lightly salted ox tongue ($40) or the lychee with bacon ($32). Both are satisfying, albeit not dazzling, accompaniments to the drinks.
As the space only opened a few weeks' ago and the location is far from prominent, most drinkers haven't quite caught on to Bilibala's existence yet – but we beg you, don't go crowding the place. The atmosphere is almost perfect as it is now, complete with cheesy, uplifting pop tunes and slick-but-familiar interiors. Although the chatter isn't quite provided by a buzzing cluster of mouths just yet, it's still incredibly lively – and we can't help but do all the talking. Ysabelle Cheung

Bilibala 23 Haven St, Causeway Bay, 2253 0300; facebook.com/bilibalacausewaybay.
Details
Best selling Time Out Offers