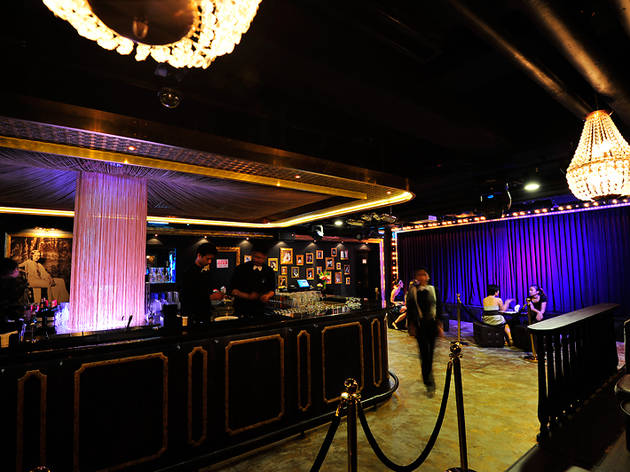 Time Out says
Wyndham Street is dominated by cookie-cutter bars and clone-like clubs. I have never understood The Hordes of Wyndham or the reason for fighting through a sardine-packed bar that looks like a thousand others, so the prospect of originality baked my noodle.
In Bisous, there is such promise – at least in theory. Its muse is old Hollywood glamour, stage performance and the tongue-in-cheek style of burlesque, celebrating the early-to-mid 1900s. There's nothing quite like it anywhere else in town so we were eager to experience what it had to offer.
There are three performances a night from Tuesday to Saturday, each lasting 10 minutes with an hour's break in between. But don't expect the performances to be Bisous' heart and soul. It merely takes the theme of old-world glamour and burlesque, but not the spirit. At its core, Bisous is a club. The stage does not define it. Rather, it is simply one of the attractions.
That said, there is something about Bisous. We found a touch of magic on our first visit there (less so, the second time). It was a quiet Wednesday evening, just before dinner, and we were among the club's few customers. This was when we most enjoyed Bisous and its charms. Dancers came in chatting gaily to survey the stage and it felt like the build-up to a memorable evening of theatre. Seated in plush U-shaped sofas, we looked across the central island bar at black-and-white portraits of burlesque dancers from a bygone era. The room was bathed in golden light, a curious warm glow as if Bisous was lit directly from the 1940s.
We returned the next evening, after dinner, eager to see Bisous in full swing. Disappointingly, the magic was dormant. It felt a little like any of the other Wyndham clubs we were all too familiar with. Hip-hop was blasting through the packed crowd; models with blank faces were passing out flyers. The golden light and old-world ambience were gone. Somehow, those lovely ladies on the wall no longer looked ageless. They now looked out of place and out of time.
The club's service and drinks need ironing out, but that's to be expected for a new business. There is no kitchen and the cocktail list is full of familiar favourites. On our first visit, the Pimm's Cup ($98) was watery. The Dark and Stormy ($98), made with dark rum, ginger ale and fresh lime, lacked balance and, most importantly, the fresh lime. We reordered it again the next evening and the head barman made amends beautifully with a perfect cocktail. Expect much more in this department as they assemble a proper list of Bisous signature cocktails – so stay tuned.
To be fair, none of this is a knock on Bisous. After all, the owners didn't promise an authentic burlesque club, they were simply influenced by the idea. They wanted a classy lounge that would morph into a club, the occasional quality live performance, all inspired but not driven by vintage Hollywood glamour. The house of Bisous is exactly that. Jason Spotts
9/F, LKF Tower, 33 Wyndham St, Central, 2501 0002; www.bisous.com.hk.
Details
Best selling Time Out Offers