Classified Mozzarella Bar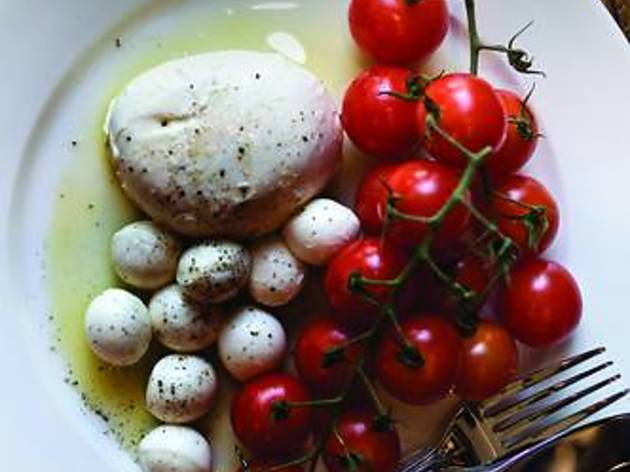 Time Out says
From humble beginnings, Star Street has grown up to be the high street of casual dining, charging top dollar for typically inexpensive fare such as a bowl of la mian, pizza, or cheese burger. How do they get away with this? By touting alkaline-free hand-stretched noodles, cornmeal thin crust, and free-range cow patties with imported cheddar. So it is no surprise that the newest kid on the block, Classified Mozzarella Bar, would march to the same beat in presenting a humble, but pricey, shop for the comfort food gourmand.
Classified is best known for opening up the sidewalks of western Hollywood Road for coffee sippers, and introducing home gourmets to imported cheeses, most notably the Neal's Yard collection from London's famed Borough Market. But at the new branch, instead of stilton, brie or goat's cheese, this they specialise in mozzarella; milky, fresh balls of mozzarella made the day before somewhere in Italy and flown in for our eating pleasure. They are expectedly expensive.
To start, we tried the bacon wrapped deep fried mozzarella with fig jam ($75). The mozzarella had the creaminess and bite of a seared scallop, while the seedy fig jam gave enough sweetness to change this dish from good to great. Next, a plate of artichoke, French beans, radishes and potatoes dressed in pesto ($85) arrived in a towering pile. It was acidic and simple. Maybe too simple, as all you tasted was pesto. Nevertheless, it made for a good side. Now, we had big expectations for the platter of Buffalo Campana mozzarella with mixed Italian tomatoes and rocket ($75), which did not overly disappoint. The cheese was soft, plump, light on the salt and very fresh, although the tomatoes were a little unripe, typical of imports that are shipped too cold. It needed the help of salt, vinegar and oil.
Last to arrive was the Piri-Piri chicken ($115), which came out skewered on a long iron rod like you would get at a Brazilian churrasco. Spiced just right and cooked till the meat was tender. And by tender, we mean dripping with fat and chicken juice. Mmmm.
Since the owners spent $30 million on their previous project, The Pawn in Wan Chai, they've gone a bit more relaxed with the mozzarella bar. Packing in 20 seats, patrons sit at large communal tables where a slew of international languages are spoken – mostly the office crowd from Pacific Place Three, looking for a posh, but humble, place for lunch. Alan Wong
G/F, 31 Wing Fung St, Wan Chai, 2528 3454.
Details
Best selling Time Out Offers