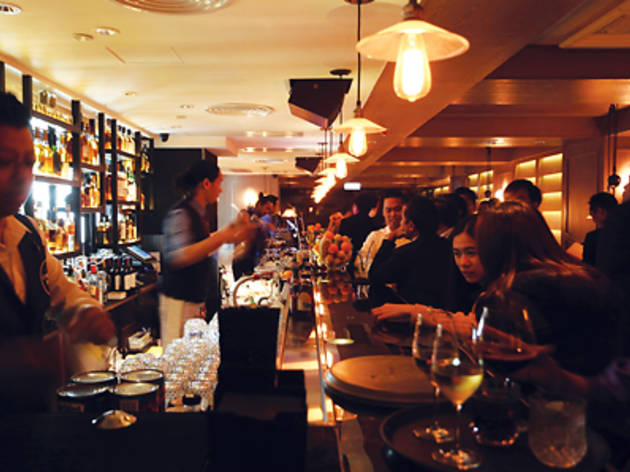 Time Out says
This Privé Group-owned venue, formerly Casa, is conveniently located in the slightly quieter part of LKF, and is a space that is roomy with plenty of different corners and concaves for various groups to meander about in.
Casa has been transformed into a gastropub, serving food fit for sharing, with an exceptionally exquisite drinks list of sophisticated cocktails that's hard to match anywhere else in town. Common Room has an elegant and simple feel inspired by the communal lounges often found in British and Canadian colleges and hotels. Wide shutters line one side of the wall and the bar stools stand tall with leather stud details. It's a good thing the bar is a long one because late nights and weekends should fill it with hoards of people aching to grab a drink. And be warned: sure, those who choose to sit at one of the widespread tables dotting the bar get to enjoy some breathing room but they also have a much tougher time hailing down a drink.
If your lucky charms or fabulous persuasion skills do manage to score you a drink on a busy night, then it's sure to be a good one. Common Room's mixologists are top shooters in the field and they are skilled at whipping up some fine sips from the bar's unique menu. The Basil Breeze ($110), a bouquet of gin, Malibu, pineapple juice, fresh lime juice and basil leaves with syrup seems simple upon sight but the sophistication of the mixology comes through in the layers of flavours that float up to the tongue after a sip. Even sweeter offerings like the mango and vodka-mixed Young and Beautiful ($110) and the berries and vodka-blended Berries cocktail ($110) carry more bite than first impressions let on.
We'll probably be barred for writing this, but Common Room has a secret drinks menu (shh!) and one drink we try, the John Rana ($110), is an opulent delight. Made of strawberries with tints of ginger, syrup and vodka, it's delicious and smartly demonstrates bartender Paul's mixology skills with a smooth blend and pops of tartness.
Privé is mainly known for loud, party-starting clubs. Common
Room still keeps some of that spirit with its staff's enthusiastic support of shots for its patrons and dance music that blares from the speakers, getting louder as the night progresses. As such, Common Room could be a good starting spot for those in the mood to hit up Privé Group's other venues, Privé and Levels, or even for those who are not looking for a particularly big night out.
The grounded setting and elevated cocktails list definitely makes this new place a grand step up from Casa. Janice Jann
1/F, Wo On Bldg, 8-13 Wo On Ln, Central, 2525 3599; common-room.hk.
Details
Best selling Time Out Offers