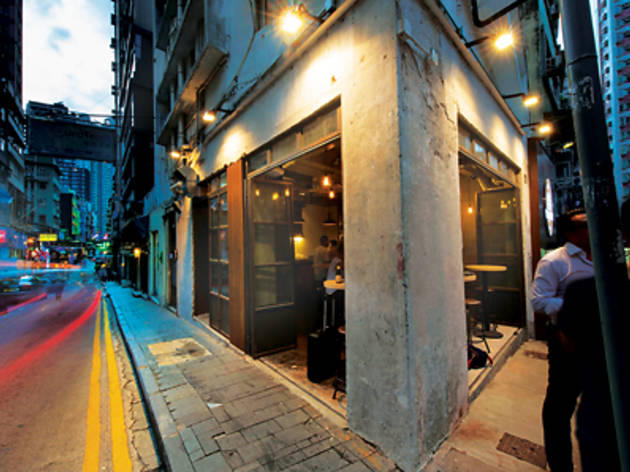 Time Out says
Verdict Artisanal beers aplenty

The craft beer scene in Hong Kong seems to be growing up really fast. We've moved beyond the first steps and its first words and now, we're entering those awkward teenage years where the scene must find its individuality in the greater beer landscape. Enter Craft Brew & Co – the nose piercing to Hong Kong's largely burgeoning yet comparatively barren craft beer presence.
Craft Brew occupies a fairly unassuming spot near the top of Old Bailey Street, on the precipice of one of the city's most bustling drinking areas, remaining in touch but pleasantly disconnected. Every façade is a sliding door-cum-window, setting Craft Brew up as a premier sun soaking spot. The interior sports a kind of industrial utility in its minimalist décor, think stained stone floors and brick-fitted walls, as well as the inspired addition of a decent jukebox, a rare sight around our city's drinking spots.
This is a watering hole still in its infancy and as a concept it is to be enjoyed in a more considered manner – sipping the beer and not chugging it down. It's appropriate then that the ambience is quiet, reserved and relaxed when we walk in on a Wednesday evening. The first thing that strikes us is the long line of polished metal taps protruding from the back wall, the source of Craft Brew's powers. The bar boasts 15 taps housing a broad range of brews from savants across the globe such as Scotland's ever-expanding Brew Dogs or popular Belgian artisans, Fruli both in the fray. If you prefer your beers bottled, then you have a choice of 25 different tipples, again the focus being wholly on the craft side of things, without a mass-produced brand in sight. We decide to forego the bottles and tackle one of the special imports, as opposed to playing it safe with a name we know like Brew Dogs or Fruli. We go for a pint of the Worthy Pale Ale ($75), an American pale ale made in Bend, Oregon. A lovely, amber-coloured pint with a satisfyingly bready-malt aroma, it washes the bad taste out of our mouths of the mass-produced beers available at bars a stone's throw away for a higher price. We move on to an offering from recently opened Ap Lei Chau-based microbrewery, Young Master Ales, in the form of the beautiful Cha Cha Soba ale ($70). The flavour of buckwheat threatens to overpower the whole affair but once the initial taste fills every corner of your mouth it mellows out into a refreshing, delicate experience. Good beer deserves good food, a fact not lost on Craft Brew, and its selection of sausages is staggering. Everything from Spanish Chorizo ($75) to snake, rabbit and jalapeño ($88) is on the menu, adding a truly unique spin to the bar snack dynamic.
Craft Brew is great in two ways. Taken at face value, it's a cracking spot that's convenient and on the cusp of all the action, without having to engage in over-zealous urban manoeuvring to simply reach its threshold. Secondly, as a bastion for Hong Kong's craft beer scene, it's up there flying the flag alongside other newcomers (and relative neighbours) Tipping Point. Craft Brew is one of the most exciting movements in Hong Kong drinking right now and we're loving how it's maturing. Graham Turner

Craft Brew & Co 17 Old Bailey St, Central, 2885 0821; craftbrew.com.hk.
Details
Best selling Time Out Offers