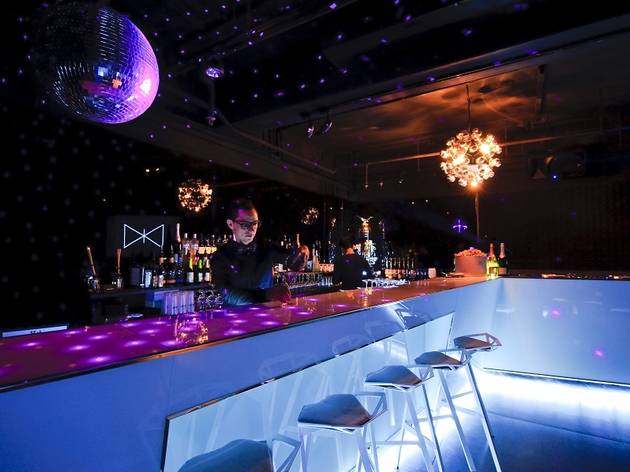 Time Out says
When Time Out got wind of a new bar in Central that was a) pitched as a hidden speakeasy and b) calling itself Dandy, we were pretty elated. Hong Kong prides itself as an international city, but the true test of internationalism is how contrary your Saturday night bar-hopping can be. The truth is, speakeasies are nonexistent in Hong Kong (seriously, can you name more than one?) and the number of bars that promise the elixir of dandyism, bohemia and a dash of Baudelaire are exactly nil. So this new haunt should offer a quixotic twist on a tired old scene, right? Well, not quite.
First off, it's situated in an office building. Secondly, it contains neither enclaves nor bathrooms (more on that later). And thirdly, it's designed like a provincial nightclub. The place is square-shaped and small, very small, and dimly lit with reflective surfaces. There's nothing wrong with that, of course, but all the sofas are placed on the back walls, meaning as you enter you're exposed to the main floor. We visited the Friday before last and were amused by the crowd that came through the black curtained entrance (note to staff: either those curtains go or we do). They stood bemused, with nowhere to go and nothing to do. Dandy also doesn't have a menu. This we thought was very bohemian. A waiter in a red bow tie (and, alas, jeans) comes over and asks what you're 'in the mood for'; then he goes and gets it. It's a nice personal touch, but they're going to need more staff – we waited an epoch to be served – and we could see people actually wanting a menu (less pressure, my dears). When the drinks came, the Old Fashioned ($120) was good and strong. Feeling the dandy, we ask for a Bloody Mary – 'we don't have any' comes the reply. Je ne comprends pas? We're not sure about the bowls of chips and candy on the tables (hardly Wildean, is it?) and the massive HD projector smacks of future MICE functions. But the sound system is very decent and the DJ was spinning some below-the-radar 80s tunes (Fine Young Cannibals, Hall and Oates) which shouldn't have worked but actually made sense.
What people will like best about Dandy is its hidden quality. It really is quite tricky to find (as are the bathrooms – you have to leave the bar, walk past the lifts, enter a stairwell and it's somewhere near there). You can also have a good natter here (none of that Wyndham yelling between beats). Groups of six or more won't like this place (you can't huddle anywhere) but couples and trios will find it a nice little haven between bar-hopping.
We'll certainly come back to Dandy in a month to see what creases they've ironed out of their frock coats. One hopes they add a few dashes of finesse. Dandy could become quite 'haunty' if it focused itself on the rarified details; else it will be just another Dorian Gray of Lyndhurst, remaining the same on the outside, crumbling with age within. JJ Healy
18 Lyndhurst Tce, Central, 2544 1978. Thu 8pm-1am & Fri-Sat 9pm-2am
Details
Best selling Time Out Offers