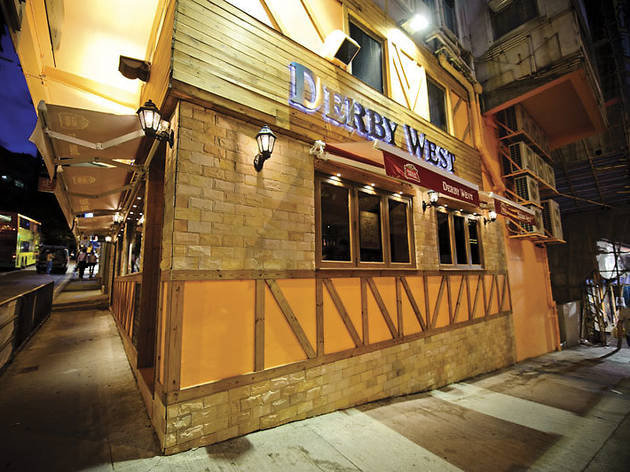 Time Out says
The scent of dried seafood drifts from Sheung Wan to the streets of Sai Ying Pun, much like the hype that has travelled westward as residents of Hong Kong Island search for unchartered territory (and cheaper rent). Already popular with HKU students, the burgeoning community of Sai Ying Pun is thirsty and has gone without a quenching local to call its own for some time. In came Derby West, an English-style pub from the owners of Happy Valley's long-running watering hole, The Derby.
In its captivating and rather appropriate corner spot at the intersection of Water Street and Queen's Road West, this watering hole hits the mark with its shiny new exterior. Decked out in wood panelling and set alight with large outdoor spotlights, Derby West quite literally glows, making it easy to spot amongst the traditional pawn shops and cha chaan tengs that otherwise line the street.
Appearances, however, can be deceiving. Past the brand-spanking new bar front is an equally new but less luminous interior. On its own, the deep green upholstered seating feels like an English pub, but coupled with the mustard yellow stuccoed walls and crowded table-and-chair arrangement, this joint gives off an atmosphere that's more family diner than sports pub.
This eatery-friendly set-up may well have been a way for the management to evade the outcries of the grumbling locals, who we hear were opposed to the opening of a bar on their doorsteps. Luckily for thirsty SYP locals, after a month of struggle, their licence was finally granted on the day of our visit. As the first bar in the neighbourhood, Derby West could pave the way for more bars in this area, as demand grows with the changing demographics and a proposed MTR station in coming years.
Taking advantage of their new status, we swiftly ordered a Margarita ($50) served on the rocks. Ours was a little on the sweet side of this typically sour beverage, but still enjoyable. For a pub, we would have liked to see a wider range of beers on tap to accompany the existing Hoegaarden ($60) and Stella ($55), but a sufficient selection of bottled beers as well as cocktails and shooters as far as the eye can see provide some consolation.
Derby West's popularity will grow, due to its strategic placement in a neighbourhood devoid of good bars. And while it might not be a place that you'll trek across town to check out, if you're in need of a tipple in Sai Ying Pun, Derby West is your saviour. Just keep an eye out for the bright lights.
Andrea Yu
G/F, 389-391 Queen's Rd West, Sai Ying Pun, 2698 1616.

Details
Best selling Time Out Offers