This one came about because I enjoy looking into the history of cocktails. I feel you should always examine your roots because then you can build from there.
The problem with many tiki drinks these days is that they're overly sweet and disguise the flavour of the ingredients. But when I was doing research for new recipes, I discovered that the drinks made during the early tiki era weren't overly sweet and they didn't even involve that many tropical flavours. That's what I wanted to recreate – the 1930s or 40s tiki style.
The Tiki Tonga Tang is tart, sour and very strong on the rum. For the sour part, we use a combination of lemon and grapefruit. Then we add an orgeat syrup, a homemade falernum liqueur made with overproof rum, and a touch of maraschino. The combination of grapefruit, lemon and orgeat tastes like summer. For rum, we use Plantation OFTD, which stands for 'old fashioned traditional dark'. It's got the kick of old-style rum – very punchy. It's a combination of Jamaica, Guana and Barbados rum, so you've got three major styles of rum getting together. That's already like a cocktail.
The OFTD is 69 percent alcohol but it's very easy to drink. It probably shouldn't be so easy to drink, but that's what I like about it. You wouldn't guess there's a rum in this cocktail that's so high in alcohol. And for me, anytime you can get someone to drink overproof rum and they smile afterwards, it's amazing.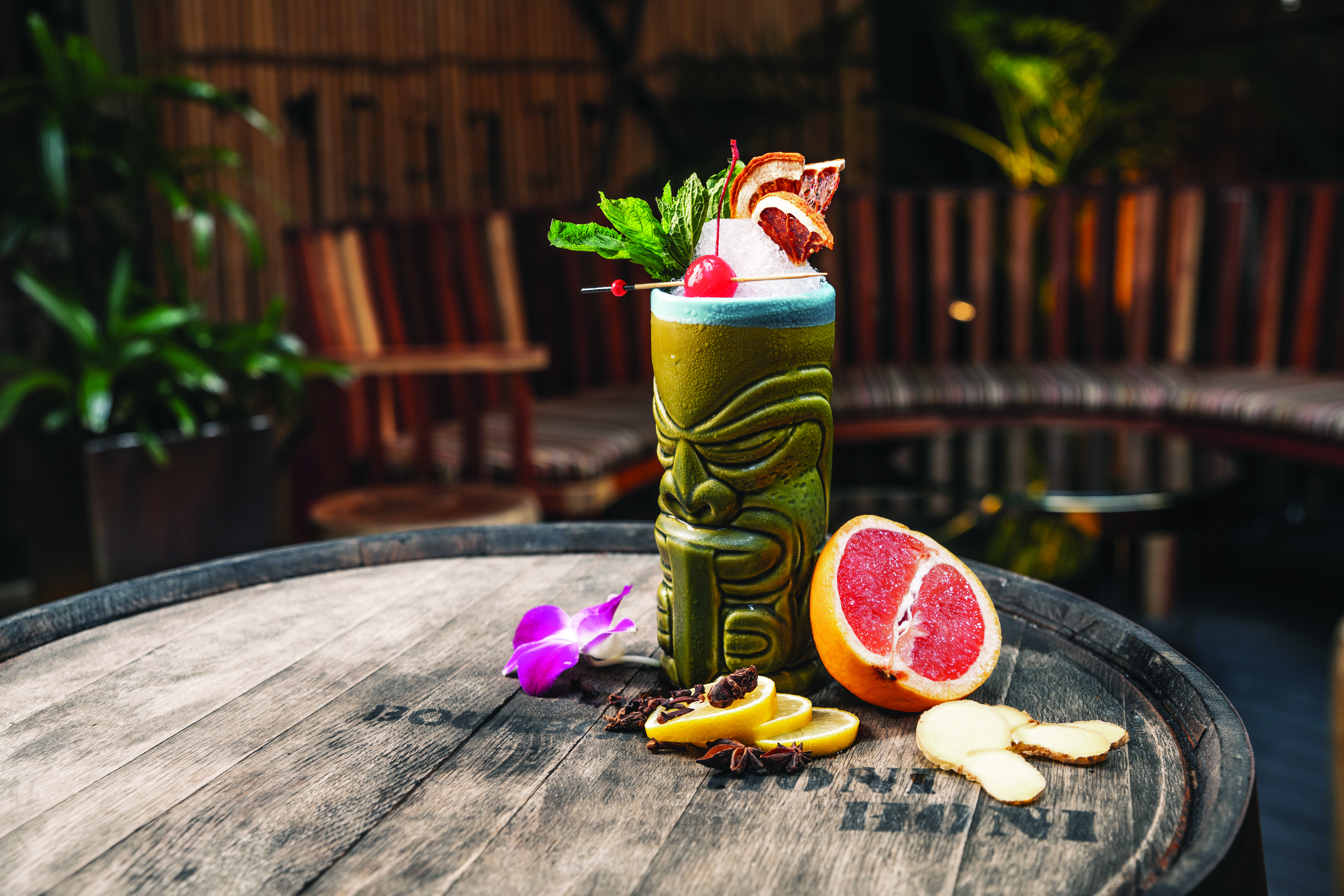 MAKE IT YOURSELF
Ingredients:
50ml Plantation OFTD overproof rum
30ml grapefruit
15ml orgeat syrup
15ml lemon juice
10ml falernum liqueur
5ml maraschino liqueur

Instructions:
1. Add a few ice cubes to your cocktail shaker. Measure out and gently pour in the rum, maraschino liqueur, orgeat syrup and falernum liqueur.
2. Pause for a few seconds to allow the mixture to chill, then add the grapefruit and lemon juice to kick the zest up a notch.
3. Shake well and strain, ideally into a ceramic mug since it will insulate and keep the drink cooler for longer.