Honi Honi Tiki Cocktail Lounge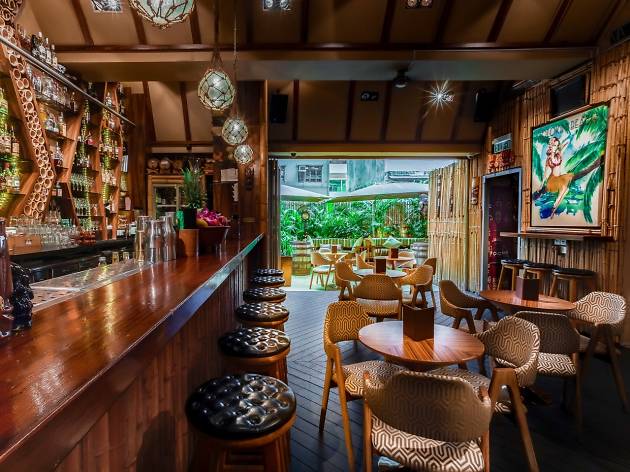 1/3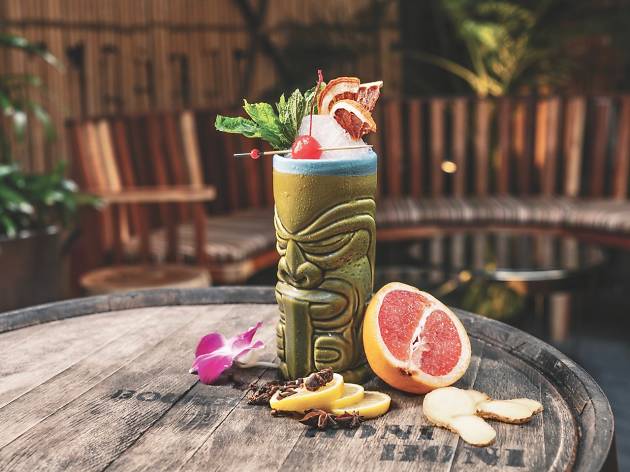 2/3
Photo: Calvin Sit
3/3
Time Out says
Be transported from Central to a Polynesian beach bar at this excellent tiki joint
It's that time of the year when, as the weather gets colder, people begin to enviously click through Facebook pictures of friends on vacations and get that itch to lounge around somewhere on a relaxing sunny tropical island with an umbrella-framed fruity concoction at their fingertips.
Without having to buy a plane ticket, those in need of a tropical island getaway can make their way over to Honi Honi Cocktail Lounge, where, after elevating themselves just three floors up in the unassuming Sompteuex Central in Wellington Street, they are whisked away to a breezier time and place.
Here is where funky zigzag-shaped shelves holding glassware and liquor bottles line the bar wall and where dimly lit bulbs netted in twine sway from the ceiling. Here is where a semi-alfresco patio is swathed in bamboo fencing and wooden lawn furniture that looks like it came from Ikea on vacation (tip: definitely give the giant cushions a sit). Here is where there is – no joke – even a built-in shower hose to cool you down on a hot summer's day in Hong Kong.
French mixologist and lounge partner Max Traverse formerly manned the bar at Le Boudoir, another spot that strays from the usual 'sleek and stylish' suspects this city is known for, and the man has drafted an amazing brew of fruit-filled cocktails utilising his expansive rum collection. The Polynesian Sangria ($130) is a tame starter that comes off more like drinking grape juice as the freshly squeezed orange and Polynesian honey overpowers the Cabernet Sangiovese. But the Tropical Storm ($135), a swirl of Grey Goose, passion fruit, elderflower and fresh strawberries, and the Three Wise Monkeys ($140), a thoughtful blend of spiced rum, ginger, apple and lime juice, fare better.
If you check this place out with friends, you must give the fun communal drinks a sip. There's a few on the menu including one of the priciest in town, the $1,888 Around the World. The drink is a four-litre concoction that consists of Don Q Cristal Rum, Appleton Signature Blend Rum, Plantation OFTD Overproof Rum, guava juice, pineapple juice, grapefruit juice, cinnamon, vanilla and orgeat syrup, all topped up with one bottle of Taittinger Brut Champagne and packed into half a globe. We opt out of that natural-disaster-waiting-to-happen and went for the Honi Honi All the Way ($900). Encased in a drilled-out watermelon, it's a blend of Bacardi Carta Blanca Rum, Gosling's Black Seal Spiced Rum, Clément Créole Shrubb, passion fruit purée, watermelon juice and orange juice. The cocktail conjures up memories of jungle juice drinks college coeds would throw together for frat parties.
The name 'honi honi' is Polynesian for kiss and with this establishment's amazingly laid-back environment and killer drinks, we certainly give this bar our honi honi of approval.
Details
Address:
3/F, Somptueux Central
52 Wellington Street
Central
Hong Kong


Contact:
Do you own this business?
Users say