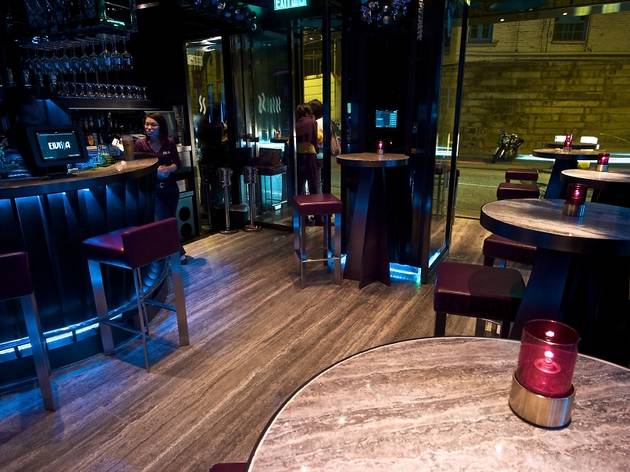 Time Out says
"Oooh goody," we coo when we hear there's another new bar just opened on Wyndham Street, a few doors along from Aura Lounge. We could be in for a treat here – something different on a lively Saturday night. But our excitement evaporates as we grace the venue. "Oh," we mutter with sunken hearts, "it's just another Central bar."
Now, we understand there's a certain clientele which populates the bars of Central and, for the most part, they tend to like what they like. Good cocktails, fine wine, tasty nosh and other bar-flies with pretty faces and loaded wallets (OK, not everyone's rich and beautiful in these here parts, but the venues in question rub shoulders with bankville). So the bars lovingly oblige. It would make pretty poor business sense not to. And yet it does mean that most – not all, mind, but most – of the drinking holes in Central look, smell and taste the same.
Eivissa is neither better nor worse than your average Wyndham joint. Blue neon strip-lights adorn the interior, connecting to ridges which run up the walls and across the ceiling creating a pleasant-enough wave effect. It's a cosy design, but we've seen similar before. There's a DJ spinning a selection of just-on-the-red-line decent dance tunes while we drink but, um, every other bar around this street is doing likewise. There's even beach babes in bikinis on the LEDs in the men's loo so you can perv while you pee – but that's hardly original (and smacks of tack). Everything's just so… mediocre.
Truth is, there's nothing new to get excited about at Eivissa. Granted, there's nothing particularly bad either. They do serve up some mean cocktails – the best we sampled being the Raspberry Caipirinha ($88) but also recommended are the East 8 Hold Up ($98) and the Penicillin ($98) – and the drinks menu is varied and extensive, leading up to a bottle of Louis Roederer Cristal champagne (going for a cool $30,000). Plus there's tapas available to justify that Spanish title (Eivissa is the Catalan name for the island of Ibiza). On top of that, the service is exemplary, with staff on hand to suit sir or madam's every whim or whiskey.
But where's the USP, the ESP? If there's a Spanish theme, let's get some El Greco prints or modern Spanish art up on the walls, with maybe a little Flamenco flavouring. If there's a heavy edge on the fab cocktails, then shake it up behind the bar. If the DJ is that good, move him or her centre-stage and liven up the party.
Eivissa is a classy locale and the seating arrangements, coupled with the blue neon, make for a comfortable stay with a friend or two – but on our Saturday everyone wanted to sit around the handful of tables outside so they could smoke and steer clear of the music. At nearby Aura, the groups actually wanted to be inside in the more chilled-out atmos. Not trying to make comparisons, but hey…
So then, Eivissa is another Central bar which will attract a decent crowd but it won't become the new go-to-joint. Then again, it won't fail either because, as we all know, Central bars do what Central bars do. Matt Fleming
77 Wyndham St, Central, 2520 5818. Mon-Sat 5pm-late (kitchen closes at midnight). HH 5pm-8pm.
Details
Best selling Time Out Offers