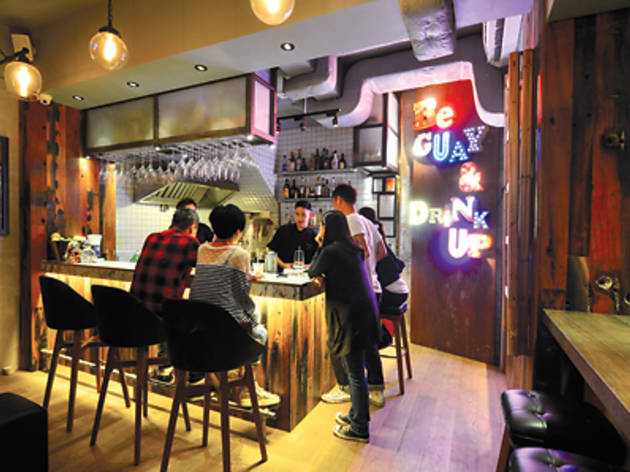 Time Out says
Verdict: Refreshing cocktails and tasty tapas

Among the Japanese restaurants, auto repair shops and Chinese eateries of Tai Hang, there has been a recent influx of new, hip and modern concept F&B establishments that have gradually changed the area into a haven of hipsterdom that's well on par with rival districts like Sheung Wan's PoHo and Admiralty's Star Street.
A perfect case in point is this new nightlife bar Guay! (which is Spanish slang for cool and fantastic). The bar brings together delightful drinks and tasty tapas in an intimate, neighbourhood-friendly setting.
As we pass the raw-looking concrete and reprocessed wood exterior on a Saturday night we enter to find a room packed with young professionals. We find a couple of spots at the marble bar and quickly sidestep over to nab the seats. The space is unpretentiously inviting, with its concrete walls and white tiles creating an urban industrial feel, complete with a large bright neon sign reading 'Be Guay and Drink Up'. Being the conforming customers we are, we adhere and order a few beginner cocktails. The Honey Whiskey ($98), recommended by the ladies next to us, is a refreshing start to the evening. The simple mixture of mulled mint, honey and whiskey cleanses the palate with a mild pleasant sweetness. For a fruitier flavour, the Bitter Grapefruit ($98) – a mixture of gin, Campari, grapefruit juice, mint and lime – is thirst-quenchingly good and has a sweet beginning with an invigoratingly subtle bitter end.

Bitter Grapefruit (Image: Guay)
Our favourites of the evening, however, are the Pineapple Creamsicle ($138) and the Graveyard ($138), which are both worth the extra cost. The Pineapple Creamsicle is served chilled with a layer of foamy cream that sits nicely on top of the tangy pineapple, orange and rum concoction. The smooth top and acidic bottom blend well together, creating a gratifying contrast, much like an actual creamsicle, except with the added kick of booze. The Graveyard is the beverage which we fittingly choose to end the evening on, with one of the main components being Everclear, an American spirit which boasts 75.5 percent alcohol. Oh, and this is also accompanied by vodka, gin, rum and tequila. Much to our surprise though, the drink goes down like an ice cool glass of water with even a subtle shade of sweetness. Beware though; it does, of course, pack quite a wallop, even though it doesn't taste like it.

Steak Tostada (Image: Guay)
Besides their creative list of cocktails, Guay! also offer wines, spirits, classic cocktails and a delectable assortment of nibbles. We immediately gravitate to the tostada section and order a Steak Tostada ($118) and Crabmeat Tostada ($128). The steak is cooked to medium-rare perfection and topped off with a pesto garnish, creating a full, rounded savoury flavour that's accented by the tender texture of the steak. The crabmeat meanwhile is served as a mixed salad, with mayonnaise and avocados adding a creamy touch which tickles the tongue.
It's good to know the bar bites are on par with the drinks at Guay!, which is something other newly opened bars around town should take note of. For us though, the ultimate highlight of the bar is the easy and comfortable atmosphere which encourages random chats with strangers. The casual ambience is a joy and, in combination with the above-average food and drinks, Guay! proves itself to be a very welcome addition to the Tai Hang hub. Charlie Tamoto
Guay! 9A, Sun Chun St, Tai Hang, 2618 8782; facebook.com/guayhk.
Details
Best selling Time Out Offers