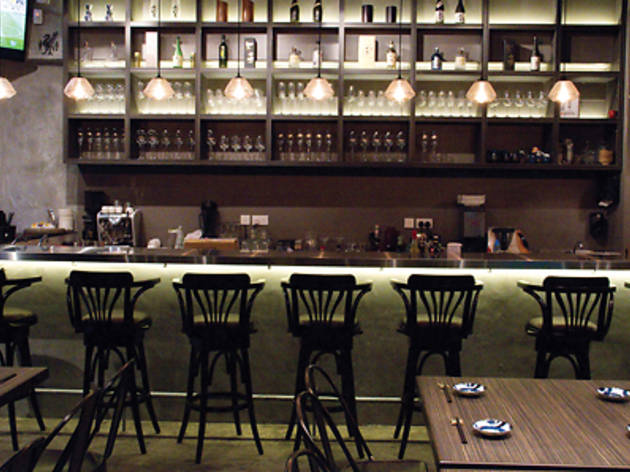 Time Out says
Billed as a Japanese 'bartaurant', this half-restaurant, half-bar fills a niche we never realised we needed before. Located almost directly under a traffic overpass in Wan Chai, it looks like a sheltered hideaway – perfect for ninja assassins and discerning drinkers alike. This is the theme picked up by designer Graham Becker, who litters the décor with images of various lethal ninjas, amping up the street vibe of Hikari's interiors. We order a 'yuzuberry' ($78) to start. It's almost too sweet and though the yuzu wine goes beautifully with the lemon vodka, we wish we'd saved it for dessert.
Since the menu is filled to bursting point with izakaya delicacies, we plump for the onsen egg served with black Iberian pork ham ($38), which comes in a small dish and tastes creamy without being too bland or too salty. The pork adds amazing texture to the slow-poached egg, which is mixed with a jelly made of Japanese fish broth.
Next, to accompany a slightly chewy beef tongue skewer ($50), we try the 'cloudy London' ($78), which the waiter assures us is a Hikari original that we can't get anywhere else. The chief notes are lemongrass, lemon and cucumber – a combination that reminds us of a sultry summer. The only disappointing drink is the 'temptation' ($78), which comes on too strong with its rosemary overtones. Despite this, we leave at 2am in high spirits, delighted we could stay so late. Straddling the fine line between bar and restaurant is a hard job and this discreet little joint has it down. With a bit more of that ninja focus, the drinks could be refined and Hikari could be a kickin' cult hit. Jessica Li

Hikari Bartaurant Shop B, G/F, Jet Foil Mansion, 415-421 Jaffe Rd, Wan Chai, 2808 0292; facebook.com/hikaribartaurant.
Details
Best selling Time Out Offers