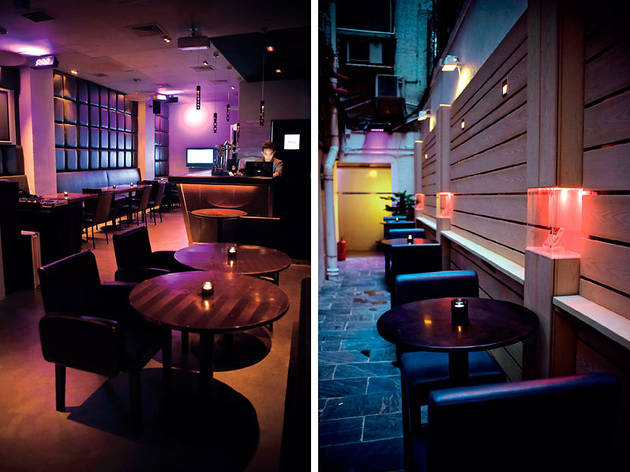 Time Out says
There's a kind of hush all over the world tonight. Or, to be more geographically specific, there's a Hush in an appropriately quiet street in Central. Situated just above the Lan Kwai chaos on Glenealy, Hush features a black-carpeted entryway, a mirrored sliding door and a sign inviting guests to ring the bell for entry – all ominous signs of a 'members only' bar. But, despite possessing elements of one – including an optional consumable membership of $5,000 or $10,000, which comes with drink discounts and an electronic thumbprint entrance among other privileges – Hush isn't a member's club, and there's no restriction on who can enjoy a drink there.
And enjoy it you most probably will. There's a gaming corner in the shape of a PlayStation 3 hooked up to a flat screen TV, while a privacy screen on the front window doubles as a surface for projecting movies. Out back you'll find the outdoor patio, with tea lights and ample seating to further enhance the ambiance. There's even a barbeque available for private party rental. Décor-wise, it's all sleek bar top, faux black leather seating and wall accents paired with a mildly incongruous plain white ceiling.
Fun and games aside, Hush takes its drinks seriously, serving up a selection of molecular-inspired cocktails. First, we sampled the Grilled Lemon Margarita ($90), served in a martini glass and topped with a bed of salty foam, as opposed to its traditional home on the rim. It sounds gross (and looks it too, as the charred lemon left rather unappetising black flecks in the already sewage-hued drink) but fortunately, the taste was on the money: not too sweet, not too sour and not too overwhelmingly alcoholic.
Next up on the counter was the Earl Grey Tea Martini ($90), a real winner. Again served in a martini glass and topped with everlasting foam (still going strong and foamy 45 minutes later), this sip-worthy beverage had its flavours all in the right place, a perfect balance of sweet and bitter with a hint of the Earl's characteristic taste. A treat awaits you at the bottom of the glass – tea "caviar", small and soft pearls made from the leafy brew itself.
Hush is a place where the elite and the geek may find themselves rubbing elbows in between sips of their martinis and rounds of Grand Theft Auto. The rub will be whether they can find a way to wine and game happily together.
Andrea Yu
2 Glenealy, Central, 2537 2281, www.hush.hk.

Details
Best selling Time Out Offers