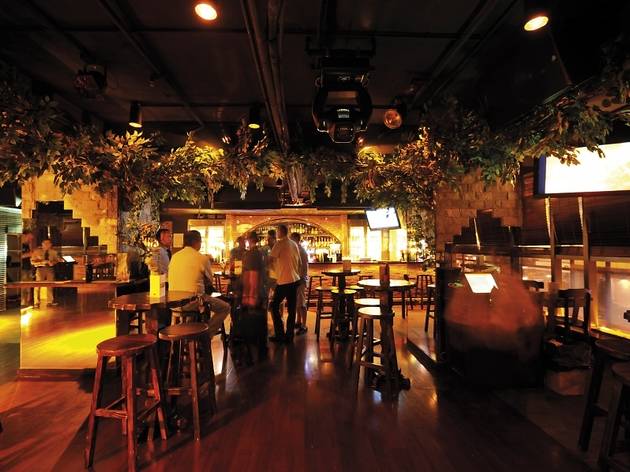 Time Out says
Imagine a small forest clearing with plush foliage hanging down from an elegant canopy. Add natural-looking wicker artefacts and pepper chilled-out folk around the scene. You'd be forgiven for expecting fairies and butterflies to join the image.
But then add some upbeat pop music, some tables and mirrors, rustic stonework, a couple of bars and two lapdance poles and you've got J. Forest Music Bar. You've got a confusing space.
It shouldn't really work. The combination of relaxing nature with chic mirrors and a glossy dancefloor baffled us when we went along for an evening. We weren't sure whether we should buy a health drink and sit back for a spot of meditation or grab a heady cocktail – of which there are many – and head for the dancefloor.
But then we checked out the clientele – a hearty mix of young and old, men and women, foreign and local – and they seemed to think it worked. Couples sat on the comfy chairs and chilled out in the mock forest clearing while others lined the bar drinking. We got the feeling that the bar was trying to bring something new to Wan Chai – perhaps a tropical place to get away from the hustle and bustle outside.
But it was still a mystery to us. As the night wore on the music became rockier, detracting from the venue's clear aim to be natural and relaxing. Mind you, it also markets itself as a music bar, after all.
The food, chosen from a menu serving Western and Asian fusion foods, was pretty good. We sampled the Forest Pizza ($68 during happy hour) which had a wonderful array of herbs, loads of onions and a good helping of cheese. The drinks were also impressive – particularly the cocktails. And the soft lighting was welcome, as well as the sport and music videos on several flat screen televisions. Also worthy of note were the toilets which played chirpy birdsongs throughout. It's like J. Forest wants a little piece of everything.
It is worth checking out J. Forest but prepare to be confused as to whether you're drinking in the Amazonian rainforest or just another Wan Chai haunt. Matt Fleming
2/F, The Phoenix, 21-25 Luard Rd, Wan Chai, 2861 9880.
Details
Best selling Time Out Offers