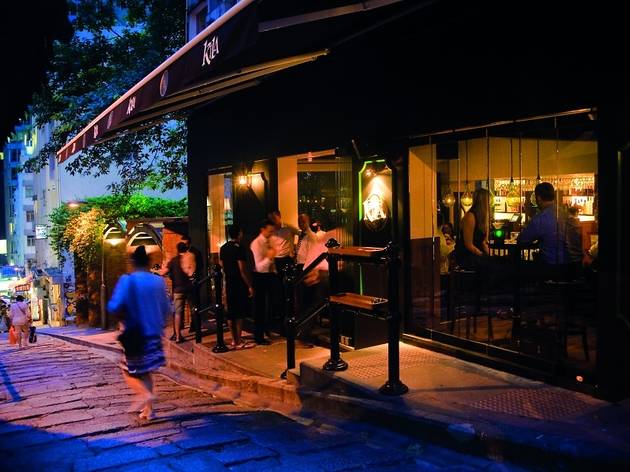 Time Out says
"Masturbation! The amazing availability of it!" The late Irish writer James Joyce was right about onanism, but were he still alive today would surely curse the dearth of great Irish watering holes in Central. Until now. Pottinger Street houses a new place in which we can enjoy a decent drink; a simple, no-frills bar where jarring Irish stereotypes have been discarded for something more understated.
Situated just off Hollywood Road, where the rusting blue gates of the now defunct Central Police Station loom large, and overlooking the flora and fauna that flutters high above the Lok Hing Lane Amphitheatre, Kila (named after the Irish folk group) is both appropriately imposing and ingeniously conspicuous. The outdoor space, or 'smoking area' as it has disdainfully become known in modern parlance, stretches the length of the establishment and hugs the cobbled, sloping street, an ideal spot to have a drink with friends in the early evening breeze.
But what of the drinks? Well, the correct production and presentation of a pint of the black stuff is the true marker for any decent boozer. Here, the Guinness was poured expertly. Irksome as it is, it's difficult to find someone in this city that knows how to pour this drink properly: an inch or two from the top in a bone-dry glass, a minute-and-a-half to let it rest before a gentle top-up, being careful not to let the head slop over the rim and thus sully the whole damn thing. No mistakes here, happy days.
Staff are charming and attentive, and the drinks list they preside over is fairly extensive – especially if you have a soft spot for spirits, particularly whiskies and bourbons (from Midelton Very Rare at $200 to Johnny Walker Red Label at $45), and cocktails (the usual suspects all around $80). The beers are as expected, both bottled and on tap ($60-40); nothing too daring and no glaring omissions (though connoisseurs may lament the lack of ales and bitters). The wine list is adequate (three reds and three whites at $80-45).
Visually, Kila is somewhat reminiscent of a classy hotel bar in a satellite town (in a good way), with its leather seating, dark wood panelling, racing green wallpaper and green light casings that are somehow too big for themselves. The colour of the place is a subtle reminder that you're as close to Ireland as you could be in Hong Kong, without the usual drabness of tourist clichés of the most uncreative kind.
All in all, the friendly owners, the refined interior (especially for this part of town that tends towards grating über-chic), a chilled clientele and a jukebox filled with Hit Parade classics makes for a perfect drinking den. And that, we say, is grand.
Oliver Clasper
Upper Basement, 79 Wyndham Street, Central, 2522 8118. H/H 5pm-9pm daily, all day Sunday.

Details
Best selling Time Out Offers