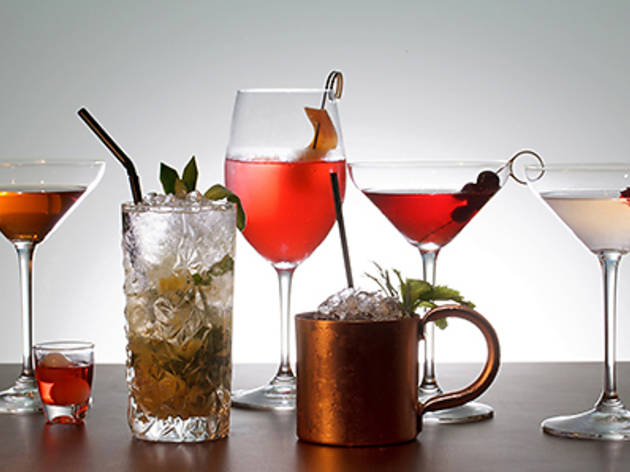 Time Out says
A day at the racecourse has become a prominent fixture in many Hongkonger's lives – the competitiveness, the betting strategies and the desire to win are what sends thousands of spectators' hearts racing. This is also why there were roughly 700 horse races held last year in our hectic city. However, if standing in the midst of all the jostling, excitable punters is not really your cup of tea, you can still enjoy the race day atmosphere from a quieter distance at LevelThirty Lounge & Bar.
Open last month, LevelThirty is the final stage of the Marriott Sha Tin's redevelopment of its once exclusive executive floor into a chic rooftop bar. The main reason to visit this upmarket bar is for the spectacular view across Sha Tin Racecourse and Tolo Harbour – guaranteed to wow incoming patrons.
As we enter, the gorgeous night view of the brightly lit racecourse and its surrounding buildings welcomes us. The modern ceiling fixtures and the metallic finishes in the interior give the space a sleek and contemporary vibe. Along with dark wood furniture and plush couches, this upscale watering hole exudes elegance. Patrons can choose between sitting in front of the large floor-to-ceiling windows, to make the most of the panoramic view, or taking a seat at one of the bar tables.
We're eager to start the night and we peruse the list of signature cocktails – all named after famous horses. We ask for the American Pharaoh ($98), an interesting sounding spin on a classic julep comprised of Wild Turkey, ripe peaches, mint, rosemary and sparkling wine. Unfortunately, the whisky packs a full punch right out of the gate and doesn't leave much room for other flavours on the ingredients list. Hungry for something to go with the surprisingly strong drink, we order the beef sliders ($118). Dripping with cheese and smothered with barbecue sauce, these little bites of meaty goodness are tender and juicy, and have us craving more. Listening to our stomach, we choose the buffalo wings ($118).The wings and the sauce coating them are quite delicious, but we're sadly disappointed by the chewy pieces of drumsticks thrown in. To end the night on a sweeter note, we ask for a Red Rum ($88), a mix of two types of rum, cherry brandy and pomegranate juice. But, yet again, the rum and brandy overpower the sweet pomegranate, leaving an unbalanced drink in hand.
LevelThirty is a good start to a relaxing upscale lounge, but ordering a lip-smacking drink is no sure-thing. However, it's worth a visit if only for the jaw-dropping view of the racecourse and harbour, on race night or any other night of the week. Crystal Chan
LevelThirty 30/F, Courtyard Marriott, 1 On Ping St, Sha Tin, New Territories, 3940 8888; marriott.com.
Details
Best selling Time Out Offers