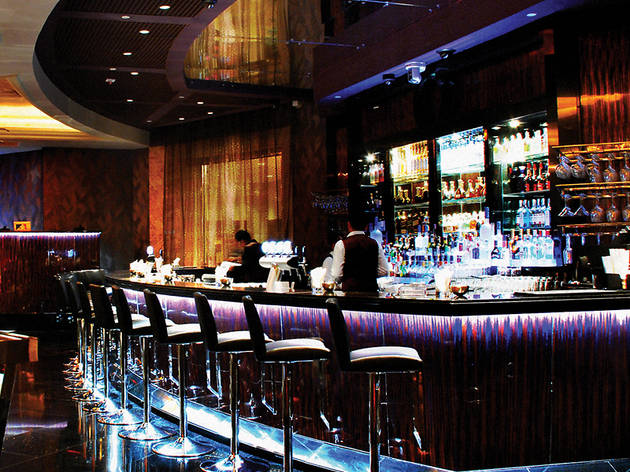 Time Out says
The older crowd can certainly shake their ass in Macau. They shake it good in Hong Kong too, of course, but over in our sister SAR the weekends definitely beat to a different drum. For instance, nobody over the age of 30 would consider going out for a drink before 10.30pm, and when they do there's a significant effort to show-off their gladrags. The women, in a word, look absolutely gorgeous; the men look sharp and cool (they leave the denim/untucked shirt combo at home). And everybody loves a good boogie too, especially if there's a live band in the house. All these happy nuggets can be found at MGM's recently renovated and reopened Lion's Bar, which is the hotspot in Macau right now.

In truth, the renovations are subtle. Apart from a bloody massive LED screen erected behind the band's playing area, the bar's lighting has been cleverly fine-tuned to create a chic aura, while the waiting staff have been tweaked for service improvements. The most important new feature, however, is that Lion's Bar is now outside the casino zone of the hotel, meaning you can enter directly through MGM's Grande Praca atrium without having to go through metal detectors or unsmiling security guards.

We really dug the drinks here. Signature cocktails are made strong, refreshing, and with plenty of crushed ice (all cocktails cost MOP75). The Long Lion Iced Tea has plenty of teeth, the Patron Mojito boasts a brain-freezer kick, and the salty Margaritas will set the table on a roar. Choices of whisky, cognac, tequila, rum and vodka are in plentiful supply, as are a few cheeky absinthe numbers. This being Macau, the champagne is of premium quality, and if you just want a beer, well, there's always Tsing Tao beer.

Lion's Bar has an ace in-house band called Upfront, and they have plenty of front. The two lead singers both own a set of lungs, and their finger-walking bassist once toured with Lionel Ritchie. Don't scoff, his version of Billie Jean made the entire place go mental. Actually, that's the best thing about Lion's Bar – the crowd just wanna have fun, so dancing with strangers isn't an issue (your humble reviewer found himself toe-to-toe with Stanley Ho's granddaughter – and her bodyguard didn't seem to mind). Okay, so a few tiny teething troubles: we'd advise keeping the (amazing) sound system to a decent level so that you can still chat without yelling (and then crank it up around midnight); and we'd also be chuffed if the service was just a little bit swifter. But maybe that's just us being too eager for the dancefloor. If you're over 33, bored of the Hong Kong kiddy clubbing scene, and would love a poser-free funky hip shake, get on the ferry and head over here. We left the bar at 4.45am and it was still rammed. Jake Hamilton

Avenida Dr. Sun Yat Sen, NAPE, (853) 8802 8888.

Details
Best selling Time Out Offers