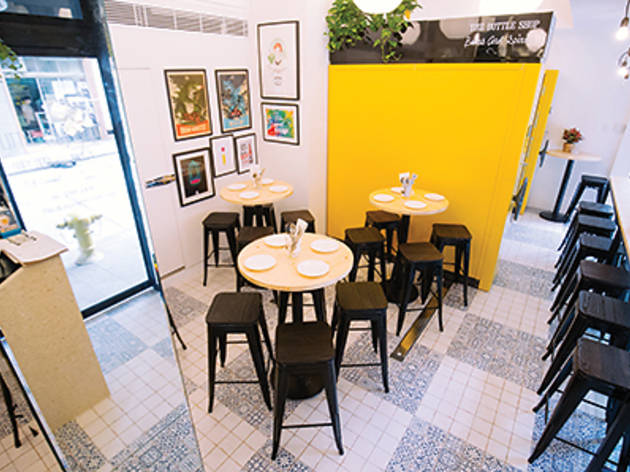 Time Out says
There seems to be no end to the craft beer movement. Hot on the heels of the latest Beertopia comes a beer room by the guys behind The Little Bottle Shop in Sai Kung. Positioned in trendy Bridges Street, with well-known neighbours like Yardbird and Little Bao, the brightly lit gastropub seats around 20 people and has more than 10 types of esoteric beer on tap.
All of the beers on offer sound very promising, whether the Cha Chaan Teng by Young Masters, which uses salted lemons in its brew, or the pumpkin ale by Anderson Valley. We start with a Omnipollo pecan mud cake stout ($65 for half a pint). The nutty aromas are strong on the nose and the full-bodied malty flavours engross the palate, alluding to the mud cake description, and it's only the fizzle of hops on the backend that remind us we're drinking a beer. Thoroughly elated from our first tipple, we select a half pint of aforementioned pumpkin ale ($44). First you're hit with spices, such as nutmeg and cinnamon, then a small bloom of pumpkin on the finish. The homemade pepper cracker served on the side helps to accentuate the Thanksgiving flavours of the brew, too.
Remember we said the premises were brightly lit? That's the problem. After two half pints and a pleasant buzz we would've gladly gone on to a night of further mischief, but the lighting and ambience feel more like a fast food joint rather than somewhere to linger, so we get the bill and leave. If Little Beer Room wants to be the in-between spot where people pre-game and post-game, then it seems it's well on its way. Otherwise, some cosmetic alterations need to be made to change the feng shui and get patrons partying all night long. Naomi Locke
Little Beer Room Shop 1, 17 Bridges St, Central, 2799 4899; thebottleshopcentral.hk.
Details
Best selling Time Out Offers