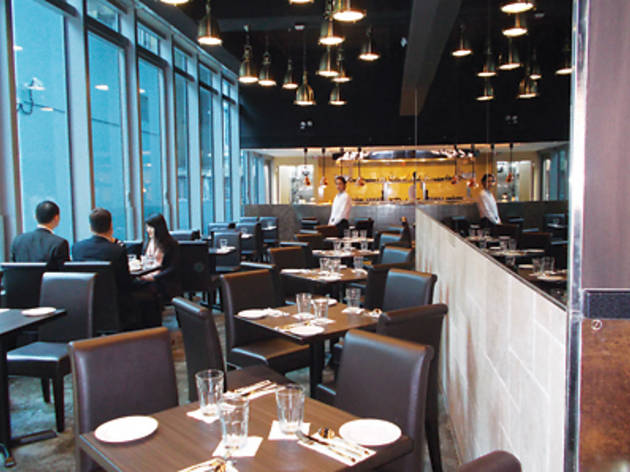 Time Out says
With huge gentrification projects going on in Kwun Tong, turning light industrial buildings into shiny marble panelled office buildings, the opening of a restobar to catch all those nine-to-fivers for happy hour is inevitable. Enter Manhattan Grill & Bar, a snappily decked-out meat specialist situated on the third floor of the new One Pacific Centre right next to APM.
On the décor front, it presents itself nicely – a generally impressive combination of low lighting, a decorative wall panel of the Manhattan skyline and an open kitchen with copper heating lamps on the other. But the proof, at a grill, is in the meat.
Manhattan's menu offers various prime cuts from T-bone to rib eye, ranging from 8oz to 12oz. After a slightly disappointing avocado, grape and walnut salad ($68) – a basic combo of those three ingredients with mesclun mix, but without any dressing whatsoever – we delve into the US choice rib eye ($208 for 8oz). What we notice immediately is that the rib eye is tough to cut and chewy to the bite, which happens when meat hasn't been rested properly before cooking. You just don't do that to a $200 steak. Despite the steak being cooked perfectly pink in the middle and possessing an aromatic smoky char-grilled flavour, the texture brings a generally bad experience to dish.
The excellent half rib with Mexican spices ($178) fairs much better. The herbs and spices are rubbed in and marinated long enough that the flavour seeps into the meat and the ribs are cooked to a springy yet supple consistency – just enough to bite off the bone. Our attentive waiters also give us some extra gravy in case we thought the meat by itself was too dry.
For dessert, we stick to the Manhattan theme and order the New York cheese cake ($48) – it's light and crumbly, but nothing that really stands out.
We really understand the reasons for setting up a swanky restobar in the new Kwun Tong. Even though we are served with the best intentions, there needs to be a little more thought put into the food for it to make it in this big city. Lisa Cam
One Pacific Ctr, Level 3, Shop 303, 414 Kwun Tong Rd, Kwun Tong, 2345 8546. $500.
Details
Best selling Time Out Offers